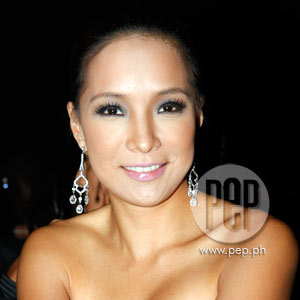 ---
Showbiz Central host Pia Guanio celebrated her birthday yesterday, November 1, and her co-hosts' gift to her were questions from those near and dear to her.
First off was a video from her high school friend Trissa Lopez. After greeting Pia, Trissa cheerfully said she hadn't expected her to be in showbiz since Pia's dream was to follow in the footsteps of her father, lawyer Val Guanio. Did Pia ever feel sorry for pursuing another career instead of law?
"I always trust in God's will for me," replied Pia. "I'm not one to question Him on what direction He thinks I should go. Of course, we make our plans but God directs our steps, di ba? My God has a very good plan for me and I know He has great plans for me in this field. So I'm here!"
Would she still try law school in the future? Pia answered, "I think there is plenty more to do kaya I know I'm going to be setting out to pursue other things pa aside from hosting and singing and dancing from time to time. I'm glad I'm here!"
The next video greeting was from Pia's friend and Eat Bulaga! co-host Ryan Agoncillo. He praised Pia for being very professional yet warm to work with, but he had one issue with her. "Pag nag-heels, nakakalalake, e," laughed Ryan. "Minimum three inches, e! Kaya lagi hanggang tenga lang ako, e."
Ryan loudly congratulated Pia and ended with the question of whether there was anything more she wanted to achieve in her already successful career.
"As far as where my career has gone... nakakatawa pag kausap mo 'yan si Ryan. Pareho kami dating apprehensive showbiz personalities kasi we just wanted to host! Ayaw namin mag-act, mag-sing at dance. Hala, ang nangyari sa amin dalawa, e, we're all over the place now! But we're enjoying it. And now that I entered the showbiz field in terms of hosting, I think I wanna do more in terms of advocacies. Alam ng tao na ako ay super animal lover and I'm always trying to educate people on being responsible pet owners. So sana, my background naman talaga is journalism, and sana maibalik ko iyon and use it to further my advocacies."
ADVERTISEMENT - CONTINUE READING BELOW
What has been her biggest sacrifice in showbiz?
"Well, I work seven days a week," smiled Pia. "'Buti na lang I enjoy my work so it does not feel like work to me! I missed a lot of family trips kasi they're always off doing their own thing and I'm always the odd woman out. But then I make up by having dinners with them. In terms of sacrifices, they're very small and these are the things that I willingly give up kasi I love what I'm doing."
THE SOTTO FAMILY. In his greeting, Tito Sotto commended Pia for her magic touch on his brother Vic who used to be lonesome. Pia was both touched and shocked that people felt this way about her.
Her relationship with Vic is going strong, but she's not entirely sure how long they've been together.
"The problem with the both of us, e hindi kami nagse-set ng anniversaries o ganoon," Pia admitted. "But I think about four years."
The secret to their success seems to be compatibility. "We just like to have fun, ganyan," said Pia. "Yung brand ng fun namin more or less the same kasi he is loko-lokohan and ako din. Matakaw din kami pareho. Apparently we like adventures like our last trip in South Africa. That was great! One of my most memorable!"
Pia's close friend Ciara Sotto feels that Pia is already part of the family. Was this something she looked forward to when she and Vic eventually wed?
"We all want to belong no matter where we are," started Pia. "I've always wanted a big family na magulo at maingay. Kasi kami it's just me, my brother and my parents. Pero I've never had a sister and I love na anak ni Tito Sen sina Danice [and everyone] would all get together, so ang gulo-gulo sa mga family gatherings and Tita Helen is like the grand dame of the family who keeps it all together. It's really nice and everybody is warm and happy so I love it!"
ADVERTISEMENT - CONTINUE READING BELOW
FROM DAD VAL. The last greeting came from her father Val Guanio. He said, "She's a good daughter who gave us no problem at all, except when she was very young. She goes home late all the time and she gave us a lot of sleepless nights all the time. It was lucky that she was involved in this early morning show and whether she liked it or not, she had to go home early so she can make up!"
Atty. Guanio added that Pia can be quiet at times, especially with loved ones, and the biggest surprise for him was to learn that Pia can sing well and that she knows the lyrics of even some of the old songs.
"I don't think I can ask anything that would surprise her except, 'O, when are you getting married?' It's not that we're putting pressure on you and it's up to you. I still have no grandson at all. Kailan ako magkakaroon ng apong lalake?" smiled Pia's dad.
"Anyway, there is no pressure. Do what you think will make you happy and it is that aspect of your life that only you can decide what's good for you. Be what you are and do what you like and whatever makes you happy."
Pia responded with a smile, "Grandson? Teka lang. These are very big demands and very big orders. I'd be hard-pressed to have just one kid. Natatakot nga ako, e! Pero, Dad, I wish I can answer you but I'm operating on God's timing. Really and truly when the time is right, I won't keep it a secret, I promise."