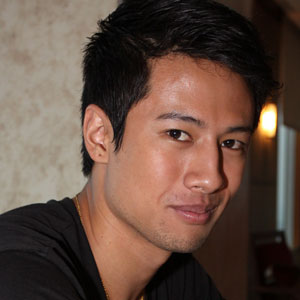 ---
For All Soul's Day, model-turned-actor John James Uy is going to follow tradition by visiting the graves of his deceased relatives.
"We're gonna go to Manila North Cemetery. We're gonna visit our grandparents, and our relatives who just passed away," he told PEP (Philippine Entertainment Portal) during the presscon for Star Magic's September-October celebrators last October 29.
But what the Star Magic talent is bracing himself for is the influx of scary stuff that's been happening to him going up a notch during Halloween. John James said he's not a stranger to ghostly encounters—last year, an unknown entity kept following him around. He shared several unnerving events that happened in his condo.
"Basta, I was staying in a condo at the time. Minsan my iPod would just flip. It would go totally loud, and then totally off again. Sometimes it would change songs. One time I was sleeping, right? Tapos, parang the door opened, or closed.
"There was a time I was sitting on the couch watching TV. Because the kitchen door was there beside the TV, I saw like the window got dark, like someone was blocking the light. And so I got chills and goosebumps. And then when I... I dunno, I just didn't mind it," he narrated.
He added that he does not know where he could have picked up the mysterious entity. "I hope it's just a relative who's just watching over me," he said.
Perhaps it's his guardian angel, guiding him. "Exactly," he agreed.
READING PEP. During the interview, John James admitted that he reads PEP. However, he added, he feels slighted when he reads disparaging comments about him from PEPsters, readers who leave comments in PEP forums.
"Hindi nakakatawa, e. Like ano, 'Sino 'to? Hindi sikat.' Parang ganun. Tapos minsan, 'Artista ba 'to? Parang hindi, para siyang...' Fill in the blanks," he shared.
ADVERTISEMENT - CONTINUE READING BELOW
He said PEPsters may just be misjudging him.
"Feeling ko, they don't know me, so all they can say is bad stuff. Please don't hate me. I'm kind," he said.
But the bad comments do not get in the way of his dreams, he said. In fact, they motivate him to do better.
"Actually this is what pushes me to do better, to improve myself. This is what pushes me to do what's right," he said.
CAREER IN INDIE. Right now, John James is busy playing a villain in Agimat, and promoting the alcoholic beverage The Bar as one of its new endorsers. He also busies himself working out at the gym, kickboxing, hanging out with his family and friends, and playing with his skateboard. He also loves to paint, and follows the works of Vicent Van Gogh, Salvador Dali, Marc Chagall.
But what he would really like to do is play offbeat roles in movies, like Johnny Depp and the late Heath Ledger had been doing.
"Maybe play something totally offbeat. Maybe play an addict, or a criminal," he said.
PEP suggested that he act in indie movies. He thought that was a good idea.
"Indie producers, get me. Especially if you have plans getting into Cinemalaya or other film festivals," he called out.
But he said he won't do gay-themed films merely for boldness sake.
"I won't do the indie na parang bold siya talaga, na walang story, parang bold lang," he ended.