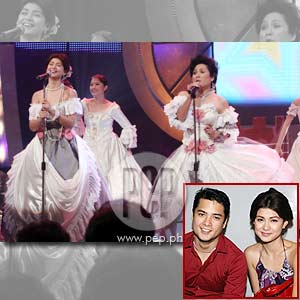 ---
Rosalinda lead star Carla Abellana did a good job in concealing her anxiety at the special Halloween episode of the interactive reality-based singing competition, Celebrity Duets, aired last Saturday, October 31.
Carla served as singing partner to seasoned actress and Celebrity Duets contestant, Gina Alajar. The two delivered an inspired performance of the Spice Girls' 1998 upbeat hit, "Stop," with Gina's son and Carla's love-team partner, Geoff Eigenmann, eagerly watching from the audience stand.
Gina drew the collective appreciation of the three judges, namely, Danny Tan, Tessa Prieto-Valdez and Freddie Santos—all complimenting Gina's natural ability to project herself in sync with the vibe and mood of any chosen number.
Veteran concert and theater director, Freddie Santos, enthusiastically summed up Gina's performance by saying, "Ang sarap-sarap mong panoorin!"
The award-winning actress is one of the remaining five contestants of the show, alongside Brazilian-Japanese model Akihiro Sato, entrepreneur Joel Cruz, photographer Niccolo Cosme, and actor-turned-producer Jomari Yllana.
ONE-DAY REHEARSAL. Carla's cool disposition during the performance concealed the fact that she was very tense and "pressured," knowing Gina's current standing as one of the genuine favorites to take home the grand prize. It also didn't help that the singing partners only had limited time to run through the material before being called onstage to deliver their duet in front of the judges and studio audience.
"At the same time, it was such an honor to work with her, because she's super fun and kalog. When she first asked, I didn't think twice and just said yes. Buti na lang, I was also familiar with the songs, because we only had that day to rehearse. It didn't feel like work. Enjoy!" Carla told PEP (Philippine Entertainment Portal) through e-mail forwarded during the weekend.
Despite of the hastily arranged rehearsal, the quick meeting enabled Carla to catch a glimpse of Gina's character as commonly relayed by her closest friends and colleagues in the entertainment industry.
ADVERTISEMENT - CONTINUE READING BELOW
"She's very nice and kalog," the pretty newcomer described her partner. "I feel I can talk to her as a friend," continued Carla, who excitedly added that Gina gave her Tori Birch sandals and Joe Malone perfume as presents.
Gina's ability to be loose and professional at the same time amused Carla. In previous interviews, Gina has repeatedly downplayed her chances in winning the contest, saying she's not a professional singer.
Carla dismissed Gina's qualms: "As a singer, galing! Performance level talaga and magaling din siyang mag-alalay sa ka-duet."
Geoff was "shocked" on learning of the team-up, surmised Carla, but he eventually became excited, as proven by his reaction inside the studio.
"Regarding our performance naman, we're not sure what his comments are. Better ask him na lang," she politely said in closing.