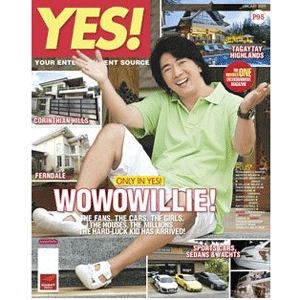 ---
For Filipinos, 2009 was a mix of agony and triumph.
The country experienced one of the worst flooding disasters in history, through typhoons Ondoy and Pepeng. The chilling massacre of media people and civilians in Maguindanao continue to make headlines here and abroad.
This year was also witness to evidence of the worst corruption practices in the country. A small item in a newspaper in the United States revealed how much top officials in the country, led by the President, are willing to spend for the love of fine dining. Hunger and poverty rates, meanwhile, are believed not to have improved since 2006 estimates on poverty were released by the National Statistical Coordination Board.
On the plus side, talented and exemplary Pinoys continued to impress even the hardest skeptics all over the world. World champion boxer Manny Pacquiao stamped himself onto the record books by earning the seventh championship belt of his career.
Efren Peñaflorida, a simple educator from Cavite City, inspired everyone by winning the CNN Hero of the Year award.
Selfless deeds during the Ondoy and Pepeng tragedies were also recognized—one hero, 18-year-old Muelmar "Toto" Magallanes, who sacrificed his life to save others, made Time magazine's list of 2009 Heroes.
Here are the numbers that rocked the nation in 2009.
BASIC DATA. The economy shrank 2.3 percent in the country's first quarter. It was the only negative growth in the last 20 years, according to IBON Foundation's Midyear 2009 report released last July.
As of April, there were 4.2 million unemployed and 6.6 million underemployed Filipinos, according to IBON.
The Social Weather Stations' (SWS) perceived-poverty survey conducted last February showed that 47 percent of Filipino families consider themselves poor. It was a decline from 52 percent last December 2008.
The National Statistics Office (NSO) pegged the inflation rate at 2.8 percent last November. It was an increase from 1.6 percent during the previous month.
ADVERTISEMENT - CONTINUE READING BELOW
The latest estimates of simple literacy and functional literacy remains at 92.3 percent and 84 percent, respectively, says the NSO.
NSO estimates the 2009 projected population at 92.23 million.
TRAGEDIES. In September, Typhoon Ondoy hit Metro Manila, and caused widespread flooding in Marikina, Malabon, Muntinlupa, Quezon City, Makati, Manila, Pasay, Pasig, Antipolo, Taguig, Valenzuela and San Juan. It also placed 25 other provinces under a state of calamity. According to the National Disaster Coordinating Council (NDCC), the disaster caused 464 deaths, and an estimated 11 billion pesos in damages.
After Typhoon Ondoy, Typhoon Pepeng hit Northern Luzon and left 465 dead and an estimated 19 billion pesos in damages, according to the NDCC.
In September, a Super Ferry ship carrying around 960 people sank an hour after it left General Santos City, killing nine.
In May, the dreaded flu pandemic AH1N1 reached the Philippines. As of June 15, around 193 individuals were reportedly infected. The first victim to die in the Philippines and in Asia passed away on June 22.
As of Christmas, around 47,000 Filipinos are holed up in evacuation centers, reported AlJazeera.net.
Police killed one robber during a shoot-out in Greenbelt 5 last October.
A total of 57 individuals were murdered in Maguindanao due to election-related violence. Members of the powerful Ampatuan clan have been charged with the heinous crime.
TRIUMPHS. Manny Pacquaio won two bouts this year. He beat English fighter Ricky Hatton last May, and Puerto Rican fighter Miguel Cotto in November.
Manny Pacquiao's estimated gross earnings from his 2009 victories in boxing: 12 million dollars for his fight against Hatton, and 22 million dollars for his fight against Cotto.
Three Philippine stars and TV shows gained nominations this year at the International Emmys. Wins? Zero.
On April 30, the Aljur Abrenica-Kris Bernal starrer Sine Novela Presents Dapat Ka Bang Mahalin? posted a daytime rating of 32.4 percent. It remains a record that is hard to beat for afternoon soap operas in the country.
ADVERTISEMENT - CONTINUE READING BELOW
Pinoy educator Efren Peñaflorida earned 125,000 dollars from his CNN Hero of the Year award and nomination. He said he will use most of it for the Dynamic Teen Company, his outreach program for impoverished children, and a part will go to his church.
This year, Nina's album Nina Live! was certified diamond (10X platinum), after selling 200,000 copies. Nina is the first female artist to achieve this feat. It is the fourth diamond album in the country, an elite list which includes Jose Mari Chan's Christmas in Our Hearts and Constant Change, and Eraserheads's Cutterpillow.
Approximately 100,000 people witnessed the much-awaited Eraserheads comeback reunion concert last March. The Pinoy rock heroes sang a total of 29 songs.
Michael Jackson's film offering, This is It, grossed 7.4 million dollars on its opening day in the United States. This is It is now the highest-grossing concert movie to date. Jackson died last June.
YES! magazine's January 2009 issue, featuring TV host Willie Revillame on the cover, initially sold 135,000 copies, and begged a reprint of ten thousands more to meet demand in sales. This is a big feat for publishing in the country, a medium that is dying out due to the presence of new media.
CONTROVERSIES. Amount involved in botched NBN-ZTE deal, one of the biggest corruption scandals to rock the Arroyo government: 329.5 million dollars.
Pres. Gloria Macapagal Arroyo and other government officials' reported dinner tab at Le Cirque, an expensive restaurant in New York: 20,000 dollars.
Number of Filipinos who experience hunger, as reported by the SWS last May: 14 million.
Total gross earnings of the Bea Alonzo starrer And I Love You So after a reported rift between SM Cinemas and Star Cinema, on its opening day, according to Roxy Liquigan, Ad/Prom of the film production outfit: 8 million. (Other sources put it at 3.4 million.)
Number of National Artist awardees added by Malacañang to the original list approved by the Cultural Center of the Philippines: four.
ADVERTISEMENT - CONTINUE READING BELOW
Number of presidential aspirants approved by the Commission on Elections: eight, dropping 91 others.