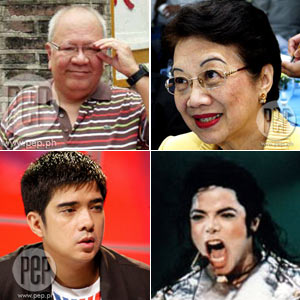 ---
Filipinos have been through a lot this 2009—there's the global recession, natural disasters topped by typhoons Ondoy and Pepeng that caused great floods in the country, and most recently the Maguindanao massacre that ended the lives of several media practitioners and civilians.
This year was also marked by the unexpected deaths of prominent personalities. So, before we say goodbye to all the negativity of 2009 and welcome the New Year, PEP recalls the people whose passing many Filipinos mourned for.

Francis Magalona. Many got curious when all the hosts of Eat... Bulaga! appeared on stage looking sad after a commercial break. It took a while before Vic Sotto, who was at the center leading the group, got the courage to deliver the bad news to avid fans and viewers of the noontime show—the passing of their "dabarkads" Francis Magalona.
The Pinoy Master Rapper fought a "happy battle" with leukemia for nearly seven months before his body finally gave up on March 6. Francis was very open about his illness which he updated on his blog as often as he could, including photos of his chemotherapies, facts about leukemia, and, of course, fun moments with his wife Pia and their eight children.
Francis is considered a great loss to the music industry. He was able to share his love of country through his songs such as "Mga Kababayan," "Tayo'y Mga Pinoy," and "Man From Manila."
Following his death were special tributes from different music artists including the second set of Eraserhead's reunion concert last March. Francis was supposed to guest on the concert for the song number "Super Proxy," which he had performed in a duet with former frontman Ely Buendia in the band's 2005 album. (CLICK HERE to visit PEP's tribute to Francis M.)
Douglas Quijano. Local celebrities lost not only a respected talent manager but also a good friend when Douglas Quijano passed away last June 13. He was found lifeless in his room at his Lucban, Quezon home. Later reports said that he died of a heart attack. (CLICK HERE to read related article.)
ADVERTISEMENT - CONTINUE READING BELOW
The 64-year-old talent manager was responsible for the showbiz careers of some of the big names in Philippine entertainment, like Richard Gomez and wife Lucy Torres-Gomez, Joey Marquez, John Estrada, brothers Anjo Yllana and Jomari Yllana, and sisters Janice de Belen and Gelli de Belen, to name a few.
He also had a hand in discovering other popular stars like Claudine Barretto, Carmina Villaroel, Nadia Montenegro and Eric Fructuoso.
Douglas, or Tito Dougs to his close friends and talents, also contributed his talent to the movie industry by writing the screenplays of Isang Gabi, Tatlong Babae (1975) and Zoom, Zoom, Superman! (1973). He also put up his own movie production outfit named MAQ Productions. He was also credited as executive producer, line producer, and project coordinator for many movies of Regal Films, owned by Mother Lily Monteverde, and other film outfits.
Michael Jackson. Less than two weeks after the passing of Douglas, the entertainment industry was slammed again with another shocking news—the death of King of Pop Michael Jackson.
Jackson was slated to have his most-awaited comeback concert in July. But he died of cardiac arrest on June 25 at the UCLA Medical Center in Los Angeles, California.
It took more than two months before his remains were finally laid to rest. His family had to wait until an autopsy was done. This was after reports came out saying that his personal physician, Dr. Conrad Murray, allegedly administered a powerful anesthetic to the King of Pop shortly before he died.
Although Jackson had passed away, fans still had the chance to watch their idol for the last time in This Is It last October. This docu-film, which was shown for only two weeks around the world, showed footages of the rehearsals for the supposed final concert of the international pop singer. (CLICK HERE to read PEP's This Is It review)
ADVERTISEMENT - CONTINUE READING BELOW
Cory Aquino. Filipinos lost their Mother of Democracy on August 1. Former President Corazon Aquino, who fought colon cancer for several months, died of cardio-respiratory arrest at the Makati Medical Center. She was surrounded by her five children—Ballsy Aquino-Cruz, Pinky Aquino-Abellada, Noynoy Aquino, Viel Aquino-Dee, and Kris Aquino-Yap—and other close relatives and friends when she passed away. (CLICK HERE to read related article.)
Hundreds of thousands of Pinoys patiently lined up at La Salle Greenhills in San Juan City and the Manila Cathedral in Intramuros, Manila, to pay their last respects to the country's former leader. On its way to the Manila Cathedral, Pres. Cory's funeral cortege passed by Ayala Avenue, Makati City, and stopped beside her husband Ninoy Aquino's statue.
Pres. Cory's wake was also visited by aspiring senator Ferdinand Marcos Jr. and Imee Marcos, children of the late Martial Law president Ferdinand Marcos. Pres. Gloria Macapagal-Arroyo also paid her last respects to Pres. Aquino.
The funeral procession took more than eight hours to reach the Manila Memorial Park in Parañaque City because of the many Filipinos who waited on the streets where her cortege would pass by to pay their last respects to the enduring symbol of People Power.
Bernard Bonnin. Veteran actor Bernard Bonnin died on November 21, one week after his confinement at the hospital due to stroke. (CLICK HERE to read related article.)
The 70-year-old actor had been dubbed as the "Palos ng Pinilakang Tabing." He used to play "pretty boy" roles before he got his break to play the lead character in LVN's movie adaptation of the komiks novel Alyas Palos, which he would reprise eight times.
The veteran actor also played superheroes in such films as Gagamba (1962) and Captain Karate (1965). His other action films included Dakpin si Pedro Navarro (1963), Tagisan ng Agimat (1965), Hijack (1966), at Philcag in Vietnam (1967).
ADVERTISEMENT - CONTINUE READING BELOW
Bonnin is the father of beauty queen Charlene Gonzalez and '90s actor Richard Bonnin.
Johnny Delgado. PEP learned of the passing of veteran actor Johnny Delgado through the networking site Twitter. Actor Ping Medina wrote in his Twitter account, "Mr. Johnny Delgado has passed away :( Mabuhay ka sir. Have your rest. Your legacy will live on."
This was later confirmed by director Laurenti Dyogi, who posted in his account, "Tatang johnny delgado passed away at 1:20pm, let's pray for hs eternal repose.I worked wd him in kay tagal kang hinintay. Wonderful person." (CLICK HERE to read related article.)
The former Goin' Bananas actor died of lymphoma, which was first diagnosed in 2008. He was admitted to the St. Luke's Medical Center on November 15 after he vomited blood. However, he requested to go home a couple of days later, where he spent his last days with his wife, filmmaker and actress Laurice Guillen, and their daughters, opera singer and theater actress Ana Feleo and TV and film actress Ina Feleo.
Delgado was a multi-awarded actor who was often featured in films directed by critically acclaimed directors such as Lino Brocka, Mike de Leon and Ishmael Bernal. His movies included Kakabakaba Ka Ba? (1980), which won him the Best Supporting Actor award, and Tanging Yaman (2000), which earned him the FAMAS Best Actor award.
Delgado's last project was the short film Labing Labing, which Ina wrote and directed. In this film, he teamed up with wife Laurice to play a married couple.
Chris Daluz. Not many were aware of it, but earlier this year, the industry lost a good character actor and radio reporter with the passing of Chris Daluz.
Daluz was in Olongapo City shooting scenes for his Korean film when he suffered a mild stroke.
The 74-year-old actor once worked as a radio reporter for dzMM. He also starred in several movies including CNN's Best Asian Film in History Himala (1982), Bagong Buwan (2001), Sukob (2006), and Katas ng Saudi (2007).
ADVERTISEMENT - CONTINUE READING BELOW
However, his notable project as an actor was the hit television series Pangako Sa 'Yo, where he played Isko Macaspac, the adoptive father of Yna Macaspac (played by Kristine Hermosa).
Susan Fernandez. Political activists lost a great friend when singer Susan Fernandez succumbed to cancer on July 2. (CLICK HERE to read related article.)
"The Nightingale of the Philippine Progressive Political Movement" became famous after she recorded her Metro Pop award-winning song "Babae Ka," a tribute to women power and feminism. This advocacy was also reflected in her other songs to raise awareness on the important role of women in society.
Fernandez used to host one of the longest-running cultural shows on television, Concert at the Park.
Alexis Tioseco. A tragic incident ended the lives of Filipino-Canadian film critic Alexis Tioseco and his Slovenian girlfriend Nika Bohinc. They were both shot by robbers in their Quezon City home on September 1.
Tioseco was the founder and editor-in-chief of Criticine, an online journal of Southeast Asian cinema. He was also a regular contributor to several magazines and top newspapers.
Thai Film Journal mentioned in its blog that the slain film critic was also one of the founding programmers of the S-Express program series of Southeast Asian and Asian films that travels to film festivals in the region and around the world.
Trinidad Etong. She was not a household name but she made headlines in death because initial suspicions fell on her husband, ABS-CBN broadcaster Ted Failon, for allegedly being involved in her tragic demise on April 16.
The 45-year-old Etong sustained a gunshot wound to the head in an incident that was investigated by police. While some speculated that Failon's wife was killed by another person, his camp claimed that she committed suicide.
The bathroon at Failon's house, which was reportedly the scene of the incident, was cleaned up by his house helpers. The same thing was done to the vehicle that was used to bring Etong to the hospital. The gun used in the shooting incident reportedly passed hands.
ADVERTISEMENT - CONTINUE READING BELOW
The National Bureau of Investigation (NBI) findings later showed that Etong committed suicide.
Eraño Manalo. Hundreds of thousands of Pinoy followers of the Iglesia Ni Cristo mourned as one when Ka Eraño "Erdy" Manalo passed away due to cardiopulmonary arrest on August 31.
For a long time as the executive minister, Ka Erdy had guided his religious group in maintaining the tightness of their church. He had also influenced his fellow believers in choosing political leaders, one notable trait of the Iglesia Ni Cristo.
Ka Erdy's funeral was attended not only by INC members but also by prominent personalities from different sectors, including ex-President Joseph Estrada and President Gloria Macapagal-Arroyo who were both were supported by the INC during their respective terms.