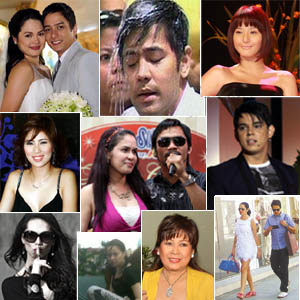 ---
As we bid a final goodbye to year 2009, PEP (Philippine Entertainment Portal) takes a look back at the newsmakers that shook and shocked Philippine showbiz. They were the ones who made the most impact on the headlines and stayed in the minds of most Filipinos.
These personalities were engaged or rumored to be engaged in sex videos, illicit affair, car accident, lawsuits, and even transforming from a man into a woman. They are PEP's choice for Top 10 Newmakers of the Year:
MANNY PACQUIAO
It was a banner year for the Pambansang Kamao. He cemented his status as the best pound-for-pound boxer in the world by beating two tough opponents this year: Great Britain's Ricky Hatton and Puerto Rico's Miguel Cotto.
Because of his back-to-back victories, in addition to his past winnings, boxing experts hailed him as one of the all-time greatest boxers in the world, while boxing fans worldwide voted Pacquiao as the second world's greatest boxer, just behind Sugar Ray Robinson.
But it was not all roses for Pacman this year. He also got into some controversies.
Before his May 2 fight against Hatton, Pacquiao was reported to have signed up with ABS-CBN after a disagreement with Solar Sports Entertainment, which claimed the right to air all his fights. But after settling his issue with Solar, the Filipino boxing champ apologized for the confusion and decided to stay with Solar and GMA-7.
Just recently, Pacquiao instructed his promoter, Bob Arum of Top Rank Inc., to file libel charges against American fighter Floyd Mayweather Jr., his father, and Golden Boy Promotions, for accusing him of using performance-enhancing drugs.
Pacquiao's personal life as well as his showbiz career also took a hit this year.
Weeks before his fight against Cotto, news about his alleged affair with sexy star Krista Ranillo broke and the rumor continued even after the fight. Although Pacquiao himself and Krista's camp denied the rumor, the boxer's wife, Jinkee Pacquiao, did not play the same music. Without directly confirming the rumor, her statements hinted that something did go on between her husband and the sexy star.
ADVERTISEMENT - CONTINUE READING BELOW
Meanwhile, Pacman's latest film, Wapakman, an entry in the ongoing 2009 Metro Manila Film Festrival, is at the tail-end of the box-office race.
HAYDEN KHO JR.
Hayden Kho's sex-video scandal with several women, including actress Katrina Halili and showbiz newcomer Maricar Reyes, became a national issue—thanks to the Senate investigation spearheaded by Senator Bong Revilla.
But Hayden's woes did not end there.
Katrina filed a violation of the Republic Act No. 9262 or Anti-Violence Against Women and Their Children that resulted in Hayden's suspension from the Philippine Medical Association (PMA) and eventually the revocation of his license by the Professional Regulation Commission (PRC). Despite this, Katrina still wants him in jail.
Hayden was also reported to have attempted to commit suicide again, but his camp vehemently denied this.
RICHARD GUTIERREZ
It was a tumultuous year for heartthrob Richard Gutierrez.
First, he filed a P25-million libel suit against PEP (Philippine Entertainment Portal) about an article involving him and actor Michael Flores at a director's birthday party. The case was dismissed by the Department of Justice for "lack of probable cause", but it was reversed after Richard's camp filed a motion for reconsideration. The case is still ongoing.
Second, Richard was involved in a vehicular accident on May 22 in Silang, Cavite. Richard was able to survive the tragic accident but not his personal assistant, Nomar Pardo. Nomar's family sued him for Reckless Imprudence Resulting to Homicide on July 23.
Third, a report about an airport incident involving Richard and rumored girlfriend Jewel Mische also came out. But the actor's camp denied the issue.
On the positive side, Richard braved the Ondoy flood in Marikina to rescue Patient X leading lady Cristine Reyes. He was also given recognition by some sectors for his environmental efforts.
KATRINA HALILI
Hayden Kho's sex videos with Katrina Halili spread like wildfire on the Internet. The actress filed Republic Act No. 9262 or Anti-Violence Against Women and Their Children against Hayden and several others suspected of spreading the videos—Hayden's ex-girlfriend Dra. Vicki Belo, Erick Johnston Chua, Dr. Mark Herbert "Bistek" Rosario, and Princess Velasco.
ADVERTISEMENT - CONTINUE READING BELOW
Several TV networks and news websites airedKatrina's first encounter with Hayden during the Senate inquiry of their sex-video scandal on May 28. It was a very dramatic encounter, complete with dousing of water and crying scenes.
Katrina's showbiz career also took a blow partly due to her inability to concentrate on her work during the scandal. She returned to work via GMA-7's Rosalinda, where she played the main antagonist Fedra to Carla Abellana's title character.
KRISTA RANILLO
There's no denying that Krista Ranillo made a great impact this year because of her reported involvement with boxing champ Manny Pacquiao. Her alleged affair with the Pambansang Kamao stole some thunder from Pacquiao's victory against Miguel Cotto last November.
Despite the statements of Manny and Krista's family, denying the alleged affair, the statements of Manny's wife, Jinkee Pacquiao, and Gina Alajar were very telling. And Krista's silence to this day is more intriguing.
It's just too bad that Wapakman, the movie in which they first met, is not doing well at the box-office.
JUDY ANN SANTOS & RYAN AGONCILLO WEDDING
Two of the biggest celebrities in the Philippines managed to keep their wedding ceremony a secret from almost everyone. Although they had already announced their engagement, nobody—except for a chosen few—knew when and where the exact wedding would take place.
And so, on April 28, 2009, 99.5 percent of the people in the Philippines got shocked upon learning that Juday and Ryan were wed in a ultra-private ceremony at the at San Juan Nepomuceno Church in San Juan, Batangas. The couple just sent photos and videos of the ceremony a few hours later to TV networks, newspapers, and entertainment websites like PEP, to announce that the wedding already took place.
Juday and Ryan are still waiting to have a baby of their own.
ANNABELLE RAMA
ADVERTISEMENT - CONTINUE READING BELOW
Richard Gutierrez's mother, the incomparable Annabelle Rama, also figured in several controversies this year, the most prominent being her feud with GMA-7 executive Wilma Galvante.
The feud resulted in filing of cases against one another. Galvante filed a P7-million damage suit against Rama on March 17. The talent manager, in return, filed a P15.5-million grave-slander case against the lady TV executive last April 17. While Galvante's case against Rama is still in court, the talent manager's case against the TV executive has been dismissed.
Rama also lambasted this website for publishing articles that she and her family believe are damaging the reputation of her son Richard.
BB GANDANGHARI
This year saw the birth of BB Gandanghari, the new persona that Rustom Padilla created after coming out. Rustom, who was once married to actress-TV host Carmina Villarroel, decided to "kill" Rustom and give way to BB.
Rustom's new identity as BB shocked many, including her family. In fact, her mother, Mrs. Eva Padilla, was very vocal in saying that it would be very difficult for her to see her "son" as an entirely different person. But in the end, their love for each other proved to be so strong that their family eventually accepted BB for what she is.
JOHN LLOYD CRUZ & RUFFA GUTIERREZ
After co-starring in the ABS-CBN primetime soap I Luv Betty La Fea, news about the alleged romance of John Lloyd Cruz and Ruffa Gutierrez hit the headlines this year. Although the two insisted that they were just friends, photos of them entering a hotel and shopping together in Los Angeles painted a different picture.
TYPHOON ONDOY
The one who created the biggest impact this year, literally, is not a celebrity but a supertyphoon called Ondoy. In one rare moment, celebrities became ordinary people as they also got affected by Ondoy, which flooded Metro Manila and nearby provinces on September 26.
ADVERTISEMENT - CONTINUE READING BELOW
Celebrities became victims as well as heroes during this tragedy.
Cristine Reyes, Jean and Jennica Garcia, Gladys Reyes, Carmina Villarroel and Zoren Legaspi, and Giselle Sanchez are just some of the celebrities who were trapped in their homes while Ondoy was wreaking havoc.
Meanwhile, Gerald Anderson, Jericho Rosales, Raymart Santiago, and others braved the floods and rescued some of their neighbors. Hundreds of celebrities and volunteers led by the Kapamilya and Kapuso stars devoted their time and effort to help the typhoon victims through telethons and relief operations.