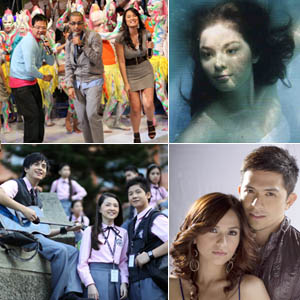 ---
Four new shows debuted last February 8; three from GMA-7 and one from ABS-CBN. These four new shows had very strong pilot episodes, based on the overnight ratings of AGB Nielsen Philippines among Mega Manila households.
In the primetime race, ABS-CBN's new fantasy-drama series Agua Bendita and GMA-7 youth-oriented romantic series First Time did very well on their first night. Agua Bendita posted an impressive 31.8 percent rating to place second overall behind toprater Darna, which got 33.9 percent. First Time, on the other hand, had a respectable 22.5 percent to take the 10th spot.
Agua Bendita, which replaced the timeselot of inspirational drama May Bukas Pa, is the launching vehicle of young actress Andi Eigenmann, daughter of actors Jaclyn Jose and Mark Gil. First Time, which took the timeslot of Ikaw Sana, stars tween idols Joshua Dionisio, Barbie Forteza, and Jhake Vargas.
In the daytime race, two GMA-7 shows also had their debut last Monday—the afternoon soap Gumapang Ka Sa Lusak and the early morning talent show Diz Iz It!.
ADVERTISEMENT - CONTINUE READING BELOW
Gumapang Ka Sa Lusak, which stars Dennis Trillo and Jennylyn Mercado, generated 17.1 percent rating on its pilot episode to place third overall, behind noontime shows Eat Bulaga! (20.5 percent) and Wowowee (19.9 percent).
Meanwhile, Diz Iz it! got 13.6 percent on its first day to take the 7th spot in the winners' circle. This talent show, which replaced the timeslot of Kapuso Movie Festival, is hosted by Bayani Agbayani, Ehra Madrigal, Grace Lee, and Sam YG.
Here are the comparative TV ratings of ABS-CBN and GMA-7 programs last February 8,based on the overnight ratings of AGB Nielsen Philippines among Mega Manila households:
Morning:
Unang Hirit (GMA-7) 5.5%; Umagang Kay Ganda (ABS-CBN) 5.3%; Mr. Bean (ABS-CBN) 3.5%
Hunter X Hunter (GMA-7) 5.2%; Gintama (ABS-CBN) 4.2%
Pokemon Master Quest (GMA-7) 6%; Naruto Shippuuden (ABS-CBN) 5%
Kekkaishi (GMA-7) 7.6%; Knock Out (GMA-7) 9%; Miss No Good (ABS-CBN) 3.2%
Diz Iz it (GMA-7) 13.6%; StarStruck Shout Out (GMA-7) 17.4%; Showtime (ABS-CBN) 15.8%
Afternoon:
Eat Bulaga! (GMA-7) 20.5%; Daisy Siete: Bebe & Me (GMA-7) 15%; Wowowee (ABS-CBN) 19.9%
ADVERTISEMENT - CONTINUE READING BELOW
Gumapang Ka Sa Lusak (GMA-7) 17.1%; Magkano ang Iyong Dangal? (ABS-CBN) 11%
StarStruck Shout Out (GMA-7) 18.7%; Ina, Kasusuklaman Ba Kita? (GMA-7) 16.6%; Maria de Jesus: Anghel Sa Lansangan (ABS-CBN) 8.3%; Banana Split Daily Servings (ABS-CBN) 8.5%
Joey's Quirky World (GMA-7) 7.9%; Pinoy Big Brother Double Up Uber (ABS-CBN) 11.4%
Family Feud (GMA-7) 11.9%; Love Is Only in the Movies (ABS-CBN) 11.4%
Primetime:
First Time (GMA-7) 22.5%; Tanging Yaman (ABS-CBN) 17.4%
24 Oras (GMA-7) 29.9%; TV Patrol World (ABS-CBN) 26.3%
Darna (GMA-7) 33.9%; Agua Bendita (ABS-CBN) 31.8%
The Last Prince (GMA-7) 31.6%; Kung Tayo'y Magkakalayo (ABS-CBN) 30.8%
Full House (GMA-7) 29.9%; Habang May Buhay (ABS-CBN) 30%
StarStruck Shout Out (GMA-7) 24%; Queen Seon Deok (GMA-7) 23.5%; Pinoy Big Brother Double Up (ABS-CBN) 28.7%
Saksi (GMA-7) 12.3%; SNN: Showbiz News Ngayon (ABS-CBN) 12.1%
I Witness (GMA-7) 9%; Bandila (ABS-CBN) 6.4%; XXX (ABS-CBN) 5.5%; Pinoy Big Brother Double Late (ABS-CBN) 2%
Here are the Top 10 daytime and primetime programs:
Daytime:
1. Eat Bulaga! (GMA-7) - 20.5%
2. Wowowee (ABS-CBN) - 19.9%
3. Gumapang Ka Sa Lusak (GMA-7) - 17.1%
4. Ina, Kasusuklaman Ba Kita? (GMA-7) - 16.6%
5. Showtime (ABS-CBN) - 15.8%
ADVERTISEMENT - CONTINUE READING BELOW
6. Daisy Siete: Bebe & Me (GMA-7) - 15%
7. Diz Iz It! (GMA-7) - 13.6%
8. Family Feud (GMA-7) - 11.9%
9. Pinoy Big Brother Double Up Uber (ABS-CBN) / Love Is Only in the Movies (ABS-CBN) - 11.4%
10. Magkano ang Iyong Dangal? (ABS-CBN) - 11%
Primetime:
1. Darna (GMA-7) - 33.9%
2. Agua Bendita (ABS-CBN) - 31.8%
3. The Last Prince (GMA-7) - 31.6%
4. Kung Tayo'y Magkakalayo (ABS-CBN) - 30.8%
5. Habang May Buhay (ABS-CBN) - 30%
6. 24 Oras (GMA-7) / Full House (GMA-7) - 29.9%
7. Pinoy Big Brother Double Up (ABS-CBN) - 28.7%
8. TV Patrol World (ABS-CBN) - 26.3%
9. Queen Seon Deok (GMA-7) - 23.5%
10. First Time (GMA-7) - 22.5%