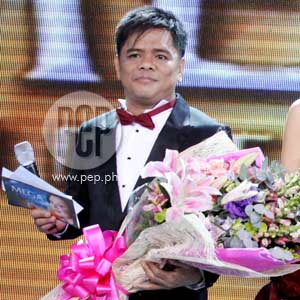 ---
Chokoleit became the target of one person's disapproval when the stand-up comedian posted images of the male genitalia in various forms on his public Twitter account. The post, which was originally intended as a joke, did not sit well with some of the Twitter page visitors.
"mytweetsforyou" was one of those persons and the exchange between her and Chokoleit escalated in the following days from early February onwards. PEP (Philippine Entertainment Portal), through its Feedback page, was informed of this issue via a "concerned individual" who wanted to "call Chokoleit's "attention" since he was, according to the "concerned individual, "becoming abusive to the public." Screen shots of Chokoleit's postings were also provided as evidence.
PEP contributor Ruel Mendoza managed to get the reaction of Chokoleit via his Facebook account about this complaint against him.
"Naku, baliw at lukresia iyon, 'te!" he said. "Kahit anong dispute, wala siyang point of argument kaya kahit mga followers ko naumay na sa kanyang baluktot na dahilan."
The comedian also revealed that mytweetsforyou is not one of his Tweet followers in the first place, and that the posted pictures were, in fact, for his "imaginary yayey" as opposed to mytweetsforyou's claim that the photos were, as stated by Chokoleit, "explicit and obscene."
"I posted a picture without referring to anybody," stressed Chokoleit. "[I was] just speaking for myself and my imaginary yayey was still there. Prior to that, bilang komedyante, e, naughty at suggestive mga Tweet ko. Here comes that girl I don't know berating me unpolitely saying: How dare you post this picture? Una pa lang, mali na siya. Hindi ko siya follower at bakit iyong mga artista lang ang concern niya at hindi iniisa-isa mga followers ko na ni isa walang nagre-react?"
GOOD LUCK AND GOOD BLOCKED! Chokoleit further explained that whatever he posts on his Twitter account is his own doing and that he is very much aware of the consequences his posts might reflect later.
ADVERTISEMENT - CONTINUE READING BELOW
"Account ko pa rin 'yon," he added when confronted with the person's reasoning that Twitter is a public site. "Kung ano ang paniwala niya, so be it. Aba, kung saan-saan nagsanga, para pang covered ng TFC plan niya panghimasukan activities namin. So, I gave her a dose of her own medicine. Public at puwede pakialaman account, ha."
Chokoleit, for his part, decided to get back at mytweetsforyou by posting the user's profile image on his Tweet and adding a caption to it.
"Ginawa ko, drag ko pic niya at pinost ko saying paalam na tayo sa president ng Solid Chokoleit Fans Club. Good riddance, good luck and good blocked! Saying kung hindi ko ito account why each has the power to block unwanted followers, na hindi nga siya isa doon, di ba?"
The comedian ended his statement by shrugging off what he called "haters/bashers."
"She's so concerned of something that it is my responsibility to face the consequences of my actions, di ba? Naku, baliw, nagmamando na parang guardians of morality sa Twitter. E, ako si patol sa mga haters at bashers at tingin ba nila sa akin Sarah Geronimo na pa-wholesome? Of course, everything was said in jest and you just have to take it with a grain of salt!"
"DON'T GO OVERBOARD." A couple of hours after the publishing of this story, PEP received an email from mytweetsforyou, giving her side of the story.
Here is her email:
"The issue is about a pornographic material posted on a public Twitter
account. Its not about the artist, not about what they do for a living. But it's about the explicit/obscene photos that can be seen by everybody including the minors, due to the fact that this Twitter account is not set on private.
"Like most people on Twitter, I've accidentally saw those pictures while browsing on some public celebrity accounts. I am not one of his follower, but I twitted him the same day I saw those pictures. It was probably rude to say 'how dare you post those pictures' but that was my initial reaction thinking that kids/minors might accidentally see it online just the way I did. I've apologized right after I got a reply from him and ended my tweets for him that same day.
ADVERTISEMENT - CONTINUE READING BELOW
"From that time on, he kept on answering my personal tweets, tweets that are not even directed to anyone in particular. He harassed me for days and
re-posted most of my tweets on his page with harsh remarks. He called
me 'potah,' 'lukaret,' 'baliw,' 'walang sex' and 'president ng haters' with my picture in it.
"With that being said, all the damages, harassment he's done to me personally, do I have the right to sue him? I think so. But I'm not out to fight or make a scene. I just want to simply remind him that posting those pornographic materials is not the right thing to do on a public Twitter account. Perhaps, he can get rid of those photos or set his account on private. I believe there's a time and place for that.
"Chokoleit is a public figure, a talent who sometimes appear from a network, who obviously is doing well with their shows promoting moral values like May Bukas Pa and Agua Bendita. Hopefully in the future, he will be responsible enough in posting jokes/messages on his public account like Twitter.
"There's nothing wrong in making people laugh. Just don't go overboard by
posting those explicit/obscene photos on public accounts where minors
may accidentally see it."