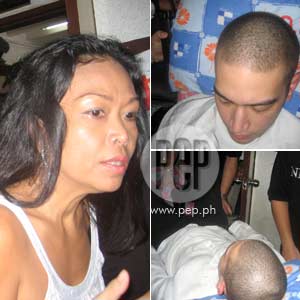 ---
Jason Ivler pleaded not guilty to the murder charge before the Quezon City Regional Trial Court today, February 16.
Ivler, who entered his "not guilty" plea before Branch 76 Presiding Judge Alexander S. Balut, was charged with the murder of Renato Ebarle Jr., son of a Malacañang official, last November in a road-rage killing incident.
NBI officials brought the 28-year-old former US military officer and nephew of folk artist Freddie Aguilar into the courtroom lying on a stretcher straight from Quirino Memorial Medical Center (QMMC), where he's recovering from gunshot wounds.
Ivler eluded police operatives for around three months before he was arrested in Marlene Aguilar's house on Jan. 18. The suspect sustained gunshot wounds when he attempted to shoot the NBI operatives who arrested him.
QMMC doctors said Ivler is strong enough to appear in trial, but added he cannot be transferred to a city jail yet because his wounds are not yet fully healed. Medical Specialist Romeo Abary told the press Ivler should stay in the hospital for another two to four weeks.
Judge Balut agreed to the medical specialists' findings. Private Prosecutor Romeo Alcantara, meanwhile, said they will file a motion to have Ivler's condition checked by specialists from their division.
The QC court set the next preliminary conference on February 25 and 26. The next pre-trial conference will be on March 2.
Ivler was accompanied by his mother Marlene Aguilar, his stepfather Stephen Pollard, and other relatives. Palace Undersecretary Renato Ebarle Sr.chose not to attend the hearing.