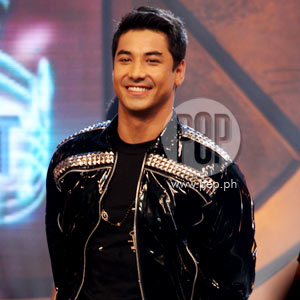 ---
Akihiro Sato is relatively new in show business, but the 23-year-old international model turned actor is already getting intrigues attached to his name.
A segment on Showbiz Central yesterday, February 28, showed the Japanese-Brazilian model in a photo shoot with a well-known gay photographer in Thailand. In the said photo shoot, a half-naked Akiro was beside the fully dressed photographer whose right hand was wrapped around the model's body. Akihiro's hands were clasped around the photographer's nape.
The photos sparked off a chain of rumors insinuating that the handsome model is in a supposed relationship with another man.
SC was able to get Akihiro's comment on the rumor and he just laughed it off.
"He is really like my family, my papa [dad] in Thailand," explained Akihiro, in broken English, about the gay photographer. "When I start my career in Brazil, I flew to Thailand and he is the one who took all my shots and he did all my material to start off my modeling. He supposed to start my career in TV in Bangkok, but I choose Philippines."
Akihiro accepts that celebrities do get involved in gay issues, whether they like it or not. He said: "Wherever you go and wherever you are, people are talking about you. So, personal life is this and I have my personal life. I know what I do and I'm not gay. I have a lot of gay friends and I don't have a problem with anyone."
The single Akihiro was also quick to say that he is in no rush to enter a relationship.
ADVERTISEMENT - CONTINUE READING BELOW
"I don't have time and I just got here!" he laughed. "But you never know. I am focusing my business and work. Maybe, I don't know."
DETAINED IN THAILAND. Akihiro also explained his detention in Thailand's airport for almost half a day.
"I forgot my immigration IDs," said Akihiro. "So, I have to show them my ID. I called my manager [Jonas Gaffud of Mercator Model and Talent Management] and they fixed everything. I almost lost flight to get back here. Everything is fine!"
Akihiro is paired with Jolina Magdangal in GMA-7's Panday Kids.