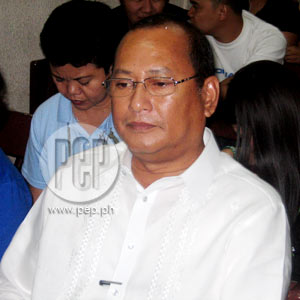 ---
The defense panel of murder suspect Jason Ivler heatedly denied that they are delaying legal proceedings to avoid Ivler's transfer to a detention cell, during the hearing of Ivler's murder charges before the Quezon City Regional Trial Court Branch 76 yesterday, March 23.
Lawyers for the defense failed to produce their own doctor or expert witness before the court. Defense and prosecution lawyers had been expected to bring their own doctors yesterday to finally resolve whether Ivler is medically stable enough to be transferred to a detention cell in the National Bureau of Investigation (NBI).
Ivler is the suspect in the murder of Renato Victor Ebarle Jr. in a road rage incident on November 18, 2009. Ivler went into hiding, but NBI operatives eventually caught him inside his Quezon City home last January 18.
Ivler is still confined at the Quirino Memorial Medical Center (QMMC) in Quezon City, 63 days after his arrest. He was wounded in the abdomen area after a shootout with the NBI.
QC Judge Alexander Balut had granted the petition of the NBI for Ivler's transfer to the Quezon City Jail on January 27. Later, Judge Balut also granted the NBI's request to detain Ivler in its detention cells instead.
A clean bill of health from the QMMC, however, is required before any of the two petitions take effect. So far, Jason Ivler's camp has maintained that he needs another surgical procedure to fix his colo-rectal problem. The prosecution countered that Ivler is "up and about" to stand trial, thus bringing about a scheduled "battle of doctors" that did not push through yesterday since the doctor for the defense was a no-show.
ADVERTISEMENT - CONTINUE READING BELOW
During the last hearing on March 12, Dr. Enrico Ragaza, who conducted an independent medical test on the suspect as requested by the Dept. of Justice (DOJ), was supposed to present his medical bulletin. Atty. Mitzhell Arthur Magdaong of the defense, however, questioned his credibility.
Judge Balut then ordered Ragaza to come back on the March 23 hearing to explain his findings. In response, Atty. Magdaong said the defense would also be presenting in court Ivler's personal physician, Dr. Romeo Abary of QMMC, on the same date to rebut Ragaza's findings.
But Only Ragaza was present in yesterday's hearing. Defense Lawyer Alexis Medina said their camp "did not make any commitment to present our medical expert today."
"It does not even reflect on the record!" Atty. Medina, who was absent in the last hearing, told Judge Balut.
Prosecution lawyers naturally objected to Atty. Medina's statement, and declared the move as a "dilatory" or "delaying tactic." They added that Dr. Abary's recent medical bulletin, dated March 22, is already sufficient.
JASON ON FACEBOOK. The proceeding continued with the examination and cross-examination of Dr. Ragaza.
In his statement to the court, Ragaza said he found Ivler playing computer games on a PlayStation device on the day of his independent medical inspection, on March 5. He added that Ivler also has a PlayStation Portable and a cell phone in his room. He can also log on to Facebook, he said.
Ragaza said Ivler agreed to be inspected. In his findings, he said the suspect's "colostomy is functioning well" and that there are "no signs of infected wounds."
ADVERTISEMENT - CONTINUE READING BELOW
(Princeton.edu defines colostomy as a "a surgical operation that creates an opening from the colon to the surface of the body to function as an anus.")
Ragaza added that there were a few open wounds, which may have already healed by now. In an answer to Atty. Magdaong's question, Ragaza said Ivler is "as normal as everybody else."
Dr. Romeo Abary's medical bulletin as of March 22 confirmed Ragaza's findings. It said: "Mr. Ivler is up and about except for a small granulating wound and is ambulatory with no signs of infection and is on regular diet, afebrile, and colostomy functioning well."
Despite the available medical opinions, Judge Balut still gave the defense a chance to bring another expert of their own choice to another hearing on March 30, because the matter is "sensitive" and that he does not want to be "blamed" if something happens to Ivler once he is transferred. The judge said the next hearing should finally resolve the matter of Jason Ivler's medical condition, and eventual transfer to a detention cell.
"NOTHING SHORT OF TORTURE." In an interview after the hearing, Atty. Medina denied that their camp is delaying the proceedings by not bringing a doctor to the day's trial.
"For the record, we are not delaying this case. The reckless accusation that we are delaying this case is nonsense, unfounded, and without any basis... The transfer of the accused to any detention facility before he has fully recovered is nothing short of torture," he said.
Atty. Medina added, "We did not make any commitment to present our medical expert today. We were in fact expecting the examination and cross-examination of the medical expert for the prosecution which will take a longer time."
ADVERTISEMENT - CONTINUE READING BELOW
The defense lawyer said the prosecution is pushing for Ivler's transfer to a detention cell out of "revenge."
"The prosecution's desire to transfer the accused to a detention facility is not motivated by any interest of justice. It is motivated by a desire for revenge even before the accused is found guilty before the court beyond any reasonable doubt," Atty. Medina said.
"PURELY THEATRICS." In another interview, Atty. Maximo Usita Jr. of the prosecution stressed that the Jason Ivler's personal doctor, Dr. Abary, has found the suspect "fit for trial."
"We believe that this is purely theatrics, sa tingin namin. No less than their own doctor, Dr. Abary, has per medical bulletin as of March 22, 2010...he stated there clearly that he [Ivler] is already fit for trial. That is already clear."
He added, "Sabi naman namin we oppose the position of the defense and we made it clear, in regards to our omnibus motion, that there is a need for the accused to be transferred to any facility in the government, specifically the NBI."
Renato Ebarle Sr., father of the victim, again insisted that the defense camp is just delaying the trial.
"The only thing I know was that in the last hearing, the defense panel was already directed by the court to produce an expert witness today. So there you are, it's very clear that they [defense] are employing any available tactic to delay the proceedings or to delay the transfer of Ivler to a detention cell in the Quezon City Jail or the NBI," he said.
ADVERTISEMENT - CONTINUE READING BELOW
"CRITICAL SURGERY." Lastly, Jason Ivler's mother, Marlene Aguilar, denied in a text message to PEP (Philippine Entertainment Portal) that her son is getting preferential treatment while confined in QMMC.
"Jason doesn't want preferential treatment, he just wants his intestines restored. He needs another critical surgery," Marlene said.