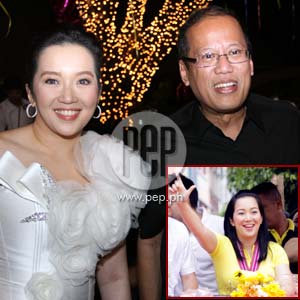 ---
Kris Aquino is becoming the target of people who do not want an Aquino presidency.
An avid campaigner for leading presidential candidate Sen. Noynoy Aquino, Kris went to great lengths to help get her brother to Malacañang.
A popular TV host, actress, and commercial endorser herself, Kris spent her own money to fund some of Noynoy Aquino's TV ads. She even planned and attended her own campaign sorties in the provinces, including those in Batangas, Nueva Ecija, and Pampanga towards the end of the campaign period.
So, the spotlight was trained on her—every time a mudslinging attack was launched against Sen. Noynoy Aquino, the media always had to report Kris's defense. Her reaction to the bogus psychological report against her brother was: "Dedma na kasi wala namang naniwala sa kanila. Kaya buti nga sa inyo!"
Other brickbats were for Kris. At the start of the campaigns, many wondered whether Kris would meddle in her brother's affairs while in power (she said she won't), whether she would be Noynoy's real first lady (she said it's ridiculous), or whether she'd make Malacañang Palace her home (she said she will stay in her current home in Makati).
"DESPEDIDA" FOR KRIS. Now that Noynoy Aquino is poised to become the next President, another negative issue is being thrown Kris's way.
Members of a group in Facebook called "Kris Aquino's Despedida" are growing fast. Currently at 6,669 members as of posting time, the group wants Kris out of the country.
According to the group's info page, Kris Aquino promised to leave the country if her brother wins. "If [Noynoy] does win and I'm a cause of stress for him and his presidency, I'll gladly take my two boys and live anywhere there is TFC [ABS-CBN's The Filipino Channel] overseas," the group quoted Kris as saying.
ADVERTISEMENT - CONTINUE READING BELOW
Kris made the statement in the heat of an altercation with Ruffa Gutierrez and Annabelle Rama two months ago. Annabelle, a sharp-tongued talent manager and the matriarch of the Gutierrez clan, said that Kris will be "more arrogant" if Sen. Noynoy Aquino becomes President.
Although the page was "created purely out of fun," members of the Facebook fan page are still taking Kris's statement to heart.
Recent comments by members include:
"Ay please please please. Make Kris ambassador to some little island far away. Please spare us all the cry cry cry. O please. Overdose period. No more teleseryes, commercials, talkshows, magazines, radio shows, ads, ........etc etc etc. whatever. Just please give us some quiet!!!!!!!"
"six yrs without KRIS is................... PEACE! gawin na lang syang ambasador to wherever there is TFC. bring TFC to Haiti maybe."
"Kris should leave the country the soonest. She is a security risk to their rivals. Imagine gusto manaksak!"
KRIS IS NOT LEAVING. But eat your heart out. Yes, Kris Aquino is leaving the country, but only temporarily.
This morning, May 13, PEP's Jo-Ann Maglipon sent a text message to Kris Aquino to get her reaction. She replied at around 1 p.m.
Kris's full text message can be read below:
"Hello Jo-ann from Boracay. Slept 14 hours, now watching baby james & josh swim in the villa pool that faces the sea.
"Yes, I am leaving for a Disney vacation abroad w/ my kids but after Pilipinas Got Talent & my obligation to KTM [Kung Tayo'y Magkakalayo] finishes. I will be gone for at least 3 weeks then to give my kids the vacation we postponed last year because of mom's [the late Pres. Cory Aquino] deteriorating health. I will be back on SNN on Monday, May 17.
"During the entire campaign it was a non stop assault on me as a person, a mother & a sister. Well they didn't succeed then & w/ the love & support of my sisters & my brother they won't succeed now."
ADVERTISEMENT - CONTINUE READING BELOW