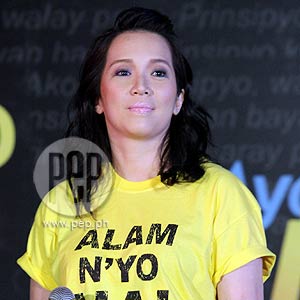 ---
A casual chat led to a contract-signing.
In 2007, Kris Aquino and beauty mogul Vicki Belo had a public falling-out over the rumored affair between the host-actress' husband, James Yap, and an employee at one of Belo's clinics. James denied the allegation, and the incident led to Kris's resignation as endorser of the Belo Medical Group.
After three years, Kris Aquino has officially returned as the clinic's endorser.
The man who made the deal possible, Jojie Dingcong—also the consultant for the branding and imaging of the multimillion-dollar empire—related to PEP (Philippine Entertainment Portal) in a phone interview how the host-actress found her way back to the clinic of Dra. Vicki Belo.
Jojie began, "It started in January of this year. Kris just asked me something about this clinic, which was trying to get her as endorser. We were talking casually, then I just broached the idea, 'What if you go back to Belo?'"
ADVERTISEMENT - CONTINUE READING BELOW
There was a pause, before Kris threw back the question, "Okay lang kay doktora?"
Jojie, also the manager of the famous cosmetic surgeon, told her, "I'm just taking the liberties here... Pero okay lang ba kay Boy?"
Boy Abunda is the manager of Kris. He is also the endorser of another clinic, the Calayan Surgicentre.
The following month, Boy gave Kris the go signal. But, "we kept everything under wraps. We don't want na makigulo sa elections. Ang branding ni Kris ay dapat kay Senator Noynoy. Hindi makikiagaw ang Belo," Jojie explained.
NO. 1 CELEBRITY ENDORSER. Out of curiosity, PEP asked about the talent fee. "The price is not even a big amount. Kris enjoys the services and products of Belo. She's comfortable with Dra. Vicki."
Joji continued, "She's actually set to have her treatment. These past months, since nasa daan siya parati nitong campaign period, nagkaroon ng freckles. She wants to get rid of them.
ADVERTISEMENT - CONTINUE READING BELOW
"That's the good thing about Kris. She doesn't hesitate talking about the truth. 'It's my body, I want to look good, I can do what I want to look good.' That makes her an effective endorser. That makes her the number one celebrity endorser."
And finally, on May 9, the contract was "signed, sealed, and delivered" to the studio of The Buzz, where Kris and Boy are hosts.
The two ladies didn't get to meet. "Dra. Vicki had to leave for the States. Kris was so busy with the election. Pero nag-usap sila sa phone. Matagal na silang okay."
Jojie added, "This is like a good beginning. The people involved are happy. It's a beautiful signal to everyone."
Indeed, peace is one of the best routes to happiness.