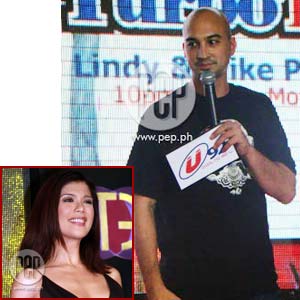 ---
Geneva Cruz's interview on Saturday's Startalk was filled with emotion, and her revelations about married life with KC Montero were deeply personal. From the downs of the relationship to failed pregnancies, Geneva fully told her side of the story (CLICK HERE to read the story).
Yesterday, May 23, on Showbiz Central, it was KC Montero's turn to speak out on his relationship with the singer.
Geneva had revealed in Startalk that she suffered two miscarriages during her marriage with KC.
KC confirmed this by explaining, "She did have two miscarriages and that was not a very public thing, pero okay naman, it's out there. And noong time na 'yan, it was really hard for us both but I wasn't there. I was actually in the States, so I wasn't there to help her through the time she had, so talagang it was super hard sa kanya."
After a short pause, he continued, "I just... She's a really strong woman and I'm proud for her for making it through that. And they were two boys, so they were gonna be KC Junior. And unfortunately, they didn't make it."
Since KC knew the sex of the baby, was Geneva's pregnancy that far advanced before she had the miscarriage? How did he feel about losing his son?
"Lalo na boy, lalake siya, so... I am not a very emotional person and I don't talk about my feelings to anybody, so I really held it all inside," KC said. "Sometimes, when I am alone, I think about it but it hurt a lot, with my family also. I just try not to think about it."
ADVERTISEMENT - CONTINUE READING BELOW
"I WANTED TO GIVE HIM A BROTHER." Being a father to Heaven (Geneva's son with Paco Arespacochaga) during his seven years with Geneva had been a joy to KC, and the thought of having another son would make the family happier. Wanting a child of his own, KC expressed his desire to give Heaven a sibling.
"Of course, yeah, and Heaven always wanted a brother with me and his mom," said KC. "He has a brother with Paco. I wanted to give him a brother and, of course, everybody wants to have a baby, so..."
Was he surprised by Geneva's revelation in Startalk?
"Actually I didn't watch it, but I saw it on the screen here," admitted KC. "Medyo, medyo lang. But Gen can do what she wants and she's a free woman. I applaud her for that. Ako naman, I just try to stay out of the public eye as much as possible even though it's hard. If Gen wants to say anything, it's up to her and I will support her whatever she says."
Then with a smile, he joked, "She's the boss, e. Siya ang boss."
SECOND TIME AROUND. Looking back on the seven-year marrige with Geneva, has KC rued things he shouldn't have done in the past that would somehow change the future?
"Yeah, of course," KC said. "Wala na kami and somewhere along the line, something went very wrong. Yes, I have regrets and I'm sure she has regrets as well. But you can't really look back anymore. Hindsight is, now we're here and you can only look back and hope na second time around, it will be better and you won't do that. Sayang."
ADVERTISEMENT - CONTINUE READING BELOW
KC still hopes to find a way to save his marriage with Geneva. "She is a part of my life," he said, "and my family's life forever. So, 150 years old na ako, baka may chance... I hope."
WHAT WENT WRONG? KC related that he and Geneva spent time apart since KC went to the U.S. and she remained in the Philippines. "We just grew apart," he said. "We were apart for two years. We didn't see eye to eye anymore."
Wouldn't it have been easier if both of them just stayed in one place?
"Ang hirap, e," KC said. "She's a singer and that's what she does. This is where she lives, dito ang buhay niya. I was going home [in the States] to take over the family business and she has a lot of obligations here and this is what she knows what to do and this is what she does best, and I am not sure if she was ready to give that up."
The long-distance relationship didn't work out and now that they're both here in the country, would they have a chance to work things out?
"We are so far apart now that we can't see eye to eye anymore," KC said. "But I'm never gonna rule Geneva out of my life. We are still married and a divorce is not something that I am thinking about at this time. If we get a divorce, final na iyan, e. I am not worried about that. When the time comes that we need or not need a divorce, you never know. Like she said, life is too short to hate and I love her still, but in a different capacity. In a different way."
ADVERTISEMENT - CONTINUE READING BELOW
MISSING HEAVEN. The rocky relationship between KC and Geneva may have affected Heaven as well. But for KC, he is confident that his son would understand.
"Heaven is a smart boy and he understands," said KC. "He is intelligent and strong, so at least marami siyang parents who love him. As long as he will accept me as his dad, I would be there."
Through a phone patch, Heaven said a couple of words to his dad. He said: "Dad, thank you for raising me to this young man that I have become. I am glad that you were there for the majority of my life. Although that this breakup with my mom...you guys probably don't live anymore together but at least I know that you guys are friends and that I really respect what the both of you are doing, especially the fact that you guys are separated. I love you dad, and I really appreciate everything that you did for me. Thank you."
The message from Heaven took its toll on KC as the man who earlier called himself "not emotional" looked like he was about to tear up. With great composure though, he saddled himself up and expressed his praise for his son.
"For me, Heaven is the most important person in my life, so... It hurts that he is not now in my house," he said. "My house is so quiet na, e. Hindi na maingay so I miss Heaven a lot. We were like best friends and we play games together, we talk, and talagang my house, I sit there alone and look at the wall. I have nothing to do now. Before I would come home and nandoon si Heaven and he would make gulo. I just miss the small stuff he does and he helped me sometimes, and the bonding we had..."
ADVERTISEMENT - CONTINUE READING BELOW
What could he say to Geneva right now?
"I'm very proud of you for all that you have done and everything that you continue to do. You are a very strong woman and remember that you have a lot of people that love you, and don't be too hard on yourself. No matter what happens, myself and my family are always here for you no matter what. You are part of our lives forever and we will be continue to be there."
"Take a shower, maligo ka na!" laughed KC when asked about his message to Heaven. On a more serious note, he said, "I love you, son, and I hope to see you soon."
After these messages, the joker in KC sprang out again and he said to the audience, "Can we be happy now?"