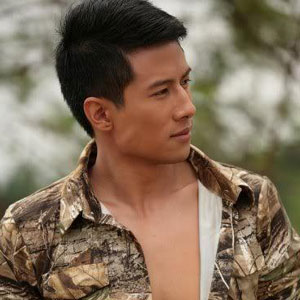 ---
Be Bench finalist John James Uy is no longer sitting around for his showbiz career. This time, the 23-year-old model-actor wants to control his fate by trying out to be a VJ in MTV Asia.
John James is included in the set of final 15 finalists to be the next VJ of the Asian cable music channel.
"It feels great. It feels kick-ass to even be considered as a VJ for Asia," John James told PEP (Philippine Entertainment Portal) in an e-mail last Tuesday, June 29.
"I want to be a VJ because I am fluent in English, can't live without music and also what's more fun than just being yourself on camera and connecting with people?" the U.S.-bred celebrity added.
John James, a Kapamilya contract artist, was in ABS-CBN's Agimat: Tonyong Bayawak, which ended last May. After that, he was not given another project.
"I am not leaving Philippine showbiz as much as it is leaving me," the actor answered when asked if he's leaving showbiz. "It's not my time, and I don't want to waste my time just waiting. At least I can still do other things in my life than just wait for them to accept me into Philippine showbiz. I need to make money too, you know?"
THE CONTEST. John James said being a finalist for the MTV VJ Hunt was fairly easy. "I sent them an audition video of me introducing myself and before I knew it I got an e-mail from them saying, 'Congratulations!'" he said.
ADVERTISEMENT - CONTINUE READING BELOW
He also thinks he was chosen because he has a "very Asian face."
"It can fit into any of the Asian countries. I believe my edge among the other contestants is that I have different perspective on things. I see the beauty even in the ugliest things. I'm real, not plastic. A bit witty with a hint of sarcasm," he explained.
MTV Asia gives the contestants weekly challenges and tasks to gauge who would be the winner. Every week, five contestants are eliminated until five are left.
"The remaining five will be flown to Singapore and will try to impress MTV by hosting various events and segments. The final winner will then be chosen," John James explained.
Weekly eliminations are judged through online voting—each contestant has a blog at MTV Asia's website, and contestants with the least "likes" for their posts get eliminated.
"It's very stressful because I'm not into Facebook anymore so kulang ako sa promotion. I'm busting my ass off every minute trying to up my ranking," he said.
Although he made the first cut easily, John James is still afraid he could be cut off this week.
"I'm currently ranked at number 11. The final 10 will be judged tonight, so please vote!" pleaded John James.
Does he know who his biggest voter is?
"That would be my girfriend Regine Angeles," he replied. "Sometimes she just stays at her computer hitting the refresh button every five minutes just so she could vote for me. And since I don't have a Facebook account, she posts shout-outs and tells her friends to vote for me."
ADVERTISEMENT - CONTINUE READING BELOW