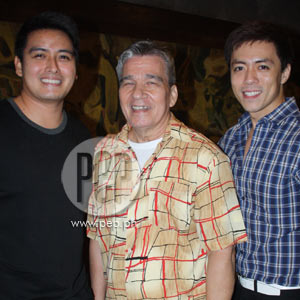 ---
Even though he is a politician himself, actor Alfred Vargas dislikes the fact that politics turned out to be the wedge that divided Filipinos in the 1890s when they were waging war against the Spanish colonizers.
"Ang politika ay politika talaga," he declared during the preview of Ang Paglilitis ni Andres Bonifacio held at the Cultural Center of the Philippines last Saturday, July 3. "We will never move on until we do away with our politics. Simula't sapul ng history ng Pilipinas, ang politika ang nagpapahirap sa atin. As long as we are chained by politics, we will be divided and we won't ever move on."
In the Cinemalaya entry Ang Paglilitis ni Andres Bonifacio, the film shows how the Supremo (Bonifacio) became a victim of political intrigue when he stood on trial before a war council in 1897.
Does Alfred find it ironic that he ended up being a politician himself since he won as councilor for the 2nd district of Quezon City in the May elections?
"Whatever we do, politics will always be there," he pointed out. "What I'm trying to say is that if we let ourselves be divided by politics, we will never go anywhere. Dapat, we should put politics aside and focus on unity. Kasi this movie shows how Filipinos were so divided ever since. That's the first Republic, imagine divided na agad tayo."
How does he plan to wage war against poverty in his district?
"Now, iba na ang revolution—it's a revolution against poverty. So lahat ng measures and ordinances, we will try to make them alleviate poverty. Our revolution right now is our fight against poverty. Even the smallest things na magagawa ko para lumaban sa kahirapan, I can say na para akong si Andres Bonifacio."
ADVERTISEMENT - CONTINUE READING BELOW
PORTRAYING ANDRES BONIFACIO. Speaking of the hero, how did Alfred prepare for his role as the Supremo?
"I read books about Bonifacio, pati yung binigay sa akin ni Direk Mario O'Hara, at inaral ko. My main goal lang as an actor, gusto ko ma-communicate who Andres Bonifacio was. But then I realized that it all began with love," explained Alfred.
He added, "It starts with love for one's brother, love for one's lover or wife and love for one's country. Nung naisip ko yun, naging mas madali na for me. Mahal ko ang bansa ko, mahal ko ang family ko and the lines meant a lot to me."
Alfred narrated that he and Direk Mario discussed lengthily about his character and how he should portray Bonifacio.
"Kunyari yung testimony ko [for the trial], ang tagal naming nag-usap ni Direk tungkol dun pero we shot it in one take. We start with the emotions...yung galit ni Andres about the revolution, na sinasabing nag-traydor siya...everything follows."
It has been long believed that General Emilio Aguinaldo was the one who ordered the death of Andres Bonifacio. But in this film, Aguinaldo is shown as very much against the execution order given by the war council that tried the Bonifacio brothers. In Paglilitis, Lance Raymundo is cast as Gen. Emilio Aguinaldo.
Alfred said that doing this film is their way of opening the minds of Filipinos.
"I think this is our objective: revealing history," he said. "Lahat ng ginamit namin na material, based sa transcripts ng courts. Hindi lang alam ng public but this film is based on the actual trial itself. So this is more of a revelation. And I think Direk Mario did a good job of making a balanced treatment sa Bonifacio side and sa Aguinaldo side."
ADVERTISEMENT - CONTINUE READING BELOW
Does he have plans of endorsing this film to students?
"Yes, very much," Alfred replied. "This is our history and we should know it by heart and we should be proud of it. Kasi maraming lessons at maraming aral ang puwedeng mabago ng pelikulang ito.
"'Yon ang gusto ni Direk Mario: to leave a legacy for generations to come para hindi nila makalimutan kung sino si Andres Bonifacio."
As for his showbiz career, Alfred said that he is in the process of losing weight so he can make a television comeback by August.
Ang Paglilitis ni Andres Bonifacio was shot in Pampanga and Bulacan as well as various locations in Manila such as Intramuros, Pasay City, and Pasig City. It is one of five full-length films competing in the newly established Director's Showcase category of Cinemalaya.
Ang Paglilitis ni Andres Bonifacio will be screened during the 6th edition of Cinemalaya, which will run from July 9-18 at the Cultural Center of the Philippines.
(CLICK HERE to read more about this Mario O'Hara film.)