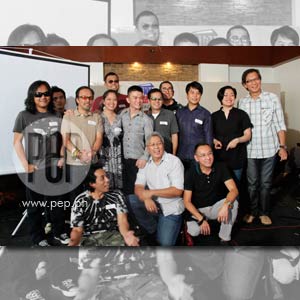 ---
The country's best songwriters converged last July 20 at the Arts in the City in Taguig for the launching of the 1st Elements National Songwriting Camp to be held in the picturesque province of Dumaguete.
Leading the elite roster of Filipino songsmiths who will train and teach aspiring composers is no less than the Maestro himself, Ryan Cayabyab, also known as Mr. C.
The endeavor is a project of the newly formed 7101 Music Nation—an organization founded by Mr. C along with Julio Sy and Twinky Lagdameo.
"Its mission is to have composers, songwriters, musicians, and artists, to come together and perhaps create some new ideas, some new things for Philippine music literature, for Philippine art literature, for everything that can happen hopefully in the future may bagong ideas na dadating," explained Mr. C.
He added, "Kami po ang mission namin is to create a platform to possibly educate and enhance our natural talents. The other mission is to hold an annual event to put together songwriters, musicians, and artists to come up with something new. Parang nag-i-inject lang kami ng something na bago sa industriya. As a matter of fact, inaayos na namin 'yong five-year plan namin. Hopefully in five years time sama sama na lahat in one big festival: songwriters, musicians, artists, performing artists, dancers, and theater artists."
FIVE-DAY WORKSHOP. The 1st Elements National Songwriting Camp will happen in Dumaguete, Negros Oriental on November 14 to 18.
For five days, a handful of renowned songwriters and musicians will conduct workshops and trainings with lucky participants through case studies, interactive outdoor sessions, music games, group activities, and one-on-one consultations.
ADVERTISEMENT - CONTINUE READING BELOW
Modules that will be presented are History 101, Basic Music Creation, Lyrics, Beyond Music and Words, Commercial Music Structures, The Music Producer, Publishing and New Business Trends, Music and Technology, Music Videos and Production, and Music Inspiration.
Renowned names in the OPM scene like Jim Paredes, Jay Durias, Joey Benin, Joey Ayala, Noel Cabangon, Gary Granada, Gary Valenciano, Chito Miranda, Gabby Alipe, Yael Yuzon, Jonathan Manalo, Jungee Marcelo, Trina Belamide, and many more, will serve as lecturers and workshop facilitators.
A total of sixty aspirants will be accepted to participate in the workshop for free. Luzon, Visayas, and Mindanao will be allotted 20 slots each with Ryan Cayabyab and his team composed of esteemed songwriters conducting the screening of the applicants.
Interested songwriters who want to try out must log on to www.7101 musicnation.com.ph. Application period started yesterday and will last until August 22. The final list of those who will go to Dumaguete will be announced on September 22.
Cayabyab said, "If you are 18 -35 years old and you are an aspiring songwriter with very interesting song ideas, please log on and file your application. You have to fill up an application form then you will upload your song. We are not asking for a full song and then after that we will ask you to upload a video not more than two minutes of you performing the song.
"After you submit, there's a screening committee that will choose the applicants that would go to the final audition, which is a live edition. The live audition is basically to confirm kung ikaw nga 'yong composer 'tsaka kung ikaw nga 'yong nandun sa video. You don't really have to be a singer kasi hindi naman singing audition ito. We just want to know kung ikaw nga talaga 'yong gumawa nung song."
ADVERTISEMENT - CONTINUE READING BELOW
He added, "It's a serious workshop. Meaning, we are looking for songwriters who are serious in intent to contribute to Philippine music. That's the whole point."
The organizers are not promising any recording contract to the workshop participants.
"We are just creating the platform for putting people together and creating new ideas. I don't think we would like to produce an album. We are not into producing and we are not into marketing them and we are not going to manage them. Hindi namin trabaho 'yon. Ang amin is to mentor them and simply impart what we know," said Mr. C.