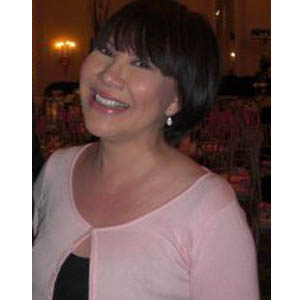 ---
"It is not a letter of complaint."
This was underscored by PAMI (Philippine Artists Managers, Inc.) spokesperson Shirley Kuan in her exclusive phone interview with PEP (Philippine Entertainment Portal) yesterday, July 23.
The organization of talent managers was dragged into the hubbub after a "very private letter" sent to GMA Films President Annette Gozon Abrogar last July 20, was leaked to the press the same day.
Its content remains unclear. But a reliable source had told PEP that the now controversial letter was brought about by the "reklamo" that talent manager Arnold Vegafria filed with PAMI, where he's a member.
PAMI's "alarming" question was: How did the media learn that a "confidential letter" was sent to Ms. Annette?
Kuan said, "PAMI is really betrayed, disappointed, very concerned, very disheartened because of this series of leaks to the media regarding the confidential information. It baffles us how it's...It's out there in the media!"
She recounted, "Before PAMI could even hand-deliver, in the case of that text communication among the members, we normally do that...But it's the first time that messages in the text were leaked to the media and even quoted in paper. So, that's very alarming to us. We feel so violated!"
MEDIA SPECULATION. The trouble with the seepage, according to Kuan, is that a supposedly internal matter has become a public issue.
Kuan reiterated, "Before PAMI could even relay—first, the text messages regarding Cesar, and then, the letter to Annette—or hand-deliver a very private letter to Annette, it's already out in the press. Even worse, the content of the letter was being exaggerated, speculated upon in the media. It was pure speculation, and it's unfair to PAMI and unfair to Annette."
ADVERTISEMENT - CONTINUE READING BELOW
In the conversation, Kuan made it clear that the letter to Ms. Annette is not a "reklamo."
She said, "It was merely a request for meeting with Annette to clarify certain matters. We put very specific words in the letter; it was to clarify certain matters, not even issue. It was neither a complaint nor an issue, as being speculated in the media. Mere speculations...The letter was neither complaining in tone or manner, nor was it was judgmental. Everything was speculated. Totally unfair to PAMI and to Annette!"
The group had a meeting last July 21, reviewed the letter, and the word "complaint" was not even used.
She asserted, "Where in this letter did we even use the word? This is just a miscommunication so let's clarify."
"ALL WE WANTED IS A MEETING." Kuan chose not to divulge the specific details that led PAMI to send a letter to Ms. Annette.
She said, "I will not even go into details of meeting because that's really private. I will not even go into details of what's in the letter because again, that's private. What I'm trying to clarify now is the unfair, speculative nature...."
But whatever was sent to Ms. Annette, Kuan said the content was based on facts.
She explained, "The letter was very factual. It was agreed that the letter will be sent with only facts that were discussed in the meeting—nothing more, nothing less.
"But since the existence of this letter was leaked to the media, and it was already speculated and given different color, it certainly agitated a lot of people, including Arnold, who received text messages from Manila and disturbing information from Manila.
ADVERTISEMENT - CONTINUE READING BELOW
"He thought that the letter was contrary to what was agreed upon in the meeting. He immediately denied. He was abroad and didn't have access to email. But this letter was based on the agreement at the meeting, which he attended.
"So, when he came home, and he read the letter, he calmed down. Everybody calmed down.
"You know, it's not proper for anyone naman of us to put out the letter there because it's a private letter to Annette. It's up to Annette to share that letter if she wants. But it's a very, very private letter—just like our letter to GMA asking for a meeting, nobody speculated on that; or the letter that we send to ABS, nobody speculated on that. We just merely requested for a meeting to clarify certain matters."
PEP asked: Why would Ms. Annette call the letter "premature and baseless"?
Kuan quickly replied, "Only because of what Arnold told her...When Arnold has not read the letter, and was still agitated. Because he thought, the letter we sent to Annette was contrary to what we agreed upon. He did not have the benefit of reading the letter yet, kinontra na niya. That's why, Annette took it from there. That's why we need to clarify. It was baseless in the sense that there is really no issue. What's out in the press, those negative connotation ng mga speculations, it's not even in the letter.
"PAMI is being judged. Annette is being judged. And all we wanted is a meeting with Annette."
ADVERTISEMENT - CONTINUE READING BELOW
PAMI PROTOCOL. PAMI has rarely attracted controversy when dealing with their internal matters or issues.
As relayed by Kuan, the process is pretty simple: A member discusses the issue, then PAMI hears him or her out.
She told PEP, "Before, when we had meetings, nobody wants to talk about it [openly]. There are cases that we solve among managers and talents quietly, silently. It doesn't end up in the media.
"Like in the Cesar [Montano] meeting, where we wanna hear him out...It's a fair process that PAMI always exercises. Norma [Japitana] complained, we heard her. Then, we wanna hear Cesar. We hear both sides.
"If there's a letter, in the case of Annette, we needed signatures from everybody kasi, bilang respeto kay Annette, since we were asking for time of her day. We needed to be very formal about it, so we made the effort to route the letter.
"PAMI is here to be the arbiter, to be their adviser. The goal is really simple: to make sure things like these don't happen again. That's the only goal.
"After hearing both sides, that's the only time we can have a fair opinion, have a judgment, or even have a statement if it's necessary."
NEXT STEPS. PAMI is looking forward to having that meeting with Pres. Annette Gozon Abrogar.
"With all due respect to Annette... we wanted to clarify first. We wanna extend that respect to her, ask for a meeting, and clarify what was put in the letter. We hope this is just a miscommunication," Kuan said.
ADVERTISEMENT - CONTINUE READING BELOW
In a text message sent to PEP two days ago, Ms. Annette said the group has to "sort out their internal issues first and get their facts straight" before she could make any response.
"We don't blame Annette for reacting that way," Kuan interjected, paused briefly before adding, "You can't also blame us for reacting this. Naunahan kami sa press."
PAMI is also investigating the series of leaks that took place recently. "It really baffles us, and we want to get to the bottom of this."
MS. ANNETTE'S REACTION. Meanwhile, upon relaying the gist of PAMI's statement, the lady boss of GMA Films replied to PEP with this statement:
"Technically it was an 'invitation' for me to clarify some issues. However, as I said, the issues raised in the letter are based on wrong assumptions, unfounded and premature. Thus, I see no need to accept the invitation nor to respond to the letter. Arnold has also told me that he has clarified things with PAMI last night so I guess that puts an end to any further issues. I have friends among the PAMI members and I have always been accessible to them. They have always been welcome to talk to me if the have any questions."