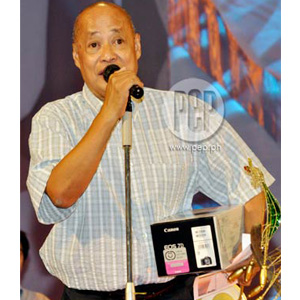 ---
On the heels of the recently concluded awarding of the 6th Cinemalaya Philippine Independent Film Festival is tittle-tattle questioning the originality of Two Funerals, which earned a Best Director award for Gil Portes and Best Screenplay for Enrique "Eric" Ramos.
A Facebook thread discussed the "whispering campaign," which was supposedly instigated by another director, Alejandro "Bong" Ramos, against the drama-comedy film that also won the Special Jury Prize, Audience Choice Award, and Best Cinematography Award.
In the updated report of PEP (Philippine Entertainment Portal), Direk Bong declared: "I never said he's a plagiarist."
But the underlying tone of his response to Eric in Facebook insinuated that Biyaheng Norte, his supposed entry for the 4th Cinemalaya film festival in 2008, was—in one way or another—copied. He wrote, "Ang inaakusahan ko ay ang director mo.... Kung sa 'yo galing ang concept ng Two Funerals, maybe mali ako. Pero kung kay Gil Portes galing ang concept, labas ka na sa problema namin..." (CLICK HERE to read related story.)
Direk Gil issued his official statement earlier this morning underscoring his firm denial of Bong's claims: "I am not a plagiarist."
He also challenged Bong to show his script so that people can compare, and also, to watch Two Funerals.
Here is Gil Portes's statement in full:
"Mark Meily, one of the members of the screening committee [who was] with me two years ago, is familiar with Bong Ramos's script and has issued a statement in the Facebook that Two Funerals is very different from Biyaheng Norte. Laurice Guillen, Festival director of the Cinemalaya also said so.
ADVERTISEMENT - CONTINUE READING BELOW
"Cinemalaya will issue a statement soon attesting that Two and Norte are night and day. Two is a black comedy. Norte is a drama. Two is set during Lenten Season and the past elections. Wala sa Norte iyan, and many more.
"Bong Ramos does not own the concept of the dead being transported in the film as he claims. I was never inspired by his script as he claims.
"I was only inspired by an item that appeared in a tabloid that a wrong casket was delivered to a family in Tuguegarao.
"Why [doesn't] he show his script and we can compare it with my film? I was told he hasn't seen the film. How can he accuse me kung di pa niya nakikita?
"I can be interviewed anytime contrary to what he says. I'm not hiding. Why don't you talk to Eric Ramos who wrote the script? Talk to Mark Meily. I am available anytime. Please don't believe Bong Ramos who wants to be popular at my expense. I repeat I'm not a plagiarist."
Bong's script, he reiterated, was never his inspiration for his film. "The concept came from a tabloid item about a wrong casket being sent to Tuguegarao. Iyakan na ang familia but when they opened the casket, iba ang nasa loob. That inspired me to do the film. I gave the concept to Eric Ramos and he developed it," stated Direk Gil.
He added, "I did Two Funerals because I want to prove to myself that I can still do a difficult film. I did it and won awards. If I decide to retire and be with my family in New York, I want to be remembered as a brilliant filmmaker, not as a plagiarist.
ADVERTISEMENT - CONTINUE READING BELOW
"I hate to quarrel with a so-so filmmaker but I'll protect my reputation. Fyi, Biyaheng Norte is similar to Maning Borlaza's Agrix Films years ago about a family that traveled to Cebu to visit a dead father but they were shocked to find that they're illegitimate children. A case of inspiration? Just asking..."
PEP asked: But did he ever plan on buying the script of Bong?
Direk Gil replied, "I don't know where he got the idea na binibili ko ang script niya. May proof ba siya? I have no money, si Eric nga, di pa bayad sa Two. Kung bibili ako, yaong hindi reject sa Cinemalaya. First round pa lang, di na siya nakuha."