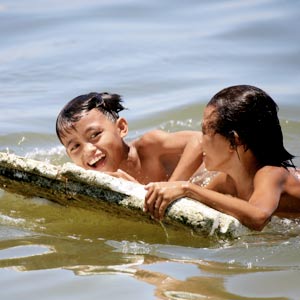 ---
An indie film about young metal divers in Baseco, Tondo bagged the Best Screenplay award in a digital film fest that took place recently in Japan.
Co-written by Ralston Jover and Henry Burgos, Bakal Boys was the only Filipino film that competed in the SKIP City International Digital Cinema Festival in Saitama, Japan. The award comes with a trophy and cash prize of 500,000 yen (Php 262,676) given by Sony and Sony Business Solutions.
SKIP stands for the Saitama Kawaguchi Intelligent Park, a known hub for the digital filmmaking industry in Japan. The 7th edition of the said film fest took place from July 23 to August 1, 2010.
This year, the organizers of the Japanese film fest received 648 entries from 85 countries. The list was trimmed down to 13 films in the international competition. The Italian film The Man Who Will Come, directed by Giorgio Dritti, took home the grand prize of 3 million yen.
Bakal Boys depicts how children dive for scrap metal in the polluted waters of an abandoned shipyard. Veteran actress Gina Pareño is cast in the film as a Tausug woman looking for her missing grandson who is one of the children metal divers.
The film's director, Ralston Jover, previously penned the critically acclaimed films Kubrador (which earned numerous awards for Pareño), Tirador, and Foster Child. Bakal Boys was produced by former actress Bessie Badilla and Albert Almendralejo.
This Filipino film, which has the international title Children Metal Divers, has been screened at many international film festivals including Pusan, Vancouver, and Thessaloniki.
It won the Chiaputti Award during the 27th Torino Film Festival in Italy. The film was also given a Special Mention for its screenplay and subject during the 50th Thessaloniki International Film Festival in Greece.(CLICK HERE to read related article.)