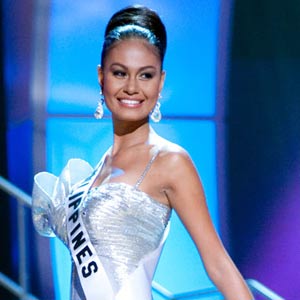 ---
Maria Venus Raj of the Philippines was named 4th runner-up during the Miss Universe 2010 held earlier today, August 24 (Philippine time), at the Mandalay Bay Events Center in Las Vegas, Nevada.
Jimena Navarrete, 22, of Mexico was crowned Miss Universe. This is the second time that Mexico took home the crown; the first time was in 1991 when Lupita Jones won. Incidentally, it was also in Las Vegas where Jones won her crown.
First runner-up was Yendi Phillipps, 24, of Jamaica; second runner-up was Jesinta Campbell, 19, of Australia; and third runner-up was Anna Poslavska, 23, of Ukraine.
Venus, 22, narrowly made it into the Top 5 when she ranked fifth overall in the Long Gown competition with an average score of 8.714. Mexico led with 8.913; followed by Jamaica (8.884), Australia (8.841), and Ukraine (8.743).
The eliminated candidates scored as follows: Albania (8.693), Ireland (8.548), South Africa (8.420), Guatemala (8.286), and Puerto Rico (7.971).
The Top 10 who competed in the Long Gown competition are: Ireland, Albania, Philippines, Jamaica, Mexico, Ukraine, Puerto Rico, South Africa, Guatemala, and Australia.
In the Swimsuit Competition, Venus ranked third with an average score 8.957 from the judges, behind Jamaica's 9.426 and Mexico's 9.265. This enabled Venus to enter the Top 10, along with the candidates from Ireland (8.784), Australia (8.543), Puerto Rico (8.415), Ukraine (8.333), South Africa (8.229), Albania (8.229), and Guatemala (8.071).
The eliminated candidates scored as follows: Colombia (7.643), Russia (7.843), France (7.586), Belgium (7.571), and Czech Republic (7.429).
The Top 15 who competed in the Swimsuit competition are: Puerto Rico, Ukraine, Mexico, Belgium, Ireland, South Africa, France, Australia, Jamaica, Russia, Albania, Colombia, Guatemala, Czech Republic, and the Philippines.
In the question-and-answer portion, Venus was asked by Hollywood actor William Baldwin (brother of 30 Rock's Alec Baldwin) what was the biggest mistake in her life and what did she do to fix it. Venus answered, "You know what, sir, in my 22 years of existence, I can say that there's nothing major major problem that I've done in my life because I'm very confident with my family, with the love that they are giving to me. So thank you so much that I'm here. Thank you, thank you so much!"
ADVERTISEMENT - CONTINUE READING BELOW
The Philippines last won the Miss Universe title way back in 1973 when Margie Moran took the title. But the first Filipina to win the crown was Gloria Diaz in 1969.
Prior to Venus' fifth-place finish, the last time the Philippines placed in the Miss Universe was in 1999 when Mirian Quiambao was named first runner-up.
Venus' road to Miss Universe was not an easy one.
After winning as Bb. Pilipinas-Universe on March 6, 2010, she was dethroned by the Binibining Pilipinas Charities, Inc. (BPCI) because of "inconsistencies in her birth records." But the decision was reversed on April 10, 2010 and Venus, who was born in Doha, Qatar, was reinstated as the country's representative to the Miss Universe.
Three days before the Miss Universe pageant, Venus lost a very close friend. Bb. Pilipinas-International 2009 Melody Gersbach was killed in a vehicular accident in Camarines Sur. It was actually Melody who convinced Venus to join Binibining Pilipinas.
Venus, who hails from Bato, Camarines Sur, is a veteran of beauty pageants. She first won the title Miss Bicolandia in 1997. The following year, 2008, Venus was named Miss Earth Philippines Eco-Tourism. This year, she won Bb. Pilipinas-Universe.