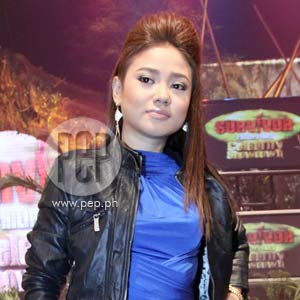 ---
Karen delos Reyes says she never had a game plan for Survivor Philippines: Celebrity Showdown. She just wanted to know how it felt to be a castaway.
The fifth to leave the hit reality show hosted by Richard Gutierrez, the former GMA-7 talent and photography buff was the acknowledged Taray Queen of the island.
HAPPY BIRTHDAY. In the first Nagar tribe trip to the tribal council, four voted her out (Mico Aytona, Ahron Villena, Ian Batherson and Moi Bien), two wanted Ian out (Aira Bermudez and Solenn Heussaff), and she herself voted against Moi. It was the first elimination episode shown on a Thursday, and it fell on Karen's birthday, September 30.
"Ang galing nga, e... Swak sa banga, shoot sa balde," said Karen at the impromptu interview we did with her via Facebook hours after the episode was aired.
The viewers of Survivor Philippines had mixed feelings about Karen's ousting. Some cheered and others were saddened. Those who did not like her thought her too opinionated, but those who hated to see her go will miss her quotable quotes.
Asked to react on this, Karen said, "Hindi ako si Superwoman para mahalin ng lahat ng tao. I cannot please everybody. In the island, I didn't play any game. I was just there for the experience. And hindi ako nagtaray nang walang dahilan. I reacted to what was happening.
"Salamat sa mga taong naaliw sa mga quotable quotes ko, nyahahahaha! I dunno, maybe I just think fast kaya yun ang mga nasasabi ko, ahahahahaha!"
One glaring footnote to the voting result was the partnership of Aira and Karen; each voted differently. Aira voted Ian out and she listed Moi.
"The girls [Solenn and Aira] and I talked about stuff, like kung sino ang iboboto namin. We all agreed to vote off Ian. But in the last minute I changed my vote. I told myself I am a balanced person. I wouldn't vote off a person who did his best.
ADVERTISEMENT - CONTINUE READING BELOW
"That time, alam ko na si Moi ang weakest sa immunity challenge. That's why I voted for Moi."
Had she voted for Ian, there would have been a tie and a tiebreaker would have ensued. Karen did not answer this one.
FOOD, GLORIOUS FOOD. After being voted out, Karen was immediately whisked off the island so there were no proper goodbyes between her and her tribemates. That was the rule.
At least she was finally able to do something she had been craving all that time: "Ang naisip ko noong ma-vote out ako, kumain."
Repeatedly in the interview, Karen insisted she never had a game plan. But surely she has some regrets that she was not able to reach the final merge?
"I wanted to be in [the] top 10, that's for sure, para mas exciting. Trip of a lifetime nga, e, ahahahaha! But I told myself, everything happens for a reason and everything will fall flat [sic] on its right place. Don't fight the current. Go with the flow and ride the wave."
We asked Karen a fan question that was posted in the Survivor thread of the social networking site Pinoy Exchange. Diehards analyze everything to guess who survives and who will not.
One note posted was on the date announced by Chynna Ortaleza—a friend of Karen from Click days (1999)—of going to Thailand. The fans thought it was in connection with Survivor.
"Oh, that I don't know... The Survivor people called up Alex [Alessandra de Rossi]. Predetermined ito at itatanong sa iyo na kung sino yung tatlong super friends ko na gusto kong papuntahin sa Thailand if ever I win a challenge, so I put three best friends and Alex is one of them. Kaso hindi na nga ito natuloy kasi na-vote out na ako."
"ANNOYING." Out of the game and back to reality with "a new hope, a new journey," Karen says she will continue the bonds made on the island and maintain friendship with the other castaways. Yes, even with Ervic Vijandre, whom she called "batugan" in their first weeks together in the original Sar Mayee tribe.
ADVERTISEMENT - CONTINUE READING BELOW
"I actually told him before, 'Dude, I'm not mad at you. It's just your attitude na kalalaki mong tao ang batugan mo. You see us [Aira and I] chopping wood, making fire and building the house.' Sinabi ko talaga sa kanya na ayoko ng ugali niyang tamad, hindi sa kanya as a person.
"Okay kami ngayon ni Ervic. We actually go out like once or twice a week after TV guest appearances. He's a cool guy."
Karen doesn't mind the comments made about her by the other castaways, like Jon Hall's description of her as "annoying".
"Jon is also a cool guy. Mother, when you're in that island with no food, poor sanitation and hygiene, konting maingay lang or whatever, maiinis ka. I totally get him.
"He was a leader and he thinks too much [for himself and for his tribemates], so maybe he doesn't need a person who is very jolly, irritating, and like he said, annoying, ahahahaha."
IT'S AKIHIRO FOR KAREN. It's almost halfway through the game. We asked Karen who she thinks will win and who she thinks should win.
"Sa tingin ko si Akihiro [Sato] ang mananalo. Wish kong manalo, si Akihiro pa rin.
"The thing is, he lived by the beach before and he really is a survivor. I love that guy. I wouldn't have eaten if it wasn't for him. He taught me how to catch crabs, get clams, etc.
"He totally respects that I'm pescetarian [fish-vegetarian] and when we won sa challenge [the prize was meat], he hugged me and got clams for me."