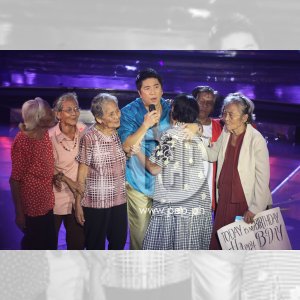 ---
Willing Willie worked up a frenzied entrance last Saturday, October 23.
That day, the once sedate TV5 building along Quirino Highway in Novaliches, Quezon City, was mobbed by a throng that created a great deal of traffic and quite a din. Way after the network's 600-capacity Studio A was closed to the throng, long lines were left waiting at the gates and at least one fan fainted.
The show of Willie Revillame also made it to Twitter's top trending topics. At about 7:30 p.m, more than an hour after the show began, Willing Willie placed fourth in the world rankings. It was an indication that the Kapatid station's primetime offering had become hot topic among Tweeters.
This, at least, points to the strong promise of the TV comeback of the controversial host. Willie and his staff of course know that, hot as they are, controversy also pursues them. They say that the day before the show's debut, they all prayed hard for the favorable decision of the Quezon City Regional Trial Court.
Willie's former home, ABS-CBN, had lodged an urgent petition for the court to release a temporary restraining order (TRO) to stop the show. But the QC Court found no urgent reason to release its decision before the launch date, saying it was attending to other earlier cases.
FROM WOWOWEE TO WILLING WILLIE. Willie Willie is not a new show—not in the strict sense.
It is Wowowee resurrected in spirit, except that it has entirely new games, new choreography, and bigger prizes which are supposed to be easier to win. But because the host remains Willie, and Willie is his own brand, Wowowee and Willing Willie are kin.
Willie himself says thatthe newly launched program is the rebirth of Wowowee, the hugely popular noontime show on ABS-CBN that bridged the gap between the network, once more-identified with elite programming, and the Pinoy OFWs and the poor who make up the greater number of the local population.
ADVERTISEMENT - CONTINUE READING BELOW
Wowowee first aired on February 5, 2005. It was an original concept by Willie himself, and it banked on the altruistic theme of giving hope to the poor.
Within a short span, Wowowee began going head-to-head with GMA-7's long-running and seemingly unbeatable noontime show Eat Bulaga! Advertisements also started pouring in, stretching the show to three hours, and turning Willie into a virtual emperor at Kapamilya land.
For along with the show's rising popularity rose Willie's fame, fortune, and power.
He was the regular subject of both good and bad press. He amassed property: several homes of no mean weight; more than a dozen cars all top of the line, except for service cars for staff and bodyguards; two yachts; a chopper, possibly two; and, pretty soon, two buildings, a big one that houses a mall and residential condos and a smaller one that will serve as the home of his new production company, Wil Productions.
No question, of course, that the man worked for it. The regular line said about him, even by Wowowee's director Johnny Manahan, is that he was the first to arrive at the studio and the last to leave. And no wonder, too, that Willie believed he was Wowowee and Wowowee was him.
All these came to an end on May 4, when Willie threatened the executives of ABS-CBN, on air, that he would not appear on Wowowee if they did not kick out a showbiz reporter who had reportedly been hitting him in the tabloids and on Kapamilya radio for at least a year.
Revillame was last seen in Wowowee after May 4. On July 31, his show was replaced with Pilipinas, Win na Win!
On August 9, Revillame, flanked by his lawyers, hosted a press conference announcing his departure from ABS-CBN. On the same day, ABS-CBN responded with a statement that Willie had no right to end his contract because ABS-CBN was the "aggrieved party."
ADVERTISEMENT - CONTINUE READING BELOW
On October 7, Willie and his new production outfit Wil Productions signed a contract with TV5. Manny V. Pangilinan, the top honcho at TV5, was there to sign for the network. With Willie were his partners in the production outfit, Atty. Boy Reyno, who is also his chief legal counsel, and Vic del Rosario of Viva Entertainment, who serves as his booking agent.
Meantime, on September 17, ABS-CBN filed a P486-million counterclaim damage suit against Willie.
The network also petitioned the QC Court to release a TRO to stop Willing Willie from airing on October 23, a date that TV5 network had already drumbeat as the big day.
But during the hearing for the TRO in October, Judge Luisito Cortez made clear that the Court would release its decision on the TRO only by the end of October.
On October 15, ABS-CBN filed a motion to resolve, in an attempt to hasten the Court into releasing the TRO. As events subsequently showed, the Kapamilya network failed to get the TRO, and Willing Willie opened to a huge crowd turnout on October 23.

WILLING WILLIE AIRS. Before the show debuted that Saturday at 5 p.m., the staff and crew, plus the 600-strong audience, stood up to recite a short prayer. "Lord, bless this show," they said in unison.
After a quick countdown, Willing Willie opened with a short message from Willie, followed by a 10-minute dance opening featuring TV5 stars Arci Munoz, Wendy Valdez, Mocha, Princess Ryan, Maui Taylor, Sheree, and Katya Santos.
The production number segued to the introduction of the WW.Girls, who also danced up a storm.
Willie's entrance was greeted with much revelry and fan cheer. Many in the audience stood on their chairs and applauded, while many more shouted "I love you Willie!"
Smiling, Willie began, "Akala ko hindi na tayo magkikita."
ADVERTISEMENT - CONTINUE READING BELOW
He added, "Kayo ang nagbibigay ng lakas ng loob sa akin... yung sigaw ninyo at palakpak ninyo sa akin. Salamat po. Ang hangarin namin, bigyan kayo ng saya. Buo ang pamilya sa hapag-kainan, nandito po ang Willing Willie para sa inyo."
He took a moment to thank ABS-CBN.
"Gusto kong magpasalamat sa ABS-CBN. Boss Gabby, Ma'am Charo, marami pong salamat, binigyan niyo ako ng pagkakataon. For five years and a half, nagsilbi po ako sa Kapamilya station."
GAMES AND PRIZES. Prizes rained on Willie Willie's initial airing, which features new games like "123 Go," "Shoot Mo Baby," "Family Apir," "Wall of Fortune," and "Wil Time Big Time."
Mardie, an audience member, won the "123 Go," and took home a total of 20,000 pesos in the jackpot game "Shoot Mo Baby."
Celebrities played on "Family Apir," a balloon-popping game with a twist. The winners were impersonators Jaya, Chokla, Iya Villana, and Le Chaz. They won a total of 25,000 pesos.
Other players included IC Mendoza, Shalala, Hans Mortel, Mr. Fu, Maverick, Ariel, Keanna Reeves, Rufa Mi, Brod Pete, Long Mejia, Caloy, Empoy, JC de Vera, Danita Paner, Kean Cipriano, Alex Gonzaga, Carla Humphries, Katya Santos, Maui Taylor, and Willie's good friend John Estrada.
A viewer named Fernando won 25,000 pesos in the "Wall of Fortune" jackpot round.
In "Wil Time, Big Time," 18 contestants won a total of P500,000, or 27,777 pesos each.
MESSAGES TO WILLIE. The show was graced by TV5 executives Manny V. Pangilinan (chairman), Atty. Ray Espinosa (president and CEO), Bobby Barreiro (executive vice president and COO), Perci Intalan (head of production and creative services).
Willie's partners in his Wil Productions—Atty. Alfonso Reyno and Viva boss Vic del Rosario—were also present.
One of his prize sponsors, Sen. Manny Villar, showed up with his son, Las Piñas Rep. Mark Villar. Also spotted were Annabelle Rama, Eddie Gutierrez, Daisy Romualdez, Dra. Vicki Belo, and Hayden Kho.
ADVERTISEMENT - CONTINUE READING BELOW
Mo Twister, Willie's co-host, congratulated the TV host-comedian. "Bumalik na ang saya at pag-asa sa Pilipinas," he said.
Hayden Kho said he was proud of Willie. "Ang saya-saya ng show. Feeling ko this is really better than the previous one. More power and continued success."
Dra. Vicki Belo said, "Hi Willie! I'm so happy you're back. Ibang-iba ka talaga, ang sarap ng energy dito. Ang saya!"
Host-columnist Cristy Fermin, a long-time Willie backer, said, "Isang maligayang pagbabalik. Wala na akong hahanapin pa. Nakakaiyak lang kasi narinig ko lahat, e—mga hikbi, pagbagsak, lahat. Ngayon, resurrection na. Vindicated siya."
Jay Montelibano, the show's production unit head, said, "We thank the people for the support. We thank TV5 for the very very wonderful support. Very overwhelming."
Owen Ercia, Willing Willie's floor director, said, "Hindi ko na alam kung ano ang sasabihin ko dahil natuloy. Lunes hanggang Sabado, tuloy-tuloy, walang pipigil dito!" Owen was also the main man on the floor for Wowowee and is a valuable asset to the show then and now. It is he who revs up everyone before the show and moves traffic along, choosing contestants, herding audiences, and generally priming everybody for the big entrance of Willie.
Inday Garutay, a staff of the show and also a jester who wakes up the crowd before the show starts, said, "Marami pa kaming bonggang sorpresa na pag-iisipan. Mahal na mahal namin itong trabaho namin. Happy kami na nakabalik siya upang makapagbigay-saya."
And Perci Intalan, TV5's head for creative and entertainment, said: "Kasama ko nga yung ibang executives ng TV5, and lahat kami very very pleased."
Willing Willie airs on TV5 from 6:30 p.m. to 8:30 p.m. on weekdays, and from 5 p.m. to 7 p.m. on Saturdays.