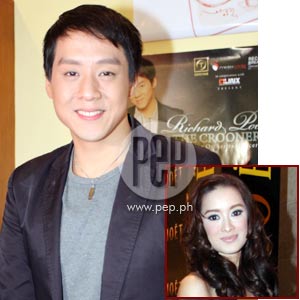 ---
Richard Poon did not hesitate to answer when asked about the real score between him and fellow Star Magic talent Maricar Reyes.
The Big Band Crooner was supposed to talk about his upcoming concert, Richard Poon: The Crooner, during the media gathering prepared for him earlier today, October 28, at Icings bake shop on Tomas Morato Avenue, Quezon City.
Instead, the first part of the presscon turned into a hot seat for Richard as the entertainment media asked him about Maricar.
For the first time, he publicly admitted: "I'm really pursuing her seriously."
It can be remembered that Richard already confessed his admiration for Maricar in a previous interview. However, the singer-songwriter never had the chance to take the next step since, according to him, he became busy with work. (CLICK HERE to read related article.)
Richard first met Maricar more than a year and a half ago when she starred in his music video for "You and I." At that time, Richard remembered, he didn't have a hard time getting along with Maricar.
"Nag-uusap kami in between [takes]," he said. "For some people, it's hard, parang hirap ka to talk. Pero kaming dalawa, very easy, I don't know why. After no'n, hindi na kami nagkita."
Although they saw each other several times on the Sunday musical-variety show ASAP, Richard said they never had the chance to talk to each other. But they reconnected last August during the Star Magic Ball.
"After ng Star Magic Ball, nagkita kami, 'Hi. How are you? Kumusta ka na?'" related Richard. "This year, nagyayaan ulit kami, we text a lot and we have very long conversations, whether coffee or something. So we really get along."
Now, the ASAP Sessionista performer goes out on dates with Maricar, sometimes with their common friends, including his manager Erik Raymundo.
ADVERTISEMENT - CONTINUE READING BELOW
What did he like about Maricar?
"Honestly, I just find her... I mean, she's really too beautiful for me, physically. But even inside her, she's a good person if you really know her," Richard answered with a smile.
He added, "She's very private. Parang sabi nga niya, 'Oo nga, 'no? Parang you went through my wall.' Noong narinig ko 'yon, parang sabi ko, 'Thank you.'
"Then, we talk about so many things na she's afraid of. I think that really made her click for me, na I can find somebody na super-duper crush ko, at the same time, we can talk really about anything under the sun.
"For me, she's the most beautiful woman I've ever met and I think she just continues to bloom as I get to know her."
"I'M BRUTALLY HONEST." Some reporters were surprised with Richard's straightforward answers about Maricar, who is currently seen in the ABS-CBN primetime series Imortal and in the movie White House.
But for the former lead vocalist and guitarist of an acoustic band said, "There's nothing to hide."
He explained, "The people who know me, especially the press who are close to my heart, I always say na hindi naman talaga ako celebrity. I really don't think that I'm from showbiz, I'm just a singer.
"I always tell nga people na I'm just a singer. But siguro the people close to me know that I'm a very blunt person, a very brutally honest person. Although, on ASAP, I just really limit what I say, pero I'm very, very brutally honest."
Will Maricar be surprised when his confession about his feelings toward her comes out in public?
"I think we've discussed it once or twice," Richard said. "But ako, I respect her for every decision she has.
"If she chooses to be silent, then, for me, if she's that important to me, I'd give her that space she needs. But if ever one day she shocks all of you by saying something about me, wow, I'll be the happiest man!"
ADVERTISEMENT - CONTINUE READING BELOW
Richard then reiterated that he would understand if Maricar chooses to keep mum about it.
"I leave it up to her heart to decide because she also needed a space, di ba? She's a private person, so I give it to her.
"Some of us, di ba, kapag going through a hard time, need some space? So, ako, because I really, really like her, I give her that space.
"But, you know, if she comes out and says, 'You know, Richard Poon's kinda turning my world a little bit, magulo or medyo kinukulit niya ako,' I'd be happy."
For Richard, Maricar is someone who gives him more reasons to be happy.
"Happy na ako. Pero noong dumating siya, parang 'Wow!' Parang, 'E, di mas lalo na!' Masaya na ako, dumating pa siya.
"You know, sometimes when you fall in love or you like somebody, minsan bumibigat kapag nag-aaway na kayo. But she hasn't brought that to my life.
"She brought more lightness to me. I'm more happy, I guess. I think she's bringing also to my life a lot of happiness."
Will Maricar watch Richard's second major concert?
Concertgoers will just have to find out on November 12 at the PICC Plenary Hall, CCP Complex in Pasay City.