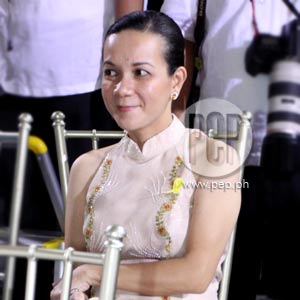 ---
Mary Grace Poe-Llamanzares views her position as newly appointed Chair of the Movie and Television Review and Classification Board (MTRCB) as an opportunity to help strengthen the nation's economy.
The MTRCB should be made up of people in the movie and TV industries, she stressed. As a government agency, she said it could become a strong force in the country's economic recovery.
Ms. Mary Grace is a graduate of Development Studies from the University of the Philippines (UP) in Manila. Later, she took a Political Science course, major in Government and Political Theory from Boston College in Massachusetts.
Thus, her educational background and orientation reflect her clearly stated intention.
"The MTRCB has to think of the industry in terms of contributions and economic impact. These are the things I take into consideration," she said when interviewed by PEP (Philippine Entertainment Portal) last November 3, at her office in the new MTRCB building along Timog Avenue in Quezon City.
PEP reminded the new MTRCB Chief of the problems in the movie industry. For one, fewer movies were being made in the last couple of years. Ms. Mary Grace recognizes this fact and expresses hope that the industry will soon recover.
As for television, she said it is currently a stable source of income for many Filipinos in the industry.
"Can you imagine how many people are employed by the television and movie industries? When you produce a film, you give jobs to many people. But they're not on a permanent basis. That's why you have to keep making movies, so you can employ these people regularly.
ADVERTISEMENT - CONTINUE READING BELOW
"And I think, it's the responsibility of the MTRCB not to give undue penalties to a [movie] producer, or to a [television] producer, because, otherwise, how many people will lose their jobs?
"Let's say, in a television show, a host makes a mistake, or a guest utters some vulgarity, there's a penalty for that. The person who committed the punishable deed should be reprimanded, removed, or suspended.
"But to suspend a show for a month," stressed Ms. Mary Grace, "because of the mistake of one person? How many people will lose their jobs?"
MOTHERLY. A case in point was the recent controversy involving the MTRCB, then under Chair Consoliza Laguardia, and TV-movie comedian, Vice Ganda, of the ABS-CBN pre-noontime variety show, Showtime. A certain "unutterable language" was spoken on air which warranted sanctions.
Vice Ganda was suspended and the case was settled.
"Tapos naging friends na rin sila," Ms. Mary Grace said, referring to the comedian and Laguardia.
The MTRCB chief prefers a more enlightened and "motherly" approach in executing the Board's policies.
"Ayoko kasing masyadong... parang, 'Don't do this... don't do that!" she said. "Parang isang magulang, na pag palaging... sa konting bagay ay sumisigaw ka't hindi nagbibigay ng tamang aral, mas lalong nagiging manhid yung mga anak mo."
According to observers, the local movie and television industries are blessed to have Ms. Mary Grace as MTRCB chief.
"Naku, salamat po," she said, adding: "Maraming magagaling... katulad ni Tita Midz (Armida Siguion-Reyna, MTRCB Chair during the term of former President Joseph Ejercito Estrada)."
ADVERTISEMENT - CONTINUE READING BELOW
However, Ms. Armida, known as the most liberal Censors' chief, was met with opposition, especially from the religious sectors.
"That's why [as MTRCB head] you have to be a good diplomat. All sectors have to be heard," Ms. Mary Grace said. "If they can present their case, and it's really damaging to the moral fiber of the community, then it doesn't matter what organization they belong to, [what's important is] to respect their views and to rectify the situation."
CITATION FOR GOOD WORK. "On the other hand, we want to be pro-active in the MTRCB," she said.
"We shouldn't just wait for complaints to be filed. We ourselves should see how we could uphold contemporary Filipino values.
"Maybe we can give a citation—not an awards night per se—but a sort of recognition to a producer who has consistently done something good for our community and it's manifested in his work," Ms. Mary Grace said.
"Kahit simple lang. Maski letter or e-mail. It's just a reminder, a pat on the back, like a 'Thank you for supporting patriotism, for upholding nationalism.' These things will help in our nation-building and progress."
ON ENTERING POLITICS. Is the MTRCB a stepping stone for her to finally enter politics in 2013?
"Actually, I went around in the last campaign period just to see what my chances were, if I joined public service as an elected official. I realized that my mom [Susan Roces] was right when she said I really needed to get the proper experience in government," she replied.
ADVERTISEMENT - CONTINUE READING BELOW
"I cannot really think that far ahead so I have no definite answer yet. There are a lot of things I can already do through the MTRCB. I can already make a significant impact.
"So, I don't think [entering politics in] 2013, right now, is my plan. I have to prove myself first. So, please pray for me..."
FAMILY LIFE. The only daughter of the late National Artist for Film, Fernando Poe Jr., and actress-producer Susan Roces, Ms. Mary Grace is married to Neil Llamanzares, who works for a local telecommunications company.
They have three children: Bryan, 18, Hannah, 12, and Nika, 6.
"My son, Bryan, is interested in joining show business," she said of her eldest child, a Political Science sophomore, at the Ateneo De Manila University.
"I asked him if he wants to study in the States. He said although he lived there until [his] 8th grade, he said he wants to stay here with his friends. He likes it here!
"My second child, Hannah, is a Grade 7 student at Assumption while my youngest, Nika, is in Prep-B also at Assumption," she said.
She added that her eldest daughter wants to be a journalist-lawyer someday while her youngest...
"I don't know. I just want her to be happy," Ms. Mary Grace said smiling.