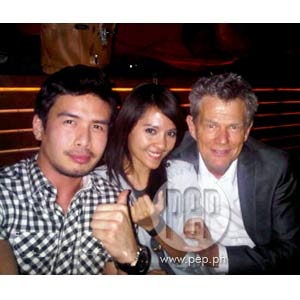 ---
Christian Bautista is presently in Jakarta, Indonesia, where he's filming his first full-length Indonesian movie Jayden's Choir.
In the said "half-a-million U.S. dollar" project of Nation Pictures, the balladeer will play the role of a struggling Filipino singer-actor named Jayden Ruiz. The film's Indonesian title is "Simfoni Luar Biasa."
Last October 28, Christian headed to The Dragonfly, a famous bar in Jakarta, to unwind. Guess whom he saw? David Foster.
He missed watching the Hollywood producer-composer's The Hit Man: David Foster & Friends concert here in Manila, but he had the chance to chat with him in Jakarta.
Christian was introduced as a "famous Filipino singer and a friend of Charice," and had his picture taken with David and an Indonesian singer Lala.
David, at that time, was unwinding with a night cap the day after staging The Hit Man's concert held at The Ritz Carlton, Pacific Place Jakarta, Indonesia.
The Kapamilya star will return to Manila on November 18 to tape Sharon Cuneta's Star Power. The following day, he'll fly back to Jakarta to finish his first foreign film.