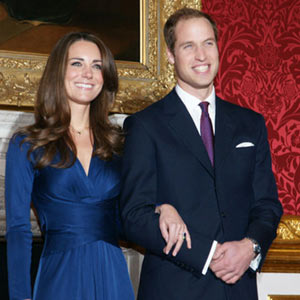 ---
Following the announcement of Prince William and Kate Middleton's engagement last Tuesday, November 16, are speculations on the date of the royal wedding.
So far, the palace has confirmed that the wedding will take place in spring or summer of 2011.
Other possible dates for the wedding include June 18, June 25, or Prince William's birthday on June 21.
As for the venue of the nuptials, it could either be St. Paul's Cathedral, Westminster Abbey, or the Chapel Royal at St. James Place, according to the Daily Mail.
The royal couple, both 28, stressed that they are deeply involved in organizing the details of their wedding.
Prince William and Kate's wedding will be the biggest royal wedding since William's parents, Prince Charles and the late Princess Diana, married in 1981.
The royal couple, who dated for almost eight years, said that they are "very excited" about their big day, which is yet to be announced.
The two met in 2001 at St. Andrews University in Scotland. They broke off briefly in 2007 but soon got back together.
THE ENGAGEMENT. Last Tuesday, November 16, Prince Charles's Clarence House office announced that the Prince of Wales is "delighted to announce the engagement of Prince William to Miss Catherine Middleton," as reported by okmagazine.com.
Prince William and Kate got engaged last month during a vacation in Kenya.
The same statement also reads that "Prince William has informed the queen and other close members of the family." He also "sought the permission of Miss Middleton's father."
The statement added, "Following the marriage, the couple will live in North Wales."
DIANA'S RING. Prince William sealed the engagement with a sapphire-and-diamond engagement ring, the same ring that his father, the Prince of Wales, gave to then Lady Diana Spencer.
Prince William said that giving the ring to Kate is his way of keeping his mother close so that she wouldn't miss out on their engagement, as well as their "excitement and the fact that we're going to spend the rest of our lives together."
ADVERTISEMENT - CONTINUE READING BELOW
KATE'S DRESS. Kate wore a £385 Issa London sapphire dress, at the official engagement announcement last Tuesday.
The bride-to-be is a longtime fan of Brazilian-born Daniella Issa Helayel. Kate has recently started wearing custom-made dresses by the designer to avoid wearing the same outfit as other guests in social events.
There have been speculations that Issa would be Kate's choice as designer of her wedding gown, although royal watchers think she could also choose a British designer.
NEW ABODE. After the wedding, the royal couple plan to spend their first years together in the secluded house which William rents near RAF Valley in Anglesey, where he is based as helicopter pilot.
Prince William, who is second-in-line to the British throne, chose to live and bring home his soon-to-be-wife in the reported £750-a-month cottage.
As of press time, Prince William lives in the military base where Kate visits him several times a week from her parents' home in Berkshire.
The £750-a-month cottage has a stunning view of Snowdonia and access to a private beach.
The-bride-to-be has already moved some of her possessions into the modest home. She said that she feels "utterly safe and relaxed" there.
Prince William's security team, which includes 15 police officers from the North Wales police force, will be reinforced once Kate becomes his wife.
Kate will also have her own protection team when she takes on her duties as part of the royal family.
Aside from the secluded cottage, Prince William and Kate have access to other houses and palaces, like the Balmoral Castle in Scotland or the Queen's Sadringham estate in Norfolk.
ROYAL FAMILY. Meanwhile, Prince Harry, 26, Prince William's younger brother, said that Kate is the "sister" he always wanted.
Harry said in a statement: "I am delighted that my brother has popped the question! It means I get a sister, which I have always wanted."
ADVERTISEMENT - CONTINUE READING BELOW
On the other hand, Kate expressed regret over not having met Princess Diana.
She sees the iconic princess as an "inspirational" figure she can look up to in life.
"Obviously I would have loved to have met her and she's obviously an inspirational woman to look up to. On this day and going forward and things, you know, it is a wonderful family, the members who I've met have achieved a lot and very inspirational," Kate said.
Although Prince William stressed that there is no pressure on Kate and that she can truly "carve her own future."
Prince William said, "No one is trying to fill my mother's shoes, what she did was fantastic. It's about making your own future and your own destiny, and Kate will do a very good job of that."
Kate also expressed nervousness about being part of one of the world's most famous families.
She hopes to use her royal status to "make a difference" in the future.
"It's obviously nerve-wracking, I don't know the ropes. William is obviously used to it, but I'm willing to learn quickly and work hard. I really hope I can make a difference, even in the smallest way. I am looking forward to helping as much as I can," Kate said in an interview with ITV News.
FUTURE FAMILY. Prince William and Kate will start thinking about children after the wedding.
"I think we'll take it one step at a time. We'll sort of get over the marriage first and then maybe look at the kids. But obviously we want a family so we'll have to start thinking about that," Prince William said.
The future princess hopes that the family she and William will build will be as close as the family she grew up with.
"It's very important to me. And I hope we will be able to have a happy family ourselves.
ADVERTISEMENT - CONTINUE READING BELOW
"They've been great over the years, helping me with difficult times. They are very, very dear to me," Kate said of her tightly-knit family —her mother Carole, father Michael, and younger siblings Pippa and James.
Kate currently works for her parents' party-planning business.
Prince William testified to the closeness of Kate's family and said that he feels "lucky" to have been welcomed to be part of it.
"Kate's got a very, very close family. I get on really well with them and I'm very lucky that they've been so supportive.
"Mike and Carole have been really loving and caring and really fun and have been really welcoming towards me, so I've felt really a part of the family," Prince William said in an interview with ITV News.