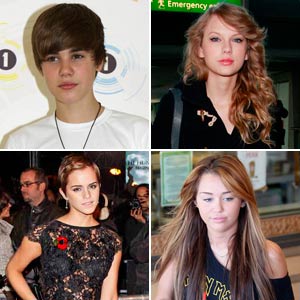 ---
With feeds from Bang, a London-based supplier of world entertainment news, PEP (Philippine Entertainment Portal) now gives you the latest news about Hollywood teens!
JAKE GYLLENHAAL thinks love is "blinding."
The 29-year-old actor, who is rumored to be dating country singer TAYLOR SWIFT, believes being in your 20s is the best age to fall in love because it is the first time people are getting to balance adult responsibilities with fun.
Speaking to E! News on the red carpet at the New York premiere of Love and Other Drugs, he said:
"Love is definitely blinding in your 20s. I don't know...It's just so great and so awesome.
"For the first time there is a seriousness to it because you have responsibilities in your 20s you don't have when you are a teenager. And so, you have to deal with those responsibilities.
"You know you can't just wonder out into nowhere thinking about how amazingly in love you are, you have work or college to deal with. So appreciate that, people who are in your 20s and in love!"
According to reports, Jake spent £100,000 flying in the "Love Story" and "You Belong To Me" singer Taylor to London while doing his Love & Other Drugs promotion in the UK last week.
A source said: "Jake wanted some quality time with Taylor. If he hadn't done this, they would have missed each other as he had to fly back to the US. He hired a jet which would have easily set him back £100,000."
ADVERTISEMENT - CONTINUE READING BELOW
EMMA WATSON, 20 years old, has had previous relationships with musician George Craig and financier Jay Barrymore, but has now asked her Harry Potter co-stars DANIEL RADCLIFFE and RUPERT GINT for advice in her relationships.
The actress said: "I'm single at the moment. Things are pretty quiet. Not much going on.
"When I was on the set with Daniel and Rupert, it was normally me who went to the guys with the questions about guys because I don't pretend to understand the male gender.
"I'm just like, 'What is going on here? What should I be doing? I don't understand.'
"So they've helped me out a bit and been like my protective big brothers."
Although Emma doesn't understand men, the opposite sex can find out more about the British beauty than she is comfortable with, thanks to her awkward teenage years being documented on camera throughout the Harry Potter series.
She told Parade.com: "It's weird. It's kind of like your baby pictures being posted up around the world on a 20-foot screen. It's cool in a way but also kind of slightly embarrassing.
"It makes me squirm a bit, to be honest. It's funny, looking back, how different we all were. I had the bushy hair, chipmunk face, and big teeth going on, which wasn't a great look for me."
MILEY CYRUS, singer and actress, found it awkward to shoot the smooching scenes with KEVIN ZEGERS, the hunk she got to work with in the music video for Rock Mafia's single "The Big Bang."
ADVERTISEMENT - CONTINUE READING BELOW
Her reason: The Dawn of the Dead actor is dating someone she works with.
She told E! News: "There's a pretty cool kissing scene in The Big Bang which is pretty funny because Kevin is actually the boyfriend of someone that works very closely with me. So there was definitely a little awkwardness since she was on set, or whatever."
However, Miley admitted it wasn't all bad as she felt more comfortable filming the intimate scenes with someone she knows rather than a stranger.
She said: "I think it's kind of cool that it's someone that I know and that I really like."
Apart from her embarrassment at having to kiss her friend's boyfriend, Miley—who will turn 18 next Tuesday, November 23—also spoke about her excitement at celebrating her birthday at the American Music Awards (AMAs) on Sunday, November 21.
The "Climb" hitmaker will be joined at the event by TAYLOR SWIFT, JUSTIN BIEBER, KATY PERRY, KESHA, and CHRISTINA AGUILERA, and she is happy that many of her friends will all be in the same place for the big day.
Miley said: "For my birthday this year, I'm just gonna have everyone that I really love be able to hang out.
"I don't always get to see everyone so it's kind of cool that the AMAs are happening, so everyone will actually be in town for my birthday, which will be pretty cool."
JUSTIN BIEBER, the 16-year-old "Baby" singer, reportedly has an advisor called Ryan who tells him how to act in order to impress the public and also how to present himself to members of the opposite sex.
ADVERTISEMENT - CONTINUE READING BELOW
A source told Lifeandstyle.com: "Ryan shows him how to walk, how to talk, how to flirt, even how to wear his hat to attract as many girls as possible."
Justin—who is regularly mobbed by screaming fans when he appears in public—has previously admitted he doesn't understand why he is so popular and doesn't see himself as "cool."
He said: "I'm not even that cool, like seriously. What is so cool like that you freak out? These girls crying, it's like I can't believe that, I'm so honored that you're crying but, I don't know, it's crazy to me!"
When the singer is flirting with girls he can, however, be sure of their scent, as he is planning to release his own perfume.
He said: "Most male celebrities do male colognes for other males. I think that me making a female fragrance is just a different idea and I think it's going to be successful. It's going to be really big."
Justin's autobiography First Step 2 Forever is available now.
DINA LOHAN, mother of LINDSAY LOHAN, has been left angry by the show and its creators who used her daughter's plight as part of a storyline in the episode which aired in the US last November 17.
In the show, guest star GWYNETH PALTROW is seen playing substitute Spanish teacher Holly Holliday, who instructs her students how to speak the language by asking them questions about Lindsay, who is currently completing a court-ordered rehab programme after "failing a drug test."
ADVERTISEMENT - CONTINUE READING BELOW
In the scene, Holly asks the pupils in Spanish, accompanied by English subtitles on screen: "Lindsay Lohan is totally crazy, right?"
She then asks: "How many times has Lindsay Lohan been to rehab?"
The final disparaging remark sees the teacher tell her class, "Please get into groups and discuss how many times Lindsay Lohan has been in rehab," when she needs to speak to a student in private.
The website Gossip Cop reports Dina as telling them "our lawyers are sending a letter" to Glee on the grounds the show allegedly defamed the actress.
A representative for Lindsay added: "Lindsay has an issue that millions of people around the world are dealing with yet Glee is treating addiction as a laughing matter."
The 24-year-old star is currently scheduled to remain at the Betty Ford Center until January 3 after failing two court-ordered drugs tests in September, testing positive for cocaine and amphetamines.