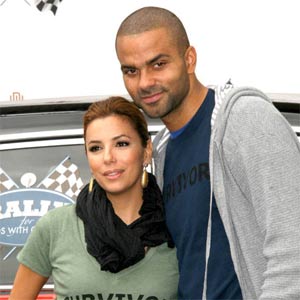 ---
EVA LONGORIA, barely two months after saying that she and TONY PARKER were "very much" in love with each other, announced their split via Twitter.
The Desperate Housewives star wrote: "It is with great sadness that after 7 years together, Tony and I have decided to divorce. We love each other deeply and pray for each other's happiness."
Eva, 35, filed for divorce on Wednesday at the Los Angeles Superior Court amid reports that Tony, 28, cheated on her. She reportedly found hundreds of text messages to the NBA star's phone from the wife of one of his teammates.
According to court papers, Eva wants to divorce Tony due to "irreconcilable differences."
She is also seeking spousal support and has asked that her maiden name be restored.
Court documents, however, did not state the date of the separation.
The pair, who got engaged in November 2006, had a fairytale wedding on July 7, 2007, tying the knot in front of 250 guests at the Chateau of Vaux le Vicomte, a 17th Century castle located on the outskirts of Paris, France.
Tony Parker wasn't surprised by Eva's decision. "Eva and I have been discussing our situation privately. I was aware that she would be filing for divorce in Los Angeles."
He admitted that he was going through a tough time as he struggles to cope with the breakdown of his marriage. "This is a difficult time right now for me and Eva. Everything else is our private life."
However, Tony is determined to concentrate on playing well for his basketball team, the San Antonio Spurs.
ADVERTISEMENT - CONTINUE READING BELOW
He said, "I'm getting great support from teammates and coaches. Right now, I just want to concentrate 100 per cent on winning basketball games with the Spurs."
CHRISTINA AGUILERA, the American pop star, has more respect for single mothers since she split from husband JORDAN BRATMAN.
The 29-year-old singer, who has a two-year-old son Max with the music executive, now realizes how tough it is to care for a child alone since she separated from Jordan in October.
She said, "My focus first and foremost is my son Max. More power to single moms and those out there doing it."
She added in her interview with talk show host ELLEN DeGENERES, "At the end of the day, he's the love of my life. I adore him and he's such a character and he's so happy and that's what's most important."
Christina manages to juggle all her responsibilities as a parent and successful singer and actress. She builds her daily life around the tot and makes sure she is at home every night to sing him lullabies in bed.
She told TV host JAY LENO, "It's hard just even being a working mom and trying to balance and juggle everything on your plate.
"But I like to be the first thing [my son Max] wakes up to in the morning and the last thing he goes to bed at night seeing, and singing him his lullabies before bed. It means the world to me to be able to do that."
Although she was raised by her mother Shelly, who was also divorced, Christina wants to make sure Max's upbringing is less chaotic.
ADVERTISEMENT - CONTINUE READING BELOW
She added, "I grew up in a very chaotic household when I was younger so I want to instill in him a lot of love."
AVRIL LAVIGNE,the Canadian singer-songwriter, has finalized her divorce from Candian musician DERYCK WHIBLEY.
The "Complicated" singer—who has been married to the Sum 41 rocker since July 2006—had their divorce signed off by a judge on November 16. Avril filed for a legal separation in October 2009.
According to court documents obtained by the website TMZ, the pair signed a prenuptial agreement prior to their marriage, which saw their assets divided in half.
Avril kept the couple's Beverly Hills mansion, her musical instruments, lyrics and songs, their Volvo car, and all other pieces of jewelry, artwork, awards, and items of clothing.
Meanwhile, Deryck was entitled to his guitar collection, song catalogues, artwork, jewelry, awards, and mementos.
The prenup stipulated that neither party would be granted spousal support.
Since splitting from the musician, Avril has been romantically linked with actor WILMER VALDERRAMA and oil heir BRANDON DAVIS.
She was also rumored to be dating The Hills star BRODY JENNER since February, and according to his co-star AUDRINA PATRIDGE, the pair are "very happy together."
She recently said: "They're really good together. A lovely couple."