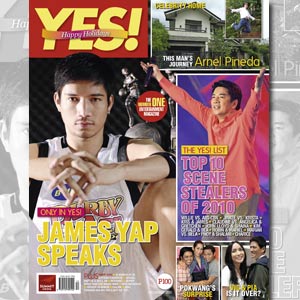 ---
YES! Magazine has always been expected to deliver the most reliable insider information on the most controversial of local showbiz stories—and in its December issue, it does just that!
THE TOP TEN SCENE STEALERS. The YES!team gathers the most explosive controversies on the entertainment scene—and feels sure enough about its information—to rank them according to magnitude and intensity.
In his introduction to The YES!List, which covers no less than 33 pages, contributing editor Andrew Paredes writes: "...we bring you the latest word on the biggest issues to hit showbiz over the last 12 months, a combination of what the mainstream media have reported and what our own investigations have unearthed."
"The Top 10 Scene Stealers list is such a sweep of the highs and lows, the darkness and brightness of the world of celebrity," YES!editor-in-chief Jo-Ann Maglipon adds in her editor's note, "that it leaves us rushing, stunned at times, and nearly spent. But we witnessed it all..."
And having been witness to the people and events that held the public riveted in 2010, the YES! team went on to tell it as it is— with the end goal of making sense of it all (nearly impossible as that may get).
Its top five: The Fall and Rise of Willie Revillame; Jinkee Knocks Out Krista, Wins Back The Pambansang Kamao; Kris & James Call It Quits; Claudine, Angelica, Gretchen: Sex, Lies & Sisterhood; John Lloyd & Shaina Face A Most Malicious Rumor.
The next five: Kim & Gerald: The Breakdown Of A Love Team; Robin & Mariel Got Married...Or Did They?; Marian & Bela Go To The Bathroom; PNoy & Shalani Break Up; Charice Lands 'Glee,' Gets Botoxed.
ADVERTISEMENT - CONTINUE READING BELOW
JAMES YAP SPEAKS. The December issue also features an exclusive interview with James Yap, a man known to be so private, he can only be heard speaking a few precious sentences when ambushed by the press.
Yet the soon-to-be-ex-husband of "The Queen of All Media" Kris Aquino and the PBA's most bankable point guard, chooses to speak at length with YES!
Jo-Ann admits in her editor's notes: "James Yap does not like the press probing his insides, and tolerates only questions about basketball, which makes him one very difficult celebrity to interview."
YES! must've done something right, in any case, because James actually spends four hours with Jo-Ann and associate editor Anna Pingol.
The hours had its restrictions, of course. His lawyer, Lorna Kapunan, wasn't keen on James talking to media at all at this time, and his manager, Dondon Monteverde, was present during the interview. (Lucky break that Dondon, whose family owns Regal Entertainment, Inc., is such a no-fuss guy and shows no wariness of the press at all!)
So the evening went well, with James getting more casual and more voluble as the night wore on.
He talked about his childhood in Escalante City, Negros Occidental, his family and his relationship with them, the people who were there for him in the years he was an unknown, and how he spends his time now that he's fast being thought of again as "single" and "free."
Indeed, how?
"Bawal nga akong gumimik, 'no?," James tells us. "Baka makita ako, ma-TV na naman. E, paano kung kasama 'yong sister ko? Matangkad 'yong sister ko, mamaya, makita ako sa mall, sabihin may kasama akong chicks. Kaya ingat na lang din muna."
ADVERTISEMENT - CONTINUE READING BELOW
But it was when he talked basketball that he was obviously most loose and comfortable.
He spoke about the growing-up years spent in provincial school dorms, away from Escalante and away from family, living alone, austerely, following the strict discipline and routine set by school administrators—all in his march to becoming a player good enough for the big city and the big league.
While Kris and James seem determined to remain civilized for the sake of their only son, Baby James, the PBA star says that the three-year-old is already asking why his daddy doesn't come home every day.
"'Yon ang pinakamahirap sagutin," he says, "Hindi ko pa masagot. Bata pa, e. Siguro one more year, ipapaliwanag ko na sa kanya."
As for Josh, the boy James treated as his own in the five years he spent with Kris, he says: "Mabait si Josh, grabe. Malambing na bata. Si Baby James pa nga ang nangungulit sa kanya."
The 12-page exclusive story on James also reveals James's love for videoke (a favorite song is "Be My Lady"), picks up on his responses to rumors linking him to Isabel Oli and Grace Lee, and features childhood photos straight from the Yaps' family album, along with photos of James and Kris in happier times.
ARNEL PINEDA: THIS MAN'S JOURNEY. Journey frontman Arnel Pineda opens up to YES! about his life and times, thus providing readers with the touching—even heartbreaking—story of how he rose to fame.
The internationally known Pinoy artist also welcomes readers to his first home ever, a dwelling that is as much a product of sweat, tears, and love of music as it is a product of a marriage strengthened by the hard years that came before.
ADVERTISEMENT - CONTINUE READING BELOW
VIC & PIA. Meantime, the YES! Spotlight turns on Vic Sotto and Pia Guanio's relationship, and asks the question everyone still wants answered: Is It Over?
POKWANG'S SURPRISE. The magazine's Snaps section brings out the happy pictures of Pokwang's birthday party—a "children's party" organized by good friends Kris Aquino, Mariel Rodriguez, and still others who wanted the comedienne to experience the kind of party she never had in a childhood marked by poverty.
MMFF ENTRIES! ...And, as though all these weren't enough, The YES! Guide is there to spread out the full menu of this December's Metro Manila Film Festival!
Read more about the reclusive James Yap and the triumphant Arnel Pineda, plus look back at this year's scene stealers. Grab your copy of the YES! December issue.
Available in newsstands, bookstores, and supermarkets nationwide.
Become a fan of YES!on Facebook via Facebook.com/yesmagazine.ph.
A digital edition of YES! is also available for international subscribers.
Visit www.pep.ph for details.