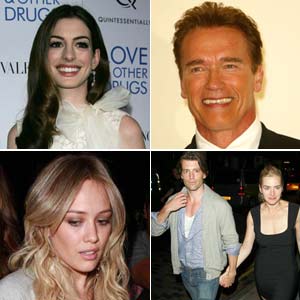 ---
ANNE HATHAWAY is such a huge fan of the musical TV show Glee she has spent hours creating a character that she thinks writer Ryan Murphy should consider including in the series.
The Hollywood star wants to play the role of lesbian aunt of gay student Kurt Hummel, played by CHRIS COLFER.
Appearing on Late Night with Jimmy Fallon on Thursday (November 18), she revealed: "I would love to be on Glee.
"Can I make a confession? In my head I've written a part for myself in Glee!
"It's so arrogant and obnoxious, it's like, 'Ryan Murphy no one else wants to be on your show.' But in my head, I've cast myself and I know which song I'd sing.
"I would want to play Kurt's long-lost aunt, his mother's sister, who is also gay, who comes back to help him deal with his sexuality and I would sing 'No One Is Alone' from Stephen Sondheim's epic show, Into the Woods."
If the creators of Glee do decide to take up Anne's story idea, she would not be the first big name star to get a cameo.
Gwyneth Paltrow appeared as a Spanish substitute teacher in the episode which aired in the U.S. this week and will be a short-term character, while Britney Spears had a brief appearance in a show dedicated to her during the current season.
Speaking of GWYNETH PALTROW, she plays a recovering addict and country star in the new movie Country Strong.
She has asked Iron Man co-star ROBERT DOWNEY JR.—who has overcome substance abuse problems—for help so she could understand her character.
ADVERTISEMENT - CONTINUE READING BELOW
She said: "I asked Robert a lot of questions because there were some things that I just did not understand. Like, how do you behave so badly one night—and not just embarrass yourself, but wreck peoples' lives—and then wake up in the morning and be like, 'Hi!'
"I don't get it. So he would write me e-mails about what addiction is and how it was for him. He was very articulate about it and he helped me a lot."
The 38-year-old star—who has two children, Apple, 5, and Moses, 4, with husband Chris Martin—thinks she has managed to avoid many of the pitfalls of fame because she gets so much support from her family.
She told Hello! Canada magazine: "I think that what gives me strength is my family. They keep everything in perspective and they make me feel very grateful, which is how I stay with my feet on the ground. I know how lucky I am to have them and I don't take them for granted. They give me strength to get through everything."
Revolutionary Road actress KATE WINSLET, who separated from her film director husband Sam Mendes in March, has reportedly called time out on her romance with male model LOUIS DOWLER after just four months of dating.
Despite being "very grateful" to the 35-year-old hunk for allowing her to get over the breakdown of her marriage, Kate is said to have ended the relationship to "concentrate on her career and children."
A friend of the star told MailOnline: "Louis was just the tonic Kate needed after her painful split from Sam and they had a wonderful time. However, they have realized their relationship isn't working and Kate needs space to be on her own.
ADVERTISEMENT - CONTINUE READING BELOW
"She is very grateful to Louis for helping her pick up her life after her marriage ended and they had a lot of fun together, but she felt it had come to an end and wants to concentrate on her career and children."
Prior to the split, Kate—who has a 6-year-old son Joe with Sam, as well as a 10-year-old daughter Mia from her first marriage to director Jim Threapleton—had reportedly been contemplating marriage with the British model.
A pal recently said: "As far as Kate is concerned, they could go all the way together — get married, have kids. She's the happiest we've ever seen her, he really brings out a wonderful, carefree side to her that we haven't seen for years."
Former movie star ARNOLD SCHWARZENEGGER—whose tenure as governor of California will come to an end in January next year—admitted he is weighing his options for next year and a return to his action star days is a possibility.
Arnold, who made a cameo in Sylvester Stallone's The Expendables earlier this year, said: "It could be that fighting climate change would be the main thing. It could also be that it would be one of five things that I would do. It could be show business. It could be business in general."
The Terminator actor has had successful careers in movies, politics and bodybuilding and thinks he has thrived in each of these areas because he knows where his strengths lie.
The 63-year-old star said: "My whole life, I was always very ambitious but I was smart enough to always [ask]: What is my talent? What do I have to offer the world? Then you go with that."
ADVERTISEMENT - CONTINUE READING BELOW
Along with considering a return to acting, Arnold said he would be launching a global war on climate change. He admitted that while it was difficult to interest people in environmental issues, he has a plan.
He said: "People get stuck and fall in love with their slogans and with their little agendas. You've got to make it hip. You've got to make it sexy to be part of this movement.
"I think I have the talent of speaking the language in such a way the world understands it, rather than making it complicated."
Harry Potter and the Deathly Hallows star RUPERT GRINT is a big fan of "disturbing" painters and admits he would have pursued a creative career path if his acting career hadn't taken off.
He said: "If it wasn't for Harry Potter I'd probably be doing art, because I've always been into it. I'm regularly drawing, painting, sketching or doodling. It's pretty much a hobby of mine.
"I quite like surreal artists, like Salvador Dali or Otto Dix. Otto's paintings are quite disturbing, which is probably why I like them!"
As well as enjoying art, Rupert—who plays Ron Weasley in the film series—also likes to play golf in his free time, and enjoys playing against his Harry Potter co-stars.
He explained: "I first got into golf because my dad and a couple of friends played it. A lot of the people on the Harry Potter set play golf, too, like the twins—James and Oliver Phelps—so I've played with them a few times. It's a really good way of chilling out."
ADVERTISEMENT - CONTINUE READING BELOW
Singer-actress HILARY DUFF, who married Canadian ice hockey player MIKE COMRIE in August after dating him for three years, is happy to send Mike intimate images of herself, but never is her face seen on them.
When asked by radio DJ Billy Bush if she sends Mike sexy pictures from her phone, Hilary replied: "Oh my God you're going to get me in trouble ... never with my face in it.
"We've gotta keep it fun, gotta keep it interesting."
Hilary isn't worried about anyone else seeing her body because she trusts her husband not to show the snaps to any of his friends.
She said: "He'd know better than to forward them on!"
While she admits to sending raunchy messages to Mike to help keep her marriage interesting, Hilary recently revealed she is still adjusting to their long-distance marriage.
The 23-year-old star spends most of her time in Los Angeles for work, while her sportsman spouse plays for the Pittsburgh Penguins in the NHL league.
She said: "Now he's gone and I'm like, 'No, you left me too soon! What's happening?' That kind of sucks. But we're used to that long-distance thing and we're going to figure it out. It means a lot of travelling for me this year, but that's OK."