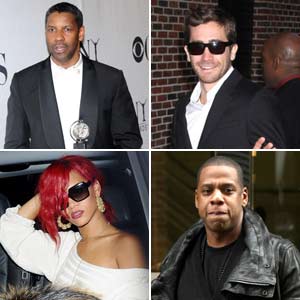 ---
DENZEL WASHINGTON broke regulations by driving a train in the new movie Unstoppable.
The Oscar-winning actor, who stars alongside Chris Pine in the action thriller, has revealed he was given the opportunity to learn how to drive a train while shooting the film, despite it being against the law.
He explained: "I got to learn how to drive trains, so that was a lot of fun. It's a powerful feeling having this mile-long monster behind you doing what you want it to do.
"In the movie, I'm not actually driving because I don't have a license, so it would be against regulations. In fact I'm not even supposed to tell you I even drove a train!"
The 55-year-old star also admitted his "ego and stupidity" took over when he decided to perform his own stunts for the film.
Denzel added to BBC Radio 2: "There's a train running along the track going at 50 miles an hour. It's really me running up there. I'm a fool for even trying it. But it's really an intense film.
"My ego and stupidity took over. They needed the shots with me actually up there running so I had to do it."
JAY-Z has revealed he shot his brother when he was just 12.
The rap superstar pulled a gun on his drug-addicted older sibling Eric after he discovered Eric had stolen his ring.
The hip-hop mogul (real name Shawn Carter) decided to get himself a firearm and take revenge.
He told The Guardian Weekend magazine: "I went to someone's crib, someone's house, and got a gun. Guns were everywhere. You didn't have to go far to get one. Just everywhere..."
ADVERTISEMENT - CONTINUE READING BELOW
But after the shooting, he admits he was fearful about would happen next, he added: "I thought my life was over. I thought I'd go to jail forever. It was terrible. I was a boy, a child. I was terrified."
However, Jay-Z's fears never came to anything, because Eric decided not to press charges and instead apologized to his brother for stealing and for being a crack addict.
The "Empire State of Mind" rapper, who is married to Beyonce Knowles, grew up in the tough Marcy Houses projects in Brooklyn, in New York City.
This year, he was named the highest-earning man in hip-hop by Forbes after raking in $63 million in the last 12 months, thanks to his Blueprint 3 world tour and other ventures, including his record label, fashion line, and stakes in the New York Nets basketball team, the Broadway music "Fela!" and a chain of sports bars.
JAKE GYLLENHAAL plans to celebrate his 30th birthday in the Arctic scuba-diving with walruses.
The Love and Other Drugs star reaches the landmark age on December 19 and will be joined by his family for the sub-zero adventure in the in the Arctic Circle.
He decided on the unusual trip because he wanted to do something completely different.
Jake said: "The only reason I'm doing it is I wanted to do something that absolutely terrified me—killer whales and walruses and freezing cold water? That seems absolutely terrifying."
The actor, who is rumored to be dating Taylor Swift, insists he is no longer worried about saying goodbye to his 20s after having a conversation with his older sister Maggie Gyllenhaal, who is 32.
ADVERTISEMENT - CONTINUE READING BELOW
He added: "I was talking to my sister the other day about being 30 and celebrating the life you've had up to this point. I feel there's a massive sort of sea change coming in myself and I'm psyched."
Ahead of his plans to swim with walruses in the Arctic, Jake recently revealed he feels as though the start of the next decade of his life marks a new beginning.
He said: "I'm not 30 yet, but I definitely feel more like myself. I feel like now, it's just the beginning. I guess you get to a point at 30 or somewhere and you say, 'What I am, is what I am and that's what I'm going to be and that's all good. I don't need to be anything else.' And that's kind of how I feel."
RIHANNA says her brief romance with rapper DRAKE didn't work out because she was still getting over her split from CHRIS BROWN.
The "Only Girl (In the World)" singer dated the Canadian hip-hop star for a short time in 2009 after meeting him in May of that year, but she admits she was too fragile emotionally after being assaulted by her ex-lover Chris just a few months earlier to get involved in a serious relationship.
She told MTV News: "I definitely was attracted to Drake, but I think it is what it is—it was what it was ... We didn't want to take it any further.
"It was at a really fragile time in my life, so I just didn't want to get too serious with anything or anyone at that time."
ADVERTISEMENT - CONTINUE READING BELOW
Although the romance didn't go anywhere, the pair have teamed up for the new single "What's My Name?", which sees them both appear in the song's racy video together.
Rihanna, who is now dating baseball player Matt Kemp, was left battered and bruised by Chris after he attacked her in his car, repeatedly punching her as the pair were travelling to a pre-Grammys party.
The "Run It!" singer agreed to a plea bargain after being charged with felony assault in relation to the incident and was sentenced to 80 hours of community labor, five years probation, and was told he would have to attend a 12-month domestic violence counseling program.
JESSICA SIMPSON cried for about five minutes with her fiance ERIC JOHNSON after he proposed to her.
The singer-and-actress admits she became very emotional after the NFL football player popped the question earlier this month, and forgot to put on the ring because she was so overwhelmed with emotion.
During an appearance on The Early Show, she revealed: "I had to sit on his knee to really get what was happening. I was shocked.
"I first said, 'Yes!' But I didn't even try the ring on until five minutes in. I just sat there and cried with him."
The 30-year-old star couldn't be happier with her ruby, diamond, and gold Neil Lane band, which contains her birthstone, because it is different from a conventional engagement ring.
Jessica—who was previously married to singer Nick Lachey, who is now engaged to Vanessa Minnillo—said: "I've already done the traditional thing. I wanted to do something that was different."
ADVERTISEMENT - CONTINUE READING BELOW
Before Eric proposed and made his new fiancee cry, he first "had a sit-down" with Jessica's father Joe and mother Tina to ask for their permission.
And his good manners are just one of the many things that the blonde beauty loves about the 31-year-old sportsman.
She added: "He is the best man in my life ... He is just really thoughtful. He keeps me very centered. He always makes me feel like my feet are on the ground.
"He's the most special part of my life and my day."