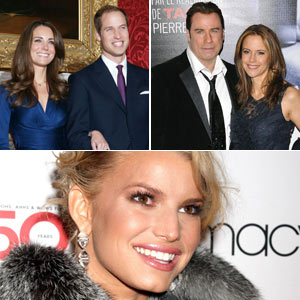 ---
PRINCE WILLIAM and KATE MIDDLETON will invite 100 members of the public to their wedding via random draw.
The couple—who will tie the knot in a lavish ceremony at London's Westminster Abbey on April 29 next year—want the British people to be deeply involved in the celebrations and are delighted their plan of inviting a selection of ordinary citizens has been approved.
A source involved with the St. James' Palace planning committee revealed: "William and Kate wanted the British people involved at a deeper level than simply holding street parties.
"They were crystal clear on this from the outset and were delighted when the idea of a random selection was mooted.
"Those lucky enough to land an invitation will only find out when it drops on their door mat. Can you imagine? It's like winning a Willy Wonka Golden Ticket for your front-row seat in history."
Along with receiving an invitation to the royal ceremony, the lucky 100 guests—who will mix with a host of international royals and heads of state expected to include US President Barack Obama—will also attend the reception which will reportedly be held at Buckingham Palace.
The source added to The Sun newspaper: "The fortunate few will become the envy of their neighborhood.
"They will rub shoulders with royalty and world leaders—what a thing to tell your grandchildren."
It has not yet been decided how the invited members of the public will be chosen.
Meanwhile William's younger brother, Prince Harry, will take on the role of Supporter for his brother.
ADVERTISEMENT - CONTINUE READING BELOW
A royal source said: "It will be an incredibly emotional day for Harry as well as William.
"They will both be thinking about how proud their mother Princess Diana would be if she had lived to see this wedding. People sometimes forget what those boys have been through. William couldn't have chosen anyone else."
Royals usually choose two Supporters or Best Men but it is unclear if William will follow this tradition.
The source explained: "William is very much his own man. He is undecided if he will go for another Supporter or who that will be."
If William does choose it is likely that his best friend Thomas van Straubenzee will share the duties with Harry, 26.
JOHN TRAVOLTA and KELLY PRESTON have welcomed their third child into the world.
The 48-year-old actress gave birth to son Benjamin yesterday (November 23) in a Florida hospital and both mother and baby—who weighed in at 8lbs 3oz—are doing well.
A spokesman for the couple—who also have a 10-year-old daughter, Ella Bleu, together—said: "John, Kelly and their daughter Ella Bleu are ecstatic and very happy about the newest member of the family. Both mother and baby are healthy and doing beautifully."
Kelly and John announced the pregnancy in May, saying: "It's impossible to keep a secret... especially one as wonderful as this. We want to be the first to share this great news with everyone that we are expecting a new addition to our family."
Friends then called the new addition to the Travolta family a "healing baby" after the couple's 16-year-old son Jett died almost two years ago when he suffered a seizure during a family holiday in the Bahamas.
ADVERTISEMENT - CONTINUE READING BELOW
John has since described the moment they found out that Kelly was expecting another baby as "a miracle."
The 56-year-old actor explained: "We tried for several years, and we didn't think it was going to happen for us.
"This is a miracle, and we feel blessed and we are so moved by the generous outpouring of support and goodwill we've received from people all over the world."
GWYNETH PALTROW found gaining weight for a recent movie role "a nightmare."
The Oscar-winning actress, who had to gain 20 pounds for her new film Country Strong, admitted she "panicked" when she became aware that she wouldn't be able to stick to her strict diet and exercise regime.
She explained: "The nightmare thing about it is I had to stop working out. At first I panicked so I would work out a little bit and then I had to lie and be like, 'No I didn't work out.' I'd be on the treadmill and be like, 'I really have to stop this.'
"My body didn't really fall apart until right after we finished the movie and now I'm having problems."
However, the 38-year-old star, who is married to Coldplay frontman Chris Martin, confessed she enjoyed being able to drink more for the role, as she is "a lush."
She told talk show host Chelsea Handler on Chelsea's Big Interview Special: "I drink a lot. I like red wine, but I'll drink white, rose. Guinness is my favorite beer, I like a dirty vodka martini. I'm just a lush, basically."
ADVERTISEMENT - CONTINUE READING BELOW
JESSICA ALBA wants to have more children.
The 29-year-old actress already has two-year-old daughter, Honor, with her husband Cash Warren, but is keen to give her little girl a sibling.
She said: "Honor's so beautiful and I feel so enriched by being part of her life. She's my main priority now and I want to give her the best life possible.
Before she was born I was totally focused on my career, but now with Cash and our daughter I feel that I'm building a wonderful family. I would like to have more children at some point."
The Machete actress says having a child brought her and Cash—who married in May 2008—closer together.
She told Look magazine: "We didn't plan on starting a family so soon but when it happened we realized what a beautiful moment it was. We're a lot closer.
"The beauty of marriage and having a family is knowing you're sharing everything with someone else and are committed to being part of each other's lives. Cash and I understand that and together with our daughter, we want to have a wonderful life."
JENNIFER GREY wins Dancing with the Stars.
The Dirty Dancing actress and her professional partner, Derek Hough, were crowned champions of the U.S. TV show after impressing both the judges and the public with their routines.
The couple, who consistently topped the judges' leader board, beat Disney star Kyle Massey and Sarah Palin's daughter Bristol, to receive the coveted mirror-ball trophy.
Speaking after her win, an emotional Jennifer said: "It's such a sweet thing at the end of such a tricky, tumultuous journey and it was worth every second. It was the chance of a lifetime and I'm so grateful that I didn't miss it."
ADVERTISEMENT - CONTINUE READING BELOW
Asked what she would miss most about the show, Jennifer, who shot to fame starring opposite the late Patrick Swayze in Dirty Dancing, replied: "Dancing."
The 50-year-old star endured health problems throughout the competition and in the finals, she danced through pain from a slipped disc.
She later dedicated her win to her nine-year-old daughter, Stella.
Although Bristol finished third place and was a controversial finalist because she had failed to impress the judges—Carrie Ann Inaba, Bruno Tonioli, and Len Goodman—on several occasions, she received a standing ovation from the crowd.
She said: "I have so many good memories in this competition. It's been a life-changing experience."
Christina Aguilera also performed during the show showcasing a raunchy routine from new film Burlesque, where she stars with Cher.
KHLOE KARDASHIAN lost her virginity when she was just 14 years old.
The 26-year-old socialite, who is married to basketball star Lamar Odom, admits she lied about her age when she met a mystery man she used to see for secret dates.
The brunette beauty would even steal her stepfather Bruce Jenner's car or her mother Kris Jenner's vehicle to hook-up with the guy.
She recalls in a new book she penned with her sisters Kim and Kourtney, 'Kardashian Konfidential': "This guy was very, very manipulative, and I ended up losing my virginity to him when I was only 14. When my dad found out I was having sex, he went ballistic.
"My mom taught me how to drive when I was 13, so if one of our baby sisters had an emergency I could drive to the hospital. But I took advantage of it.
ADVERTISEMENT - CONTINUE READING BELOW
"I used to steal her car or Bruce's, and I'd go over to this guy's house. He was a lot older than me, though he lied and said he was younger. Of course, I lied, too, and said I was 16. I was doing really well in school until I met him."
Khloe eventually ended the relationship and says it was a mistake to lose her virginity at such a young age.
She added: "I was only 14, but I thought I was so mature, and I look back and see how wrong I was. Having sex for the first time is an extremely important decision that affects your whole life.
"You should never, EVER have sex when you're that young. Feeling rushed and pressured and unsure should have been my clue that I wasn't ready to take that step."
JESSICA SIMPSON was the last member of her family to know ERIC JOHNSON was planning to propose to her.
The singer and actress was thrilled when the NFL player asked her to be his wife on November 11—six months after they started dating—but couldn't believe her loved ones were able to keep the plans from her for so long.
She said: "He kept the ring hidden in a shoe somewhere in my house and had talked to my dad, he had talked to my mom, he even talked to my sister. Everyone knew but me!"
Eric, 31, popped the question while at home with Jessica, 30, and the blonde beauty admits his surprise proposal was "romantic."
ADVERTISEMENT - CONTINUE READING BELOW
She told US TV talk show host Jimmy Fallon: "It was at my house. It was romantic that he actually asked me at my house, because that's my little safe haven."
Though Jessica hasn't started planning her wedding yet, she is looking forward to spending Thanksgiving (November 25) with Eric in New York, though she will be trying out new recipes to please her vegan fiancé.
She explained: "For Thanksgiving we have to make a Tofurkey. It doesn't sound right! It's gonna be jiggly and weird.
"When Eric cooks vegan, it's good. I'm from Texas—I'd fry a steak. We eat all casseroles and giblets!"
SIMON COWELL revealed his life was "boring" before he appeared on television, during his acceptance speech at the 38th International Emmy Awards.
The music mogul, who first achieved TV stardom as a judge on 2001 UK TV talent show Pop Idol, was handed the International Emmy Founders Award during ceremonies at The Hilton hotel in New York City last November 22 for his contributions to TV and entertainment. He admitted he was delighted to receive the accolade.
Simon, who was handed his prize by News Corporation CEO Rupert Murdoch, joked: "Whoever said fame, money, success will destroy you, was completely wrong. Bring it on! My life was boring before I went on TV."
Paying tribute to "amazingly talented and charismatic" Simon, Rupert praised him for his work on The X Factor, American Idol, and the Got Talent franchise, which he said made the British star a "phenomenal media impresario" for his "enormous cultural contributions."
ADVERTISEMENT - CONTINUE READING BELOW
He added: "Simon has helped make Fox Broadcasting No. 1 season after season over the past decade.
"I'm confident his launch of X Factor in the US next year will build on that success for years to come.
"No one has done more in the past decade to build the fortunes of Fox Broadcasting."
Other winners at the ceremony, which was hosted by actor Jason Priestly, included actor Bob Hoskins for his role on The Street and Enid actress Helena Bonham Carter.
The 38th International Emmy Awards recognize the best in television that was produced, and initially aired, outside the US.
The 38th International Emmy Awards winners list:
Best Performance by an actor:
Bob Hoskins, The Street, UK
Best performance by an actress:
Helena Bonham Carter, Enid, UK
Children and young people:
Shaun the Sheep, UK
Drama Series:
The Street, UK
Comedy:
Traffic Light, Israel
Nonscripted entertainment:
CQC, Argentina
Telenovela:
My Love, Portugal
TV movie/miniseries:
Small Island, UK
Documentary:
Mom and the Red Bean Cake, South Korea
Arts programming:
The World According to Ion B., Romania
International Emmy Directorate Award:
Lorne Michaels
International Emmy Founders Award:
Simon Cowell