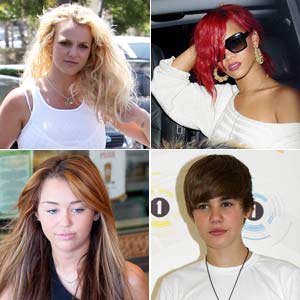 ---
BRITNEY SPEARS wants to care for her children full-time.
The 28-year-old singer—who has been under the conservatorship of her father Jamie Spears since her much-publicized breakdown in January 2008—has reportedly told ex-husband Kevin Federline that she wants to get custody of her sons, Sean Preston, 5, and Jayden James, 4.
She wants her sons to live with her and current partner Jason Trawick.
Kevin, officially, has sole custody of the boys, although the youngsters split their time between both parents.
A source said: "It's getting harder and harder for her to hand the boys back to Kevin after each visit. Britney dreams of marrying Jason and having the kids live with them—she'd even like to have more children, too.
"She won't be happy until the boys are with her full-time. All she wants is to get her life back, without having to ask her dad's permission to do everything."
However, Kevin has told his ex-wife—who sees the boys every week—he wants to keep custody of their sons, who live with him and his girlfriend Victoria Prince in Los Angeles.
The source added: "Britney and Kevin's relationship is amicable—Kevin likes Jason and knows he's a stable influence on Britney.
"He's told her she can visit them every day but there's no way he's handing them over full time."
Under the terms of their current custody agreement, Britney pays Kevin $15,000 a month to look after the kids and promises to continue giving him the money even if he gives the children back, an offer the former dancer had refused.
The insider told Closer magazine: "At first, Britney thought it was because he was afraid of losing the money, so she offered him an out-of-court settlement, meaning he'd get the money regardless of who the boys live with.
"But he's told her he fears she's still too unstable and could go off the rails again."
ADVERTISEMENT - CONTINUE READING BELOW
The pop star's conservatorship order could come to an end within the next few months following a meeting she had with Los Angeles Superior Court Judge Reva Goetz in October to assess her general wellbeing in regards to making a decision on handing back control of her affairs.
LADY GAGA will only wear silk underwear.
The eccentric singer has reportedly instructed her assistants to throw away all of her old bras and pants as she believes the feel of the more expensive fabric on her skin helps boost her creativity.
A source said: "She's so in love with the way it feels on her body, she's demanded every piece of lingerie be made from 100 per cent pure silk.
"Polyester, cotton and Lycra are all banned. The finest silk, made to order, is all she'll wear now.
"She really believes this will help her creativity because if she feels comfortable and her skin is able to breathe properly, she'll be able to concentrate on her music."
The "Paparazzi" hitmaker has spent an estimated $11,000 in replacing all her old underwear with silk garments but doesn't mind about the cost.
The source told Now magazine: "She's taking this latest fetish seriously and driving her assistant crazy.
"Some garments go for $100 a pair and because she's kitted out the entire underwear section of her wardrobe, it's cost her close to $11,000.
"She's successful enough to demand anything she wants, even if it's silky pants."
BEYONCE KNOWLES often wonders why God gave her the life she has.
The singer-and-actress, who is deeply religious, is very grateful that her talent has given her a lifestyle most people could only dream of and while she sometimes finds it "overwhelming" she knows God chose her for a reason.
She said: "Sometimes it's overwhelming. Why did God give me my talent, my gift, my family. But I know you're not supposed to question God. Only God knows. And I don't take it for granted."
ADVERTISEMENT - CONTINUE READING BELOW
Beyonce has opened up in a new documentary "I Am World Tour." She said she decided to let a camera crew into her life because she sometimes feels lonely while on the road.
She said: "There was one moment I was in China and I was in this huge suite and I looked out the window and there were just thousands of people walking and I couldn't believe my life. I guess I was a bit lonely and I wanted to talk to someone so I opened up my computer and I just talked."
Beyonce, who is married to hip-hop superstar Jay-Z, also revealed she is not quite ready to be a mother as she still has things she wants to achieve.
Talking about babies, she said: "Nothing now but there will be one day. One of the reasons I haven't had a child yet is because there are certain things I want to do before I focus on being a mother. I'm not there yet but I'm close."
RIHANNA "could be" ready to have a baby next year.
The 22-year-old singer, who has been dating baseball star Matt Kemp since January, has a list of goals she wants to achieve before becoming a mother, but has not given herself a deadline to start a family.
She said: "I don't really plan on the age. It could be a year from now. It could be 10 years from now.
"I mean, I have a lot of other stuff to accomplish before I get to kids. Whenever the time is right, I'll just know."
Though unsure when she will have a baby, Rihanna would prefer to have a son.
She explained in the December issue of Interview magazine: "If I had a girl, she'd probably be really rebellious. She would be like a bundle of karma."
ADVERTISEMENT - CONTINUE READING BELOW
The "Only Girl in the World" hitmaker also would "love to" raise a family in her native Barbados but doesn't think it would be possible because of her pop career.
She explained: "I can't live that far away from everything now, without kids. So I certainly couldn't raise kids and have a career with the demanding schedule that I have."
DOLLY PARTON thinks MILEY CYRUS is being encouraged to act "trashy."
The country music legend, who calls the star her honorary goddaughter, admitted she does not approve of the 18-year-old star's recent provocative stage performances and is worried that the singer-and-actress is trying too hard to overcome her Disney image.
She said: "Hopefully she didn't get that from me because I certainly never encouraged her to do any of that... I think she's kind of [caught] in the crosswinds, trying to overcome the 'Hannah Montana' little girl, and trying to become a young woman.
"I don't know if she's surrounded by people that are helping her to not make the wise decisions..."
Dolly also thinks Miley is putting too much pressure on herself to act a certain way.
She told U.S. TV talk show host Larry King: "I think this day and time, life is hard for young people, certainly young girls... The world is just... you can't just flaunt enough. You can't just do enough. You can't just talk trashy enough or dress trashy enough. It seems to me like, if you don't do that you're not with the in crowd.
"So I think there's a lot of pressure on young people in general and I think they put a lot of pressure on themselves."
However, the "9 To 5" hitmaker thinks Miley will survive this phase of her life.
She said: "I'm hoping that Miley is going to be just fine. I know she's very gifted and I love her dearly and if she ever needs me I'll do everything I can to help her in any way that I can. So I think we should just let her grow up."
ADVERTISEMENT - CONTINUE READING BELOW
MICHAEL BUBLE is planning two weddings.
The Canadian singer is due to tie the knot with Argentinean beauty Luisana Lopilato next April and has revealed that the couple will say their vows in ceremonies in each of their home countries.
He told ET Canada: "We are doing one in Argentina and that's for her close family, and then we are doing one in Vancouver."
For their honeymoon, Michael revealed that Luisana is hopeful they can fly out to Africa after their two wedding ceremonies and participate in some volunteer work.
The "Haven't Met You Yet" hitmaker has previously revealed that he has to step up security when he is in Argentina because his actress-and-model partner is such a big star.
He said recently: "You can't imagine. I have to hire security. Like, not just a little bit of security — I have to hire an army.
"When I'm in Canada, no one follows me. There (Argentina) the paparazzi will stand in front of the car and they'll lie down on the car so you can't go anywhere. And there are tons of them and they chase you on their bikes... It's amazing. It's like a movie or something."
The couple, who have been dating for two years, have bases in Argentina, Canada and Los Angeles but Michael insists neither of them mind where they settle down.
He said: "I don't think Luisana really cares where she works, I think she just loves to work. It's the same with me, I don't care what country I'm in as long as I get to do what I love."
JUSTIN BIEBER'smother thinks he would be in a "lot of trouble" if he wasn't a pop star.
The 16-year-old singer's mom, PATTIE MALLETTE, often goes on the road with the "Baby" hitmaker and believes the structure and routine his career gives him means he can't give into temptations.
ADVERTISEMENT - CONTINUE READING BELOW
His manager, Scooter Braun, said: "I think his mother—she and I have talked about this—struggles with how protective we have to be of him.
"But I also think, and she's said this in interviews, that she feels safer with him living this life because it's structured and we know where he is all the time. She feels that if they were still in Stratford, Ontario, he'd be getting himself into a lot of trouble."
Though Justin's mother is pleased about the structure life on the road has given her son, Scooter believes it is harder for the singer's father Jeremy, who is no longer in a relationship with Patti, because he doesn't get to see his son so much.
Scooter told Hollywood Reporter: "His dad is in Canada and his mom is with us most of the time. I think his dad misses him a lot because he doesn't get to see Justin as much."
Justin is determined to make a lasting success of his career and in order to achieve his ambitions, the teenager spends time studying fallen idols to give him an idea of what pitfalls to avoid.
Scooter added: "Justin doesn't study the people who made it. He studies the people who haven't.
"The general feeling we get is that it has nothing to do with their talent and everything to do with their personal life. Like the kids who fall into drugs and destroy their own trajectory. I think by watching that, he's very conscious of it.
"He realizes that if he grows up to be a good man, he's going to be able to handle the pressures that come with a position like this."