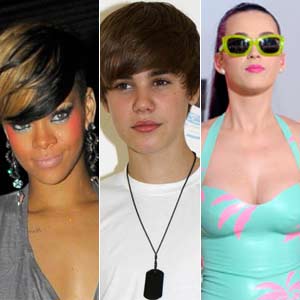 ---
ALICIA KEYS, LADY GAGA and JUSTIN TIMBERLAKE are giving up Twitter.
The stars are signing off from all social media platforms, and will not return until an AIDS charity—Keep a Child Alive, which is spearheaded by Alicia—has raised $1 million.
For the campaign, the stars have filmed "last tweet and testament" videos and will appear in adverts showing them lying in coffins to represent their "digital deaths."
Alicia will also be joined by her husband Swizz Beatz, Kim and Khloe Kardashian, Usher, Jennifer Hudson, Ryan Seacrest, Elijah Wood, Serena Williams in the campaign, which will start on Wednesday (December 1), which is World AIDS Day.
Alicia said no one she has approached had turned her down, explaining: "Once I got people on the phone and I was able to paint the concept for them, everybody was in."
Leigh Blake, who is president and co-founder of the charity, added: "We're trying to sort of make the remark: Why do we care so much about the death of one celebrity as opposed to millions and millions of people dying in the place that we're all from?"
Almost all the stars involved have over a million followers on micro-blogging site Twitter, with Gaga alone having 7.2 million.
Leigh added: "I have a feeling that Gaga is going to raise it all by herself."
PINK says she and husband CARY HART are struggling to decide on baby names.
The singer—who recently announced she was pregnant with the couple's first child—admits she and her spouse have different opinions on the moniker for their unborn tot, with the Motocross star wanting something traditional while she favours something a bit different.
ADVERTISEMENT - CONTINUE READING BELOW
She said: "We're all over the place. I'm all about meaning, and Carey feels like he had a girl's hair cut and a girl's name, and he doesn't want kids to have a weird name.
"I have to get him on the boat for originality, so I'm working on him."
However, if their child is a boy, Pink says they have already have one frontrunner—Jameson, as a tribute to family members and their favourite alcoholic beverage.
The singer, whose real name is Alecia Moore, told US TV show Access Hollywood: "My dad's name is James, and my brother's name is Jason. Carey and I are both Irish, Carey's middle name is Jason, and Jameson—we like whiskey. That's a no brainer."
While Pink and Carey are struggling to agree on names, Pink knows Carey will make a great father because it's something he's wanted for so long.
She said: "Carey is so excited. He's wanted to be a dad since—I mean, we've been together nine years on and off, and he brought it up two weeks after we met. So, he's wonderful.
"He's going to be a really, really cute daddy."
SUSAN BOYLE plans to star in a musical about her life.
The Scottish singing sensation—who shot to worldwide fame after appearing on UK TV talent show Britain's Got Talent in 200—is in talks to have her meteoric rise to fame chronicled in a new stage production and even hopes to take the lead role in the show.
ADVERTISEMENT - CONTINUE READING BELOW
She said: "I'm definitely going to be on stage. I'd rather that than having to sit watching people up there looking like me.
"I want to be doing the music parts, so I'll be coming in and out of the show. I'm looking forward to doing some live work. It'll be really nice to see so many of the people who have supported me in person."
Producers are reportedly planning to take the show—which will chronicle the 49-year-old star's modest upbringing in Blackburn, West Lothian, her period living alone with her cat and her rise to stardom—on a huge UK tour late next year as they believe it will be extremely popular.
A source told The Sun newspaper: "Susan has incredibly loyal fans. People will be travelling from all over the world to see her perform in her own musical.
"I wouldn't be surprised if some of them book tickets to watch it five nights in a row."

RIHANNA is sick of talking about CHRIS BROWN.
The "Russian Roulette" hitmaker, who was assaulted by her then-boyfriend in February 2009, thinks constant questions about the incident make her look "bitter, pitiful, spiteful and angry" and admits she gets annoyed when the subject is raised.
Responding to a fan urging her to stop talking about her former lover, she tweeted: "AGREED! People won't stop askin abt it! Its f**kin annoying! Nobody wants to relive that, but some ppl can't respect that!
"I get it, they wanna raise awareness to young girls! But it ends up just makin me look bitter, pitiful, spiteful and angry! (sic)."
ADVERTISEMENT - CONTINUE READING BELOW
Meanwhile, the 22-year-old beauty has admitted she thinks people often mistakenly view her as "tough and aggressive," though she acknowledges the fact she doesn't always like to show her vulnerable side to other people.
Speaking to Kanye West in the December edition of Interview magazine, she said: "Yes, I do have a vulnerable side. I think a lot of people have a misperception of me. They only see the tough, defensive, aggressive side. But every woman is vulnerable. They have vulnerability.
"So of course I'm going to have that side. It's not a major part of who I am, but it's definitely there.
"I just don't like people to see me cry—I don't like to let them know when I'm bothered. You know? I just prefer it to be all about business, and then whatever I'm dealing with, let me deal with that alone, because I don't want it to affect anything in my professional life."
NE-YO is sick of women who are only interested in him for his fame.
The "Beautiful Monster" singer—who became a father to daughter Madilyn Grace earlier this month—will never marry a woman who relies on him for money.
He explained: "I don't want someone who's with me because she needs help paying the rent. My mum worked six jobs to make sure we never needed anything so that's the kind of woman I'll marry."
Although Monyetta Shaw gave birth to the star's daughter, Ne-Yo—whose real name is Shaffer Smith—insists she is not his girlfriend and says he has very clear ideas on the type of woman he wants to be with.
ADVERTISEMENT - CONTINUE READING BELOW
He said: "I love a woman who laughs and can make me laugh. I rarely give my number out because most women don't care who Shaffer is. If you don't care about the real me should I waste time with you?"
Ne-Yo added he wishes he had found love before he hit the big time because now he finds it hard to trust women.
He told Company magazine: "I've been caught out more times that I'm proud of. I applaud guys who found the one before fame. After the money, cars and jewellery, it's difficult to figure out who's there for you and who's there for the bank account."
KATY PERRY's children will take priority over her music career when she becomes a mother.
The pop star wants to focus on her family when she and husband Russell Brand—they got married in India in October—decide to have a baby. She insists she will fit her career around her responsibilities as a parent.
She said: "My singing is really important to me, but when children come along they'll be my main focus. I'd never put my career in front of my babies—it'd be a case of fitting jobs around them."
Although the 26-year-old singer has been thinking about having a baby, she insists it could be years before she and her comedic spouse start a family, though she admits she would like more than one child.
She added: "Look, any couple in a serious relationship has that talk about babies, but we haven't decided when. Russell wants lots of children and I think there's something amazing about tons of kids running around. We probably won't have the talk again for a few years—it's important to enjoy each other before having babies."
ADVERTISEMENT - CONTINUE READING BELOW
JUSTIN BIEBER has a vocal coach with him constantly to help him through his voice breaking.
The 16-year-old "Baby" singer is currently struggling as puberty alters his vocal chords, but has a voice expert watching over him and ensure he can still perform his hits live.
A source told the News Of The World newspaper: "Justin is physically developing at a slower rate than most guys so his voice is only breaking now.
"He's working with the best in the business, a specialist named Jan Smith, to make sure he gets as much vocal rest as humanly possible for a working pop star.
"It's the same person who worked with Usher when his voice broke.