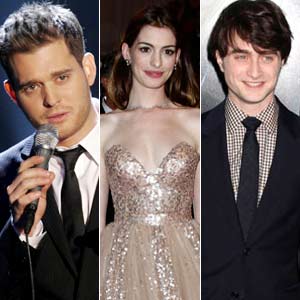 ---
ANNE HATHAWAY and JAMES FRANCO have been confirmed as co-hosts for the 2011 Oscars.
The event's producers Bruce Cohen and Don Mischer have revealed they chose Love & Other Drugs star Anne and Eat, Pray, Love actor James to front the 83rd Annual Academy Awards—which will air live on February 27—because the pair are "fresh, exciting and multi-talented."
They said in a statement to Access Hollywood: "James Franco and Anne Hathaway personify the next generation of Hollywood icons—fresh, exciting and multi-talented. We hope to create an Oscar broadcast that will both showcase their incredible talents and entertain the world on February 27.
"We are completely thrilled that James and Anne will be joining forces with our brilliant creative team to do just that."
However, as well as hosting the annual event, the pair could be collecting Oscars themselves.
James is reportedly considered to be an early front-runner for the Best Actor gong thanks to his role in Danny Boyle's 127 Hours, the true life story of climber Aron Ralston, who cut off his own arm when he became trapped under a rock in the desert.
Meanwhile, it has been rumored that Anne may be nominated for her portrayal of a young sufferer of Parkinson's disease in Ed Zwick's Love & Other Drugs.
DANIEL RADCLIFFE is the richest British star under 30.
The Harry Potter actor has made an estimated £45.6 million, £25 million of which comes from the final two films in the series The Deathly Hallows, alone, almost £15 million more than the second-placed star, 25-year-old Keira Knightley, who has made a fortune of £30.1 million so far.
ADVERTISEMENT - CONTINUE READING BELOW
Four of the top five money-makers in the list compiled by Heat magazine come from the wizard movie series made famous by Daniel, with Emma Watson and Rupert Grint making £20.6 million and £19 million respectively.
Twilight actor Robert Pattinson, who appeared in Harry Potter and the Goblet of Fire, placed fifth, having earned £18.5 million so far.
Britain's highest earning music star is Bleeding Love singer Leona Lewis, who has generated a £12.5 million fortune since winning The X Factor in 2006, placing her in sixth place.
Heat editor Sam Delaney said the list proved that not all rich people are "corrupt, cigar-chomping fat cats."
He said: "In these tight financial times, there's a great deal of animosity felt towards society's richest. But who could possibly resent the millions earned by a charming young rascal like Daniel Radcliffe?
"The Heat rich list is full of young people who have largely made their cash out of putting smiles on other people's faces."
Other notable inclusions on the list include Sienna Miller at No. 17, who at £6.1 million has earned less than Arctic Monkeys' singer Alex Turner, who has amassed an estimated fortune of £7.5 million.
X Factor judge Cheryl Cole has earned £7.9 million, putting her ahead of all her Girls Aloud bandmates.
The full Heat Rich List 2010:
1. Daniel Radcliffe, 21 (£45,660,000)
2. Keira Knightley, 25 (£30,100,000)
3. Emma Watson, 20 (£20,633,000)
4. Rupert Grint, 22 (£19,000,000)
5. Robert Pattinson, 24 (£18,500,000)
6. Leona Lewis, 25 (£12,533,000)
7. Charlotte Church, 24 (10,330,000)
8. Katie Melua, 26 (£10,118,000)
9. Katherine Jenkins, 30 (£9,716,000)
10. Coleen Rooney, 24 (£9,080,000)
11. Craig David, 29 (£9,000,000)
12. Joss Stone, 23 (£8,303,000)
13. Mika, 27 (£8,026,000)
14. Cheryl Cole, 27 (£7,916,000)
15. Amy Winehouse, 27 (£7,833,0000
16. Alex Turner, 24 (£7,500,000)
17. Sienna Miller, 29 (£6, 183,000)
18. Emily Blunt, 27 (£5,933,000)
19. Gemma Arterton, 24 (£5,666,000)
20. Duffy, 26 (£5,617,000)
21. James Morrison, 26 (£5,117,000)
ADVERTISEMENT - CONTINUE READING BELOW
22. Kelly Brook, 30 (£5,100,000)
23. Natasha Bedingfield, 29 (£4,783,000)
24. Lily Allen, 25 (£4,683,000)
25. Paolo Nutini, 23 (£4,116,000)
26. Kimberley Walsh, 29 (£3,890,000)
26. Sarah Harding, 29 (£3,890,000)
28. Nadine Coyle, 25 (£3,556,000)
29. Nicola Roberts, 25 (£3,233,000)
30. Jamie Bell, 24 (£2,750,000)
KEITH URBAN feared rehab would wreck his marriage.
Keith was terrified going to rehab would destroy his marriage to NICOLE KIDMAN.
The country singer—who now has a two-year-old daughter, Sunday Rose, with the actress—checked into a clinic for drug and alcohol addictions just four months after their wedding in 2006.
But Keith, 43, who was hooked on cocaine and had been to rehab twice before, admits it was a turning point that brought them closer together.
During an appearance on The Oprah Winfrey Show, he said: "I thought, 'Surely let's give it a few years so we've got some solidity, because this kind of thing could tear us apart. This could just destroy us.'"
But Nicole and a few friends staged an intervention and forced Keith to get help, and those actions changed his life forever.
He said: "It was really a profound moment in so many ways.
"The way in which Nic handled that moment was just perfect... Everything was just designed, I believe, for that moment to fuse us together."
Keith—who claims it was his "love" for Nicole that made him determined to get clean once and for all—admits she has changed his life for the better.
He added, "I look back now and realize Nic has taught me so much and brought so much into my life and opened my eyes in so many ways... This is the best place I've ever been."
ADVERTISEMENT - CONTINUE READING BELOW
MICHAEL BUBLE is getting married on April 6.
The Canadian singer, who announced his engagement to Argentinian beauty LUISANA LOPILATO in January, joked that he had planned on tying the knot on April 29, but was concerned the royal wedding of Prince William and Kate Middleton would overshadow his nuptials.
He told the Today show: "I was going to do it on the 29th but I figured I wouldn't get any press."
The "Haven't Met You Yet" hitmaker, who has been dating Luisana since 2008, recently revealed the couple's plans to have two weddings so both their families can be in attendance.
Michael explained: "We are doing one in Argentina and that's for her close family, and then we are doing one in Vancouver."
Meanwhile, instead of jetting off on a lavish honeymoon, the pair plan to head to Africa to to do some charity work for children's causes following the nuptials.
However, the couple's romance hasn't always run smoothly, as Michael recently confessed that his bride-to-be thought he was gay the first time they met.
He said: "I don't speak Spanish and she spoke no English. But the guy [beside her ] did so I just spoke to him. I was a bit nervous because of how beautiful she was. I later found out she was on the phone to her mother the whole time saying, 'Buble's gay. He's hitting on my friend.'"
JENNIFER ANISTON hosted a Mexican-themed Thanksgiving bash for 15 friends.
The 41-year-old actress is said to have flown a group of close pals out on two private jets to her lavish estate in the Mexican resort of Cabo San Lucas, where they spent the holiday (November 25) "eating, drinking and relaxing."
ADVERTISEMENT - CONTINUE READING BELOW
While the Bounty Hunter star indulged in plenty of food and drink during the break, she also made sure she worked out every day.
An onlooker told People magazine: "Jennifer spent the trip enjoying herself with her friends—relaxing, drinking and eating. But she also worked out every day, including yoga sessions with Mandy Ingber.
"She looked amazingly fit and seemed to have a great time with her friends."
The star's yoga coach Mandy—as well as her manager Aleen Keshishian and chat show host Chelsea Handler—were reportedly just some of the guests flown out to Mexico for the bash, where they enjoyed a Thanksgiving meal that included chips, salsas and margaritas.
Despite being known for her strict diet and exercise regime, Jennifer recently admitted she is a big fan of Mexican cuisine.
When quizzed on what she would have for her last meal, she said: "It'd be chips and guacamole, quesadillas, enchiladas and a big tostada salad—and nachos!"