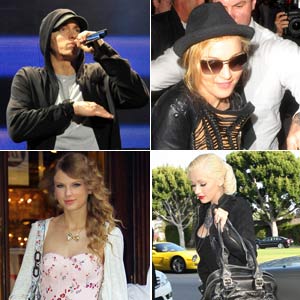 ---
EMINEM leads the 2011 Grammy nominations, with nods in 10 categories.
The "Not Afraid" rapper is in the running for some of the most prestigious prizes at the annual ceremony, including Album of the Year, Song of the Year and Record Of The Year.
Singer-and-songwriter Bruno Mars got the second most number of nominations when these (seven) were announced last December 1.
Lady Gaga, rapper Jay-Z and country act Lady Antebellum all scored six.
Bruno, who, among his nominations, is up for Best Male Pop Vocal for his "Just the Way You Are," said: "It's just been a great year, incredible, incredible year, and I can't believe this is happening to me.
"We've worked so hard trying to make a living doing music and the fact that we're here right now is incredible, incredible."
Another track co-written by Bruno, Cee Lo Green's "F**k You/Forget You" was nominated for both Record of the Year and Song of the Year, and Cee Lo said he never realized the track, which was edited to "Forget You" for the radio, would be such a hit.
ADVERTISEMENT - CONTINUE READING BELOW
He said: "It wasn't meant to be a radio song. It was meant to be something with flair and first impression and it really took on a life of its own, and I had no idea it would become what it is today."
In the Best Newcomer category, Justin Bieber found himself nominated alongside his fellow Canadian, rapper Drake.
He told LL Cool J, who hosted the nominations show at Club Nokia in Los Angeles, "It feels amazing. I can't believe I'm in this position! I don't know what to say!"
Among the performers at the nominations show were Katy Perry—who opened the proceedings with "California Gurls'"—Justin Bieber, rapper B.o.B, and indie group Train.
The 53rd Grammy Awards will take place at the Staples Center in Los Angeles on 13 February 2011.
Grammy Awards 2011 list of main nominations:
Album of the Year:
The Suburbs - Arcade Fire
Recovery - Eminem
ADVERTISEMENT - CONTINUE READING BELOW
Need You Now - Lady Antebellum
The Fame Monster - Lady Gaga
Teenage Dream - Katy Perry
Song of the Year:
"Beg, Steal or Borrow" - Ray LaMontagne
"Forget You" - Cee Lo Green
"The House That Built Me" - Miranda Lambert
"Love the Way You Lie" - Eminem feat. Rihanna
"Need You Know" - Lady Antebellum
Record of the Year:
"Love the Way You Lie" - Eminem feat. Rihanna
"Nothin' On You" - Bruno Mars
"Forget You" - Cee Lo
"Empire State of Mind" - Jay-Z feat. Alicia Keys
"Need You Now" - Lady Antebellum
Best New Artist:
Justin Bieber
Drake
Florence and The Machine
Mumford & Sons
Esperanza Spalding
Best Country Album:
Up On The Ridge - Dierks Bentley
You Get What You Give - Zac Brown Band
The Guitar Song - Jamey Johnson
Need You Now - Lady Antebellum
Revolution - Miranda Lambert
Best Rap Album:
The Adventures Of Bobby Ray - B.o.B
ADVERTISEMENT - CONTINUE READING BELOW
Thank Me Later - Drake
Recovery - Eminem
The Blueprint 3 - Jay-Z
How I Got Over - The Roots
Best Contemporary R'n'B Album:
Graffiti - Chris Brown
Untitled - R. Kelly
Transition - Ryan Leslie
The ArchAndroid - Janelle Monae
Raymond V Raymond - Usher
Best Pop Performance By A Duo Or Group With Vocals:
"Don't Stop Believin' (Regionals Version)" - Glee Cast
"Misery" - Maroon 5
"The Only Exception" - Paramore
"Babyfather" - Sade
"Hey, Soul Sister (Live)" - Train
Best Pop Collaboration With Vocals:
"Airplanes II" - B.o.B, Eminem & Hayley Williams
"Imagine" - Herbie Hancock, Pink, India.Arie, Seal, Konono No. 1, Jeff Beck & Oumou Sangare
"If It Wasn't For Bad" - Elton John & Leon Russell
"Telephone" - Lady Gaga & Beyonce Knowles
"California Gurls" - Katy Perry & Snoop Dogg
Best Dance Recording:
"Rocket" - Goldfrapp
"In For The Kill" - La Roux
"Dance In The Dark" - Lady Gaga
ADVERTISEMENT - CONTINUE READING BELOW
"Only Girl (In The World)" - Rihanna
"Dancing On My Own" - Robyn
Best Rock Performance By A Duo Or Group With Vocals:
"Ready To Start" - Arcade Fire
"I Put A Spell On You" - Jeff Beck & Joss Stone
"Tighten Up" - The Black Keys
"Radioactive" - Kings of Leon
"Resistance" - Muse
TAYLOR SWIFT named Entertainer of the Year.
The 20-year-old country singer, who made her acting debut in Valentine's Day this year, is the youngest-ever star to be given the honor by Entertainment Weekly magazine, which also paid tribute to the 2010 achievements of 14 other famous faces including James Franco, Kanye West, Katy Perry, John Hamm, and Ben Affleck.
In an interview to accompany her honor, Taylor—who is believed to be dating Jake Gyllenhaal and has previously romanced stars including Taylor Lautner and Joe Jonas—admitted that she laughs at constant speculation as to which of her former lovers she writes about in her songs.
ADVERTISEMENT - CONTINUE READING BELOW
She told the publication: "Sometimes I would laugh because I would see it in print and it would say, 'This song, which is written about her ex, so-and-so.' And they would write about it as if it was fact.
"The fact is, I haven't ever confirmed that any song is about any particular person. There's something kind of freeing about that. As far as I'm concerned, it's all still up in the air."
Taylor also spoke about why she decided to perform her song "Innocent"—which is rumored to be about Kanye—at the MTV Video Music Awards, a year after the rapper stormed the stage to protest her being given an award ahead of Beyonce Knowles.
She said: "I had decided that I didn't want to perform on the show. Or even go. Then I woke up in the middle of the night and I realised that I had to, and that I wanted to perform that song."
ADVERTISEMENT - CONTINUE READING BELOW
MADONNA is "just a woman," says her new boyfriend.
The "Celebration" singer started dating French dancer Brahim Zaibat just over a month ago, and the hunk insists despite her international pop star status she was not imposing, and their meeting was perfectly natural.
He explained: "It all started on September 22 at the launch of Madonna's new ready-to-wear clothing range.
"I performed a solo to 'Material Girl'. Then I met Madonna on the sidelines, and she just thanked me for my show.
"It wasn't like meeting a monster! She's just a woman, like all the others. She's an extraordinary artist and world famous, of course, but a woman above all.
"You know she wasn't the first well known female singer I'd met. I was delighted to meet her but not stressed out."
Some showbiz commentators have questioned the sustainability of a relationship between the 52-year-old pop superstar and Brahim, 24, since he speaks little English and is a devout Muslim, whereas Madonna speaks no French and is a strict follower of Judaism off-shoot Kabbalah.
ADVERTISEMENT - CONTINUE READING BELOW
She is also eight years older than her boyfriend's mother, but Brahim remains confident they have a future together.
When asked if he listened to the star's records, he told France's Grazia magazine: "It wasn't the kind of sound I had on my iPod but I knew her tracks. I've since pretty much listened to all she's done.
"She's put lots of breakdance and hip-hop in her last tracks and she's passionate about dance. Her dream as a child was to become a dancer. That's another thing we have in common."
Before Brahim, Madonna dated another 24-year-old toy boy-Brazilian model Jesus Luz.
After he was linked to the music icon, Jesus went from being a struggling model to earning $20,000 a night as a DJ and landing photo shoots for Dolce and Gabbana.
However, Brahim is not interested in the possible fame which may come his way from his relationship with the 'Hung Up' hitmaker, saying: "I just want to get on with my life - for everything to be normal."
ADVERTISEMENT - CONTINUE READING BELOW
CHRISTINA AGUILERA feels a "love" for her new boyfriend.
The singer-and-actress has revealed she has developed strong feelings for lover Matt Rutler, just weeks after she filed for divorce from her husband Jordan Bratman with whom she was married for just under five years.
When asked what her feelings were for Matt, she told People magazine: "There's a love there, yes."
The 29-year-old star says she is having fun with Matt—who she met when he worked as a set assistant on her film Burlesque—and has described him as a "special person."
She added to the publication: "Matthew is a special person. We had a really strong friendship on the movie. He's the kind of person you could spend hours on the phone talking to and all of a sudden it's daylight.
"Once I filed for divorce, we started dating. I'm not trying to jump into anything. I just left a five-year marriage. I'm taking it slow and trying to be happy. I'm having fun, I'm dating and it's something I haven't had in a really long time."
ADVERTISEMENT - CONTINUE READING BELOW
She also opened up about her split from Jordan—with whom she has a two-year-old son Max with—and has revealed they split because they grew apart in their relationship.
She said: "We were great the first year after Max was born. Jordan was amazing. He was the first to change Max's diaper. Then things turned. I was nurturing Max and felt independent in the relationship.
"I went right into filming Burlesque (in 2009)... and I was growing leaps and bounds daily. I went from being a girl to a woman... and when I finished filming, I didn't feel right in my own shoes [at home]. I had a lot of things stirring inside of me that I felt were being suppressed.
"We tried to work on the marriage and figure out a common ground, but the problems were obvious."
SIR ELTON JOHN doesn't think his career will ever end.
The 63-year-old musician—who recently released his 30th studio album The Union—doesn't think his career will end because his back catalogue of songs is so big.
ADVERTISEMENT - CONTINUE READING BELOW
He said: "I feel really confident about my career now. A friend once said, 'What happens if it all ended tomorrow?' I said, 'It's not gonna happen.'
"You've got a while catalogue of songs you can rely on and I'm driven and I'm ambitious and I don't wanna stop there. Billy Joel hasn't written a song since 1993 and is quite happy to go around singing his old hits time after time after time.
"I've toured with him and it's been great fun. But I couldn't do that."
Although he has been musing on the longevity of his career, the 'Goodbye Yellow Brick Road' singer does believe his life has hit a peak as he no longer "wants for anything."
Elton—who has been married to Canadian filmmaker David Furnish since December 2005—told The Independent newspaper: "I just want my life to be as good as it is. I mean, I don't want for anything.
ADVERTISEMENT - CONTINUE READING BELOW
"I want to remain as happy as I am in my personal life and to try and do as much as I ca professionally, to do more creative things that are great."
LEONA LEWIS has been attacked by an "evil cat."
The "Bleeding Love" hitmaker was left terrified when the feline jumped on her leg and started viciously scratching her.
The animal then refused to let go and dug its claws in deeper when the frightened singer tried to shake it off.
Leona, 25, said: "A cat jumped on me the other week.
"They scare me. It hissed and scratched my legs—I didn't know what to do!"
She added to Britain's Daily Mirror newspaper: "So I got up and shook my leg, but she was stuck to it. It was an evil cat. I don't like evil cats."
Despite the incident, the pop star is known to be a huge animal lover.
ADVERTISEMENT - CONTINUE READING BELOW
She is a public supporter of PETA (People for the Ethical Treatment of Animals) and a vegetarian.
Leona also refuses to wear suede, leather or any other animal products and is a committed campaigner for several animal charities and devotes a lot of her time and energy to the WSPA (World Society for the Protection of Animals) because they "campaign to change laws to stop the cruel treatment of animals."