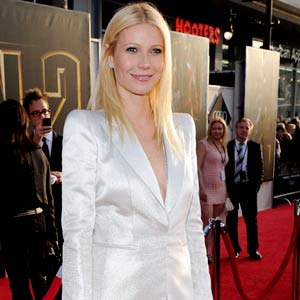 ---
Oscar-winning actress Gwyneth Paltrow can't wait to reprise her role as substitute teacher Holly Holiday in Glee, describing it as the "best job ever," though she refused to give details on when her return to the musical drama series will be broadcast.
Meanwhile, production on Glee was halted on Friday (December 10) when several key cast members fell ill with tonsillitis.
Lea Michele, who plays Rachel Berry; Dianna Argon, who stars as Quinn Fabray; and Kevin McHale, who portrays Artie Abrams, have all been struck down by the throat illness.
Dianna tweeted on Friday: "Note to self ... should have gotten a flu shot. In bed, hoping that medicine, soup, my computer and a marathon of movies will be the cure."
Kevin complained he was "so over being sick."
He wrote on his Twitter page: "This whole staying in bed thing seemed fun the 1st few days haha. On the mend!" (sic)
However, some cast members were thrilled with their unscheduled day off.
Mark Salling, who plays womanizer Puck, tweeted: "Nothin like a little d golf on an unexpected day off." (sic)
In her first appearance, Gwyneth's character performed two duets with Matthew Morrison, who plays teacher Will Schuester, and the actor gushed about how much fun he had singing Rihanna's "Umbrella" and "Singin' in the Rain" with her.
He said last month: "Gwyneth Paltrow is a genius. Who knew that she was such a triple threat? Great dancer, great singer, obviously a great actress—I just had the best time.
"We were just having so much fun like, splashing each other, getting each other wet. It was fun!"