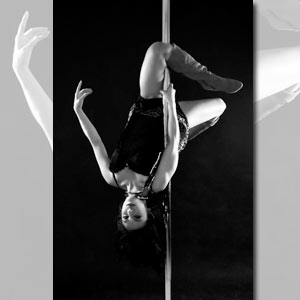 ---
Ciara Sotto has always wanted to make a break for theater, but never imagined it would be as bold as becoming Mimi Marquez in 9 Works Theatrical's production of Rent.
"It's wild, sexy, and rebellious, so it's a big challenge for me," Ciara admitted yesterday, January 31, at the Borough Restaurant in Podium, where the cast of the multi-awarded musical performed selected songs for the press.
For this production, Ciara shares the role of Mimi with Sheree Bautista, who plays opposite her real-life boyfriend Gian Magdangal.
Her role as Mimi Marquez is not Ciara's first foray in theater. She recently played a major role in the original Filipino musical, Magsimula Ka.
But because Rent's brand of risqué is a far cry from Magsimula Ka's wholesome plot, Ciara stepped up to the challenge of playing an AIDS-afflicted seductress—from singing and acting to pole dancing.
MARRIED LIFE. She's having fun with the role, especially since her husband, Joe Oconer, is very supportive of her newfound love for theater. The couple had a 1940s-inspired "old English" wedding ceremony at the Manila Polo Club in January 17, 2010. (CLICK HERE to read related article.)
"Married life is so blissful and my husband's a blessing," said Ciara.
"He watched me in Magsimula Ka. He's very understanding and has no problems with me doing musicals, even if it would entail a lot of commitment and time apart."
Do they plan to have kids right away?
"We're taking it slow, not in a rush to have kids talaga," Ciara revealed.
"For now, the theater bug has bitten me. Siyempre, may TV appearances pa rin ako, like Eat Bulaga!, pero ngayon I want to do more plays."
PLAYING MIMI. Ciara admits that she has never seen older productions of Rent and only watched the movie right after she was cast as Mimi.
ADVERTISEMENT - CONTINUE READING BELOW
"I tried to talk to other people who played Mimi because I'm that serious about it. It's a blessing that I got to talk to Bituin Escalante [who played Mimi in 1999]. She taught me the blocking, the dance moves, things like those. But in the end, you have to put your own touch.
"She taught me that Mimi is a heavy character to play, not just a girl na pa-sexy at may AIDS, pero maraming pinagdaanan. Mimi is very sexy, but a little frail inside. She's a seductress.
"Singing while pole dancing and acting has always been a challenge, and I'm excited to do it for this show because I get to do everything I want all at the same time. What's difficult is having to be and feel and look sexy.
"I did a lot of research right away, and even searched for photos of her online to figure out the 'Mimi look' that would do—a bit on the raunchy side, mahilig mag-eyeliner.
"Sheree doesn't have a problem with that, I always tell her, 'Girl, tatayo ka lang, sexy ka na!'"
As for the rest of the cast, Ciara has nothing but the best words to say.
"Gian has been very helpful, he's done it for two years na. Sheree and I help each other, tinutulungan ko siya sa pole dance, tapos she helps me with the run since she's done Mimi before.
"With the cast, I thought I would be intimidated at first, but they're so helpful and friendly, they cheer me on and tell me to have fun with the role."
9 Works Theatrical's third production for Rent will begin its run on February 12 at the Carlos P. Romulo Auditorium, RCBC Plaza, Makati City.
Aside from Ciara and Sheree as Mimi, most of the cast from the 2010 production will reprise their roles.
ADVERTISEMENT - CONTINUE READING BELOW
The returning stars include Gian Magdangal as Roger, a songwriter who is HIV-positive; Fredison Lo as Mark Cohen, an independent filmmaker and Roger's roommate; OJ Mariano as the computer genius Tom Collins; Job Bautista as Angel Dummott Schunard, Collins' lover; Carla Guevara-Laforteza as Maureen Johnson, the larger-than-live performance artist; Jenny Villegas as Joanne, a lawyer and Maureen's lover; and Lorenz Martinez as Benjamin Coffin III, a former bohemian who becomes a greedy landlord.
The show will run on February 12 to 13, 18 to 20, 25 to 27, and March 4 to 6.