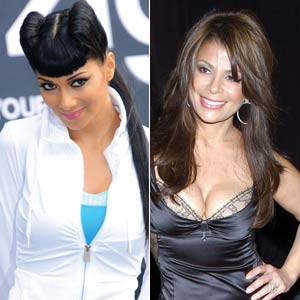 ---
Simon Cowell has hinted that Paula Abdul and Nicole Scherzinger could join the judging panel of the U.S. version of The X Factor.
The music mogul insisted he still has not made a decision as to who would help him select the winner of the TV talent show but admitted he is in "regular" contact with Paula, whom he worked with on American Idol until 2009.
He said: "I'm a massive fan of Paula. We've been in regular contact. I'm not going to say who we are going to confirm or not, because the truth is we haven't made up our minds yet. It comes down to who I think is interesting and the commitment and the expertise each person offers."
On the other hand, 32-year-old Nicole impressed Simon with her guest appearance on the UK version of the pop star search show last year and he is keen for her to take part in his new project.
She is set to join him and Cheryl Cole—who is heavily rumored to have landed a spot, despite TV bosses being worried the British singer may not appeal to American audiences—with the fourth judge still unknown.
However, talk of the former Pussycat Doll's possible arrival has apparently got Cheryl worried she will be eclipsed by her if they do work together on the series.
A source told the Daily Mirror newspaper: "Cheryl's been straight with Simon but suddenly, people aren't returning her calls. She doesn't want to get into a put-up scrap with Nicole and with Simon playing the puppet master."
Although he wants Nicole, Simon still hasn't made a final decision on the line-up and his stalling is said to be concerning TV chiefs who want the judging panel to be signed off.
So far, he is said to have offered and withdrawn a spot to Jennifer Lopez, who is now on rival American Idol and has also considered former Destiny's Child singer Kelly Rowland and Katy Perry.
ADVERTISEMENT - CONTINUE READING BELOW
An insider joked: "His indecision is final. But he's making us very nervous."
THE X FACTOR. The winner of the US version of The X Factor will land a $5- million contract.
Simon is excited to be offering the biggest guaranteed prize in television history, and has also revealed that the program will welcome auditionees aged from just 12.
He said: "I like the idea that a 12-year-old on this show can compete with an older singer and a singing group.
"I've never believed there should be a cut-off age for talent, and we are going to put our money where our mouths are with the $5-million recording contract. I'm doing this show in America because I genuinely believe we can find a superstar."
On the UK version of the show, where winners land a £1-million record deal, contestants must be aged at least 16 to enter, although in the past two seasons, the minimum age was reduced to 14 years old.
Auditions for the program begin in March, although details of who will join Simon on the judging panel have yet to be revealed.
As with the US version of the show, both groups and solo artists will be able to compete.
AMERICAN IDOL. Simon, who quit American Idol in order to launch The X Factor in the U.S., admits he has not watched the new season of his former show, though he believes it to be doing well without him.
He said in a conference call with reporters: "I haven't seen a full episode. I've seen three minutes of a recap. From what I've seen and from what I've heard, it all seems to be going well.
"What I was more concerned about was ratings falling off a cliff, and that the whole genre might be over. But people are still excited about these shows, whether Dancing With the Stars, which has gotten better over the years,and America's Got Talent. I think they've done a good job."
ADVERTISEMENT - CONTINUE READING BELOW