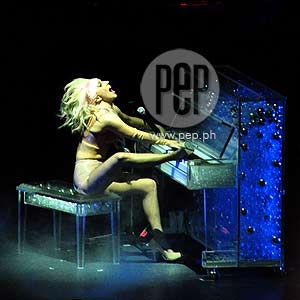 ---
Lady Gaga and country trio Lady Antebellum were among the big winners at 2011 Grammy Awards.
The eccentric singer—who was carried down the prestigious event's red carpet in a giant egg, before "hatching" out of it ahead of a performance of her new song "Born This Way"—took home three prizes, including Best Pop Vocal Album for The Fame Monster, and while accepting her award she paid tribute to Whitney Houston.
Gaga—who also won the awards for Best Short-Form Video and Best Female Pop Vocal Performance for single "Bad Romance"—said: "I wanted to thank Whitney, because when I wrote 'Born This Way,' I imagined she was singing it because I wasn't secure enough in myself to imagine I was a superstar.
"So, Whitney, I imagined you were singing 'Born This Way' when I wrote it."
While Gaga picked up three awards, Lady Antebellum took home five prizes including Song of the Year and Record of the Year for their hit "Need You Now."
The show, which was held at Los Angeles' Staples Center, began with a tribute to Aretha Franklin, which was performed by Christina Aguilera, Florence Welch, Jennifer Hudson, Martina McBride, and Yolanda Adams.
Aretha, who is suffering from pancreatic cancer, appeared via video link to thank the singers for their performance.
The 68-year-old singer said: "I can't tell you how thrilled I am to be with you this evening. Thank you to all of you who took the time to send me get well cards and flowers, beautiful flowers, and most importantly, your prayers."
Other notable performances included Gwyneth Paltrow joining Cee Lo Green and Jim Henson's puppets to perform his hit single 'F**k You', while Rolling Stones frontman Sir Mick Jagger was given a standing ovation for his debut Grammy performance, delivering a rendition of "Everybody Needs Somebody To Love" in tribute to Solomon Burke, who died last year.
ADVERTISEMENT - CONTINUE READING BELOW
Other winners included Jay-Z—who picked up two trophies for "Empire State of Mind," his duet with Alicia Keys—Eminem, Arcade Fire, and John Legend.
While he was expected to win, Justin Bieber was beaten by jazz artist Esperanza Spalding in the Best New Artist category, although the 16-year-old star was joined by Usher and Jaden Smith during his performance at the ceremony.
Full list of winners at the 2011 Grammy Awards:
Album of the Year: Arcade Fire, The Suburbs
Record of the Year: Lady Antebellum, "Need You Now"
Best New Artist: Esperanza Spalding
Song of the Year: Lady Antebellum, "Need You Now"
Best Female Pop Vocal Performance: Lady Gaga, "Bad Romance"
Best Male Pop Vocal Performance: Bruno Mars, "Just The Way You Are"
Best Pop Performance by a Duo or Group With Vocals: Train, "Hey, Soul Sister" (Live)
Best Pop Vocal Album: The Fame Monster, Lady Gaga
Best Hard Rock Performance: Them Crooked Vultures, "New Fang"
Best Rock Song: Neil Young, "Angry World"
Best Rock Album: The Resistance, Muse
Best Alternative Music Album: Brothers, The Black Keys
Best R&B Album: Wake Up!, John Legend and the Roots
Best Contemporary R&B Album: Raymond v. Raymond, Usher
Best Rap/Sung Collaboration: Jay-Z and Alicia Keys, "Empire State of Mind"
Best Rap Song: "Empire State of Mind", Jay-Z and Alicia Keys
Best Rap Album: Recovery, Eminem
Best Country Song: "Need You Now", Lady Antebellum
Best Country Album: "Need You Now", Lady Antebellum
Best Female Country Vocal Performance: Miranda Lambert, "The House That Built Me"
Best Male Country Vocal Performance: Keith Urban, "Til Summer Comes Around"