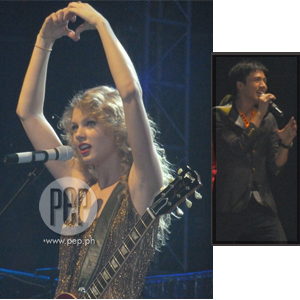 ---
America's teen sweetheart Taylor Swift's one-and-a-half-hour, one-night-only concert at the Big Dome last night, February 19, was a huge success!
She received a warm welcome from thousands and thousands of Pinoys—ranging from 5 to 15 years old—who marked the concert date on their calendars as early as December 2010, when the annoucement was made that the pretty and popular Taylor was arriving.
SAM SHINES. At exactly 8:00 p.m., Sam Concepcion—who was handpicked by Taylor for the front act—owned the stage with his rendition of Chris Brown's "Yeah 3X," Carl Douglas's "Kung Fu Fighting," Katy Perry's "Firework," and his song "Even If."
Judging from his performance, spiced up by well-choreographed dance moves, the 18-year-old singer came well-prepared.
Another unforgettable moment for Sam was meeting Taylor backstage.
His manager Carlo Orosa related, "Very tight ang security. Pagkatapos nung meet-and-greet ng mga organizers, yung charities, at mga taga-Araneta, muntik nang hindi makalapit si Sam. Buti na lang, mabait yung manager."
Next thing Sam knew, he was face to face with the the dad of the 21-year-old country pop singer, Mr. Scott K. Swift.
The two had a brief chat, where Sam related that his career started in theater, and that he is now the country's Peter Pan.
Mr. Swift's face lit up and said his daughter trained in theater as well.
After a few minutes, Sam finally met the star of the show, whose greeting was, "You're awesome! They love you out there. Thanks for tweeting." Apparently, Taylor had read Sam's posts about her concert.
ADVERTISEMENT - CONTINUE READING BELOW
The blonde singer asked, "Are you going to watch the show?"
Sam replied, "Of course, I will."
Orosa witnessed the backstage scene, and described Taylor as "very lovable."
He added, "Nakita ko yung closet [niya], puno ng gitara. Ang dami!"
TAYLOR RULES. Forty-five minutes after Sam's set, Taylor emerged on stage.
She ended her opening song "Sparks Fly" with the intro spiel, "Magandang gabi po. Kumusta kayo?", naturally sent the crowd thrilling to the Pinoy greeting.
Her warmth and friendliness turned the concert into a screamfest, especially when she sang her "You Belong With Me," and told the crowd, "Mahal ko kayo."
Aside from singing, Taylor also showed off her guitar skills. The teen sensation learned to play the guitar when she was 10 years old.
Her finale "Love Story" had almost everyone singing with Taylor.
It was around 10:45 p.m. when the throng was seen leaving the venue. They went home with satisfied smiles on their faces, most of them exclaiming, "Sulit!"