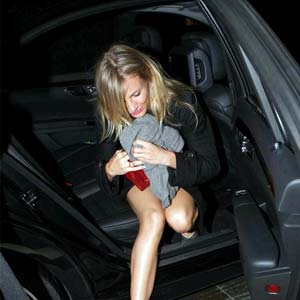 ---
Cameron Diaz loves watching porn.
The Charlie's Angels actress—who is currently dating baseball player Alex Rodriguez—loves watching sex videos in hotel rooms, and is particularly pleased at the discretion staff use so that no one would ever know she has paid to see it.
She said: "I love porn! You know what I love about hotels? How discreet they are.
"I love that they always give you that little thing at the bottom—'Your room will be charged the same as any other room, no titles will be used.' It's great."
It is not the first time the 38-year-old actress—who has previously dated singer Justin Timberlake and actor Matt Dillon—has revealed her love of sex.
Last year, she revealed she would "travel for c**k" because it is what her "lifestyle demands."
She said: "I can't even count how many times I've gotten on a plane for love.
"It's not unusual in this business—my lifestyle demands it. I'm always travelling for c**k. You've got to go where it is."
Cameron has also claimed she is attracted to "primal" men and likes to be "thrown" over a man's shoulder.
She said: "I'm primal on an animalistic level, kind of like, 'Bonk me over the head, throw me over your shoulder. You man, me woman.' Not everybody has the right kind of primal thing for me.
"I love physical contact. I have to be touching my lover, like, always. It's not optional."