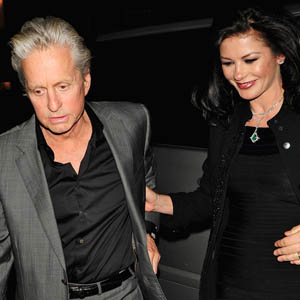 ---
Michael Douglas pushed a paparazzi photographer into the street after his wife Catherine Zeta-Jones was allegedly "punched" by the snapper.
The actor leapt to the defense of his spouse on Thursday night (February 24) as they returned to a London hotel just hours after the actress was presented with a CBE (Commander of the Order of the British Empire) from Prince Charles for her services to the film industry and charity work.
As the couple—who had just enjoyed a meal at Gordon Ramsay's restaurant at Claridge's Hotel—exited their car they were surrounded by photographers, who were pushing and shoving to try and get some shots.
As Catherine made her way through the throng of paparazzi, she was allegedly hit in the face by one photographer, while a voice from the melee could be heard asking her and Michael to "stop, stop, stop."
After Catherine made it through the door, she shouted: "How dare you touch me! I want a police officer right now. He punched me! He punched me in my face."
Then as she pointed through the doors trying to single out her apparent assailant, she added: "That guy who was right here, he punched me."
Michael then walked outside and grabbed hold of a paparazzo and told him: "It was you a*shole, get the f**k out of here you b*****d."
As the Wall Street star shoved him, the photographer said: "It was not me."
Then an unnamed man—who was seemingly part of the couple's entourage—told the paparazzi: "You've had your pictures, now get out!"
The entire incident was captured on a video obtained by Entertainment Tonight, and Michael's representative Allen Burry told the TV show: "You saw it for yourself. Otherwise, the trip and the ceremony were fabulous and such a joy for everyone."
ADVERTISEMENT - CONTINUE READING BELOW
The 41-year-old Welsh actress was presented with her accolade by the future king at Buckingham Palace, while her 61-year-old husband—who recently overcame throat cancer—and the couple's two children Dylan, 10, and seven-year-old Carys looked on proudly.