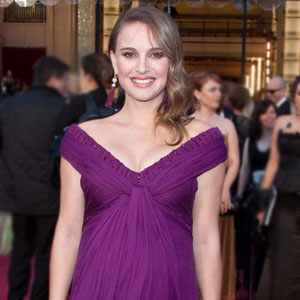 ---
Natalie Portman's baby was kicking during the Oscars.
The pregnant 29-year-old star took home the coveted Best Actress award from Los Angeles' Kodak Theatre yesterday (February 27) for her performance as psychotic ballerina Nina Sayers in Black Swan and has revealed her unborn tot was enjoying the ceremony as much as her.
When asked how her baby—her first child with her fiancé Benjamin Millepied—had reacted to her win after she had collected her statuette, she said: "I couldn't tell you. I don't really remember anything that happened just now. But the baby was definitely kicking a lot during the song portion of the show. Little dancer."
However, she has no plans to mark her victory by naming her baby Oscar if it's a boy, saying: "I think that's probably, definitely, out of the question."
Performers on the night included Gwyneth Paltrow singing "Coming Home" from her film Country Strong and Florence Welch performing the track "If I Rise" which featured in the Oscar-nominated movie 127 Hours.
Now that she has won an Academy Award, Natalie plans to relax for the next few months and prepare for her new arrival.
She revealed: "The next dream I have in terms of the very short-term future is staying in bed, not having to do my make-up or hair, and keeping my sweats on, relaxing.
"For my child, to be happy and healthy is what every parent could only wish for. One of the most exciting things about being pregnant is that I'm accepting the complete unknown. It's a complete mystery and miracle."