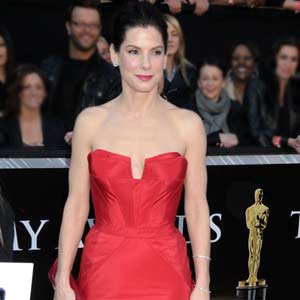 ---
Sandra Bullock split from husband Jessie James last year when she discovered just days after winning the Best Actress Oscar that he had cheated on her, but Sandra revealed at this year's Academy Awards that the experience had helped her develop as a person.
She explained: "It's made me a better person, I'm more patient and accommodating. I really appreciate where I am."
Sandra has faced a number of changes in her personal life in the past year as she also secretly adopted son Louis in January 2010. She admitted that she barely remembers last year's ceremony because she was exhausted as she came to terms with her new role as a mother.
She explained to E! News: "When I was presenting last time, I'd only had like two hours [of sleep] and I don't remember anything. I remember none of it."
Sandra, 46, looked stunning in a red Vera Wang gown at the awards last night—where she presented Colin Firth with his Best Actor Oscar for The King's Speech—and she admitted she had chosen the dress for Louis.
She said: "It felt good. And I know a little guy who likes red."