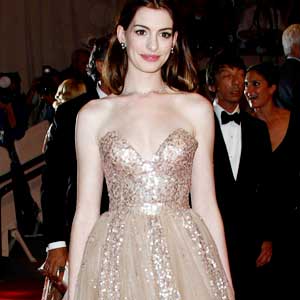 ---
Although her performance with co-host James Franco at this year's Academy Awards was blasted, Anne Hathaway revealed she loved the experience of working with him at the Hollywood bash.
She told chat show host Oprah Winfrey: "I had a blast. I kept waiting to become nervous. Everyone kept asking me, 'Are you nervous?' The whole ride from beginning to end was joy, pure joy."
She added it was "fun to play off [James] with our two different energies."
While James did not appear on the talk show with Anne—citing a need to return to his university studies at Yale and NYU—Oprah praised the actress saying the "stars aligned" for her.
Oprah told Anne: "You were great. I think all the stars aligned for you in that moment last night," said Oprah. "It was like a big bang moment for your life and career."
Despite Oprah's enthusiasm, not everyone was impressed, with BBC reporter Ben Sutherland blasting Anne and James for their lack of chemistry.
ADVERTISEMENT - CONTINUE READING BELOW
He said: "The pair failed to find the chemistry that would lead to their partnership being remembered as a success–or indeed to be remembered at all.
"At the heart of the problem was the lack of spark between the two. He came across as disinterested and she appeared to be over-excited."