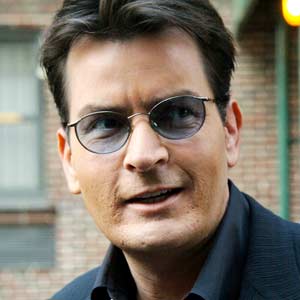 ---
Charlie Sheen has officially been fired from Two And A Half Men.
The actor reacted to a statement by Warner Brothers television saying it had "terminated" his "services" from the show by saying it was "good news."
He told website TMZ.com: "This is very good news. They continue to be in breach, like so many whales.
"It is a big day of gladness at the Sober Valley Lodge because now I can take all of the bazillions, never have to look at whatshisc**k again and I never have to put on those silly shirts for as long as this warlock exists in the terrestrial dimension."
The sitcom had already been cancelled partway through filming its eighth series in February because of Charlie's behavior—including being hospitalized following a 36-hour drink and drug session with a bevy of porn stars.
The 45 year old—who was the highest paid TV star in America, commanding almost $2 million per episode of the show—was upset with this decision and has since launched a number of bizarre rants against the show's producers, in particular creator Chuck Lorre, saying he had no right to question what he does outside of working hours.
He said: "They sent out a memo to the security team on the show saying if this guy shows up for work, don't let him in. I don't understand what I did wrong except live a life you're all jealous of.
"I don't have burnout in my gearbox, I just have go and I'm ready to go. I'm insulted and I'm confused.
"You guys want to go to war, let's go to war. When I call winner, game over, I hope you all have your apologies ready, I hope you're writing them now."
A representative for Warner Brothers said no decision has been made as to whether the show will return without Charlie.
ADVERTISEMENT - CONTINUE READING BELOW