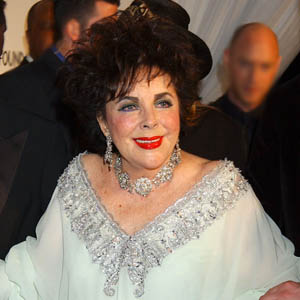 ---
Tributes have flooded in for the late Dame Elizabeth Taylor in the wake of her death, with Sir Elton John describing her as a "Hollywood giant."
The screen legend passed away at 1.28 a.m. on Wednesday morning (March 23) at Los Angeles' Cedars-Sinai Medical Center—where she had been receiving treatment for the last few weeks for congestive heart failure—surrounded by her four children, Michael Wilding, Christopher Wilding, Liza Todd, and Maria Burton.
Since the news, numerous stars who knew her, or admired her during her life have paid their respects.
Elton, 63, wrote on his Twitter page: "We have just lost a Hollywood giant; more importantly, we have lost an incredible human being."
Whoopi Goldberg mourned the loss of her "diamond loving" friend on her Facebook page, thanking the Cleopatra star for helping her during her career.
She wrote: "Today my friend Elizabeth Taylor passed away. Oddly, we all knew this day was coming but still her passing took my breath away. She was a funny, loud, joke tellin', diamond loving, fantastic woman. She played a big role in shaping my life as Whoopi Goldberg. It really is the end of an era."
Sir Michael Caine—who starred in the 1972 movie Zee and Co with Taylor—paid tribute to the person rather than the actress.
He tweeted: "So sad to hear about my beautiful friend Elizabeth Taylor she was a great human being."
The double-Oscar winning actress' representative has revealed her final moments were peaceful, and although her condition worsened at 6 p.m. on Tuesday night (March 22) doctors had been positive about her illness.
The rep said: "She died peacefully. Though she had recently suffered a number of complications, her condition had stabilized and it was hoped that she would be able to return home. Sadly, this was not to be."
ADVERTISEMENT - CONTINUE READING BELOW
As well as her four children, Taylor—who was married eight times to seven different men—is survived by 10 grandchildren and four great-grandchildren.
LIZ STRUGGLED WITH AGEING. Dame Elizabeth Taylor found getting old "really s**t".
The actress—who died of congestive heart failure at the age of 79—was in a lot of pain towards the end of her life, but did her best to "hang in there," says her friend Debbie Reynolds.
Recalling their final conversation a few weeks ago, Debbie—whose husband Eddie Fisher left her for Elizabeth in 1957—told Access Hollywood: "I said, 'Getting old is really s**t. And she said, 'It certainly is. It certainly is, Debbie. This is really tough.'
"I said, 'Well, you just hang in there now, Elizabeth.' And she said, 'I'm really trying.' "
Though Debbie, 78, is sad her friend—who she has known since they were both 17—has passed away, she thinks her death was a "blessing in disguise" because she was in so much pain.
She said: "God bless her, she's on to a better place. I'm happy that she's out of her pain because she was in a lot of pain. This was a blessing in disguise, you know, she's in heaven and she's in a heavenly place and she's happy."
The Singin' in the Rain actress believes the Cleopatra star's memory will live on forever, thanks to her screen and charity work.
She said: "She was the most glamorous and sexual star of our generation. No one else could equal Elizabeth's beauty and sexuality. Women liked her and men adored her, and her love for her children is enduring.
"She was a symbol of stardom. Her legacy will last."
Elizabeth was wed eight times to seven different men—Conrad Hilton, Michael Wilding, Michael Todd, Eddie, Richard Burton, whom she was divorced from twice, John Warner, and Larry Fortensky—during her lifetime.
ADVERTISEMENT - CONTINUE READING BELOW