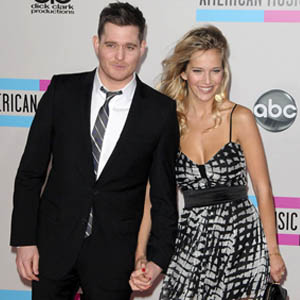 ---
Michael Buble has married his fiancée Luisana Lopilato.
The "Haven't Met You Yet" hitmaker—who has been dating the actress since 2008—tied the knot with the Argentinean beauty in a civil ceremony in Buenos Aires yesterday (March 31).
While the nuptials were relatively low-key, the couple happily posed for a mob of fans after the wedding before Luisana—dressed in a violet gown—tossed her bouquet of purple orchids into the crowd.
It is believed the couple, who announced their engagement in January, will be hosting a larger ceremony for 300 guests at a mansion outside the Argentinean city next month.
In addition to the pair's South American nuptials, Canadian-born Michael recently announced plans to host a second wedding in Vancouver.
He said: "We are doing one in Argentina and that's for her close family, and then we are doing one in Vancouver."
However, the 35-year-old star—who previously dated actress Emily Blunt— joked that he and Luisana had originally planned to tie the knot on April 29, but he was concerned the royal wedding of Prince William and Kate Middleton would overshadow his nuptials.
Michael explained: "I was going to do it on the 29th but I figured I wouldn't get any press."